While doing some research on something else, as often happens, I discovered an interesting article about Alabama from The Toronto Sunday World November 5, 1913.  
WORLD'S LARGEST FARM IN ALABAMA
Has Twenty-five Thousand Acres in Fertile Black Belt
Just outside of Birmingham, Alabama there is a farm owned by Joseph O. Thompson, which is said to be the largest in the world. It comprises 25,000 acres in the fertile "black belt."
If this farm were to be cut into city lots, says The New York Sun, there would be 400,000 of them, enough to build a city of 2,400,000 inhabitants, figuring six to each family.
Two hundred miles of wire encloses the farm. It takes the man who inspects the fence five days to ride around it on horseback. To properly care for the farm 1200 men are employed, who with their families, make a population larger than the average Alabama city. Two hundred and thirty plows are always in use.
All the farm is not under cultivation. Just now only 6000 acres are planted. In an ordinary season this area yields 2500 bales of cotton, 25,000 bushels of corn, 12,000 bushels of oats, 600 tons of hay, 500 tons of alfalfa and 13,000 gallons of syrup. Besides all this there on the farm 600 head of cattle and nearly as many hogs.
Mr. Thompson is called the king farmer of Alabama . There are cattlemen in the west and in other parts of the world who own more acres, but they are merely pasture and not farms.
A little digging in old records and I discovered the following about Joseph Oswalt Thompson from The University of Southern Mississippi – McCain Library and Archives.
Biographical/Historical Sketch:
Joseph Oswalt Thompson was born on February 2, 1869, near Tuskegee, in Macon County, Alabama. He was the son of William Phillip and Mary Watson (Jordon) Thompson. Thompson was educated in Park's High School and the Alabama Military Institute.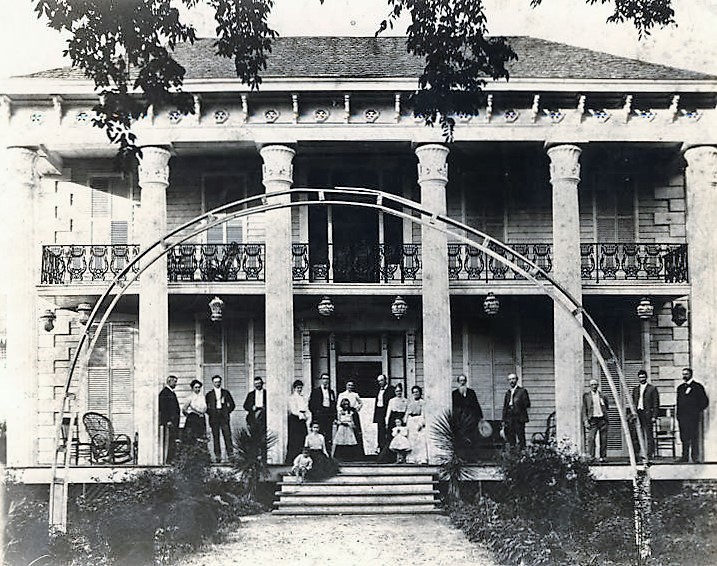 Thompson, Joseph Oswalt, 1869 Macon -Family gathered on the front porch of the house on the Thompson homestead in Tuskegee, Alabama (Alabama Department Archives  & History)
Large land holdings
Thompson was a farmer with large land holdings; he specialized in cotton production and was the largest cotton planter in Alabama at one time. He was an organizer of the Alabama Land Congress, the cotton holding movement in 1915, and was vice-president of the American Cotton Association in 1926. Joseph O. Thompson was active in the Republican Party in Alabama, serving as chairman of the Republican committee of Macon County; chairman of the State Republican committee for Alabama; Republican nominee for Governor of Alabama in 1910; and Republican nominee for Congress from the Birmingham District in 1918. Thompson also held other important positions with federal agencies, such as Deputy U. S. Marshal, Deputy U. S. Collector, U. S. Commissioner, Postmaster at Tuskegee, Alabama, and Deputy U. S. Collector for Internal Revenue.
He and his wife had eight children
Joseph Oswalt Thompson married Annie Magruder of Tuskegee, Alabama, daughter of William Reardon and Mary Ann (Perry) Magruder, on April 13, 1888; they had eight children.
This collection consists of a six-page typewritten letter, dated April 2, 1926, from Joseph O. Thompson to his cousin Mary Virginia Lee, of Lynchburg, Virginia, dealing mainly with family history. For her information, he details her Alabama relatives, mostly on his mother's (Mary J. Thompson) side, although sometimes it is not always clear to whom he is referring.
Some of the names Thompson mentions are: Dr. Henry Reese of Marengo County, Alabama, and his son Judge Henry Reese; Colonel Benjamin Winston Walker; General Thomas Simpson Woodward; John Howard Parnell (a brother of Charles Stuart Parnell); Charles Winston Thompson; William Watson Thompson; Dr. Eugene Calloway; Allan J. Krebs; and Congressman Henry Bascom Steagall.
Thompson concludes the letter by listing his own accomplishments.
Joseph Oswalt Thompson died August 5, 1933, and is buried in Tuskegee Cemetery in Macon County, Alabama. 
Vinegar of the Four Thieves  -m

any people swear by this potent natural remedy for many illnesses – 

Would you like to know Thomas Jefferson's recipe for Vinegar of the Four Thieves or how to make Ox Tail Soup? Discover this recipe as well as many household tips from the past in  

Vinegar of the Four Thieves: Recipes & Curious Tips from the Past