After the first Creek War ended, general peace began to prevail among the settlers in South Alabama. St. Stephens at this time was their principal town. The courts of Washington County were held in the town of Rodney, at the close of the war, William Jordan having built a court house for the county, but in 1815 the courts were ordered to be held at the house of Robert Caller until new commissioners arranged new public buildings. It was also ordered that the courts of Clarke be held at the house of John Laundrum, Joseph Phillips, Samuel Hill, Moses Larrele, Wm. Easeley, and Warham Easely being appointed commissioners to locate the public buildings. It seems that these commissioners did not make rapid progress, for in 1819 it was ordered that the courts be held at the house of William Coate, near Clarkesville.
High Street at old St. Stephens (exploringoffthebeatenpath.com)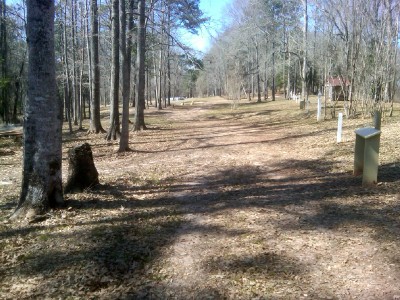 Educational interests were not neglected.
In December of 1814 Lewis Sewall, James Caller, George S. Gaines, Joseph Phillips, Thomas Malone, Joseph Carson, Thomas B. Creagh, Benjamin S. Smoot, Reuben Saffold, Benjamin J. Biddill, and John Dean, were constituted a body corporate, as Trustees of the Washington Academy,1 to establish such academy in Washington or in Clarke County. The academy was finally located at St. Stephens. It was quite flourishing for several years. Here the young ladies of those two counties received their first academic education.
1As early as Dec. 17, 1811, the Territorial Legislature had incorporated "Washington Academy," at St. Stephens, in Washington Co. Other Acts relating thereto were passed Nov. 25, 1812, and Dec. 24, 1814, Green Academy was established in Huntsville, Alabama in 1812. The two schools shared two thousand dollars appropriated for education by the Mississippi Territory.
SOURCE
Clarke County, Alabama, and Its Surroundings, Timothy Horton Ball, Clarke County Historical Society, 1879
Bestselling novel

 

FreeHearts: 2nd edition A Novel of Colonial America

 

is the story of a first family in colonial America who eventually migrated to Alabama.