A RECEIPT WORTH ONE THOUSAND DOLLARS
Transcribed from May 14, 1868, newspaper
Take one pound of Sal Soda and half a pound of unslacked lime, put it into a gallon of water and boil twenty minutes. Let it stand until cool, then strain off, and put in a stone jug or jar. Soak your clothes overnight, or until they are thoroughly wet through – then wring them out and rub on plenty of soap, and in one boiling of the clothes well covered with water, add the teaspoonful of washing fluid.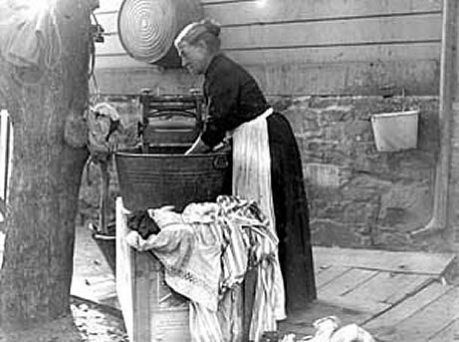 Boil half an hour
Boil half an hour briskly – then wash them thoroughly through one suds, and rinse with water, and your clothes will look better than the old way of washing twice before boiling. This is an invaluable recipe, and I want every poor, tired woman to try it.
I think with a patent wash tub, to do the little rubbing, the washerwoman might take the last novel and compose herself on a lounge, an let the washing do itself. The woman who can keep a secret has known this a year or two, but her husband told it while on an electioneering tour. So says the Ohio Cultivator.
This book is a collection of household tips, medical cures, clothing care and old recipes from the 1800's and 1900's. Many of the tips, such as the household cleaners, cooking tips and ways to control pests, still work and are helpful in today's 'green' environment while others such as 'how to cure a dog of eating eggs' will make you laugh. Either way, this book will help you appreciate the difficult life your grandparents endured.