TWO CONFEDERATE SURGEONS, NEGRO BODY GUARD AND A HORSE, JOURNEY FROM DURHAM, NORTH CAROLINA TO COLLIRENE, LOWNDES COUNTY, > ALABAMA, ON FIFTY CENTS i
The experience of Drs. Hugh William Caffey and Dunklin Pierce, Graduates of Charleston Medical College, As Related By The Former To His Grandson, As Recited Herein
By
Samuel W. Catts
On the morning General Joseph E. Johnston surrendered in North Carolina, I took my Oath of Allegiance at Durham. There the Yankee Medical Outfit cast all of its supplies into the street. The Confederates had none. All fighting was over, and all was haste by the respective opponents for home, the Southerners moving along the Southwestern Seaboard.
Traded for 50 cents
The tragedy of it, I had in my pockets on this morning something near One Thousand Dollars in Confederate money, then not worth the paper on which printed, to make my journey to Lowndes County, Alabama, and naught else. Seeing what the Yankees had cast overboard I recognized the value in a certain vial of medicine, took it into a drug store at Durham and sold it for fifty cents, United States coin. About this time Dunk, (Dr. Dunklin Pierce of Lowndes County), my first cousin who attended Charleston Medical College with me, rode in on a slabsided horse followed by his negro body guard.
One thousand dollars Confederate money (Wikipedia)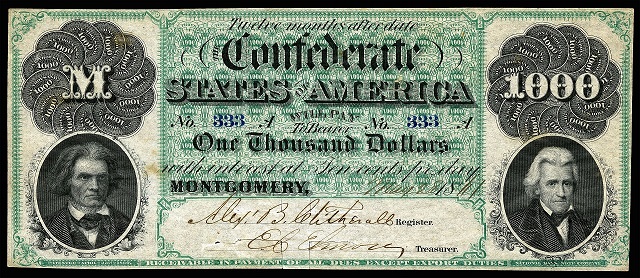 I found that Dunk, too, had taken his Oath of Allegiance. We went into consultation and started for home. The partnership procedure, concerning the horse, we agreed upon an alternated fifty-fifty basis. Fifty per cent of the time Dunk rode, got down, walked. I upped, and rode. The Negro body guard walking all the way.
Ate roots and herbs
The territory over which we traveled was much of that of the infamous, 'hell warring' Sherman had burnt in gloat of his ruthlessness and to be accredited first of its kind, in American warfare, as a glorious soldier. The Southern Confederates along this route who had supported and supplied its armies to utmost degree followed in the last results by the fires and ravishments. (sic) Sherman employed, was wholly deficient to feed a straggling, defeated army flowing through it.
There were days on this journey, like others, accepting food where it could be had, we were without, and our hunger was such we could eat the bark off of the trees, so to speak, and did from roots and herbs, the earth offered sap.
Dr. Hugh William Caffey ca. 1862 (Alabama Department of Archives and History)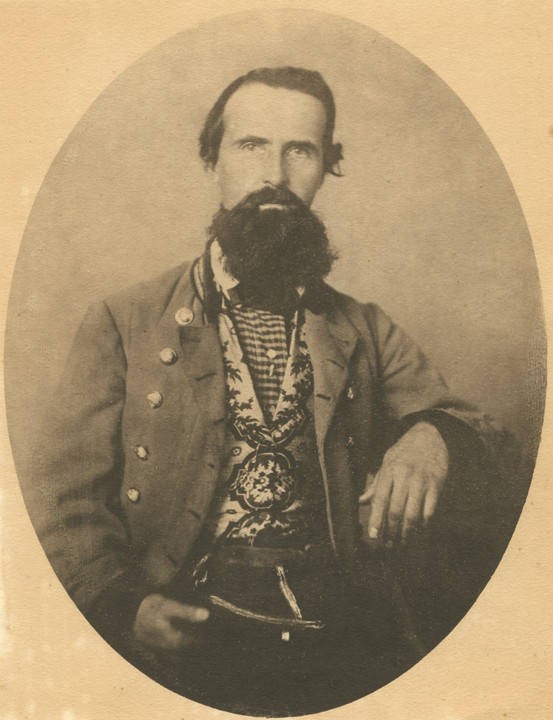 Met Mr. Judkins
On our approach to Augusta, Georgia, a Confederate on about such a slab-sided, fleabitten appearing animal as the one we rode, came into our highway from across road. We introduced ourselves and found he was a Confederate from Alabama, a Mr. Judkins of Elmore County. We inquired if he had taken his Oath of Allegiance? With an oath in name of the Creator of Heaven and Earth, he swore he had not, and never expected to! We assured him we could not say, but thought the issue was approaching a test as we were nearing the City of Augusta and all bridges of any consequence we had encountered were amply guarded and Oath of Allegiance exacted in lack of evidence otherwise.
Guards fired at him
When we neared this bridge our Confederate companion be held the armed guards upon it, and we decided to calmly observe his process of crossing it. In his maneuvres, he fired up his steed by slamming a spur into him, raced him head long towards the bridge, whirled him back up the highway, took a new start, and under spurring vigor he and his steed hit the bridge for all acceleration could be had. The guards began firing at him and it seemed to us he was knocking aloose all the planks of the bridge in his heroic event. It was our opinion the guards did not attempt to kill him, but that be as it may, he beat us to Alabama, for we never saw him again.
Last of 50 cents spent to cross river
The last ten of our fifty cents was paid to the ferryman at West Point, Ga., to set two Confederates, a Negro body guard and a horse across the Chattahoochie. In Alabama, as we neared Tuskegee, Dunk began to brag what a meal we would receive from a lady relative (on the off side from mine) of his house. I remarked to him: "It remains to be seen, Dunk, for we have passed many an Old Colonial where people who once lived in affluence, we found destitute."
West Point, Troup County, Georgia (Wikipedia)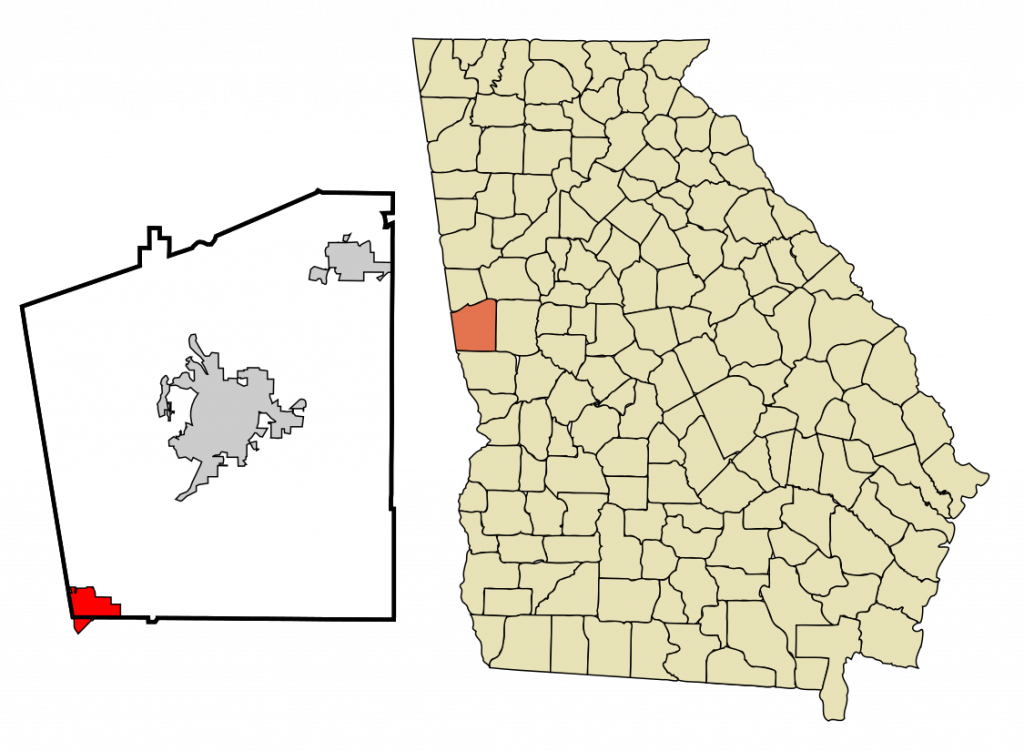 We arrived, and Dunk was given the admonition if he received the welcome he was guaranteeing, to send his horse back by his body guard to the square for me. I beheld him ride up to an Old Home, his body guard held the stirrup for his 'Marster' to dismount and to take charge of the rein, Dunk mounts steps, seizes a pull-knocker, a lady appears, Dunk returns to his steed, remounts and comes riding into the square. More than this I heard him cuss a house, the like I never heard before. To his dying day he could not be unconvinced that lavish food and great affluence remained there.
Ashamed to arrive in Montgomery
On our continued journey we arrived at Line Creek, the boundary between Macon and Montgomery Counties. Our appearance on this morning was that of a couple of vagabonds. We had no lice on us, but such possibility could not be gainsaid except by ourselves and we were ashamed to arrive and be seen in Montgomery in this condition by our friends, so we had the negro body guard wash out our clothes, hang them on bushes to dry as we reposed in the shade of the trees.
Again our journey was resumed and on this day near sun set, I remarked to Dunk: "We are now approaching the home of one of my relatives, Mr. Hugh Madison Caffey. These are his acres and yonder sits his home off of this Mt. Meigs road. I shall not do any bragging, Dunk, but we shall see what kind of a reception can be given us."
Arrived in a carriage
We ascended the sloping grade, passed through the 'Big Gate' and came to the inner 'little gate' and hitching post. Dunk dismounted and we proceeded up the walkway. A gentleman sat on his gallery, looked us o'er, recognized me, came down to greet us, gathered each in an arm and assured us of his welcome: took us upstairs got us into some of his garments; had us a roaring hot supper, stated we should rest as long as we pleased, and when our journey was resumed he would send us home to Lowndes in his carriage.
At breakfast, next morning, we stated we had been so long from home we were ready to start. In his carriage he rode as far as Montgomery with us, the negro body guard on Dunk's horse led Mr. Caffey's saddle animal for his return from Montgomery to his home.
Thus did two Confederate Surgeons, a Negro body guard and a horse travel from Durham, North Carolina, to Collirene, Lowndes County, Alabama, on fifty cents,—present coin of the realm
iThe Alabama Historical Quarterly, Vol. 07, No. 03, Fall Issue 1945
Vinegar of the Four Thieves was a recipe that was known for its antibacterial, antiviral, antiseptic and antifungal properties for years. It was even used to cure the Bubonic Plague. See Thomas Jefferson's recipe in 

VINEGAR OF THE FOUR THIEVES: Recipes & curious tips from the past
Check out all genealogy books and novels by Donna R. Causey