A BUSY DAY'S WORK
(Transcribed from The Times-Argus, Selma, Alabama January 27, 1870 – Originally published in the American Agriculturist)
In many families it is not convenient to hire help, and therefore it is necessary for the wife to arrange her work wisely in order to have her afternoons for sewing or calls. In the first place it is very essential to have early rising, and regularity of meals; a half hour lost in the morning cannot be regained by haste during the rest of the day. Have breakfast at six, or half-past; dinner at twelve; and tea at six in the evening.
Young housekeeper in 1870 (Library of Congress)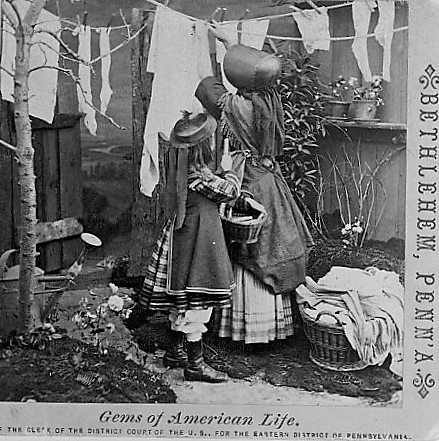 Husband will have cheerful thoughts
This will enable the husband to breakfast with his family before going to his farm, store, or shop, whichever it may be, and will give him more cheerful thoughts during the day than if he partook of a few mouthfuls of cold meat, with a cold cup of coffee, alone; or if living in a village, he went to a lunch-room on his way to his place of business.
Please, mama take Freddy
Now, for instance, take Saturday, baking day, and the day of preparation for the Sabbath. Having prepared my sponge for bread overnight, I mix my bread, and place it in the tins where it will be kept moderately warm; and then, perhaps, my little two-year-old boy says: "Please, mama take Freddy." which I do as soon as I remove the dough from my hands. This I can do much more quickly by using a small nail-brush which I keep in the sink for that purpose; and I have none of the trouble, of which I hear many ladies complain, that their hands are soiled with dough when unexpectedly called to the parlor.
Having pacified the little fellow, and set him to play with his blocks, with which he will amuse himself for a long time, I then put in order my bedrooms. In the meantime, Willie, who is older than Freddy, has gone out to play, and Clara, who is still older, has washed up the breakfast dishes. I not direct her to prepare the vegetables for dinner, which, being done, she is ready to Freddy, if necessary.
I then prepare my cake for the oven, having my fire in good order.
Baking Day
This is my recipe for gingersnaps. Two cups of molasses, one of lard, one of water, one teaspoonful of ginger, one teaspoonful of saleratus, and a little salt; knead well, roll thin, cut out with a cakecutter or teacup, and bake in a quick oven.
I mix a loaf of soft cake, called "Tip-top Cake," in this manner: Beat well together two eggs, one and a half cups of sugar, a little salt, a little nutmeg, one tablespoonful of butter, one half teaspoonful of slaeratus dissolved in one cup of milk, one teaspoonful of cream of tartar, mixed with two and a half cups of flour. It should be baked as soon as it is mixed.
This is my recipe for lemon pies, which I bake between two crusts: Take two common-sized lemons, squeeze the juice, and chop the rinds very fine, with one-half pound of raisins, or a large teacupful of dried apples soaked over night, three tablespoonful of flour, three teacupsful of molasses, and four of water. If my bread has become sufficiently light for baking, I bake it before I do my pies; for they require a slow oven, or they are apt to stew out.
As soon as my pastry is all baked I renew my fire and bake a nice piece of meat, either spare-rib, beef, or veal, having had plenty of time to prepare it for the oven, as it is seldom that a stove oven will bake as fast as one can prepare the pastry.
This gives you a good piece of cold meat for Sunday's dinner; and by cooking a few warm vegetables, and making a cup of tea, you can quickly and easily arrange a meal for the day of rest, which has been very wisely set apart from labor for our good.
Back to housework and neat dress
But now to my household work again, for the hour for dinner draws near, and we must put in order the kitchen and dining-room.
We must also take a look in the glass and see if we are presentable before going to the dinner table; if not, we must give our hair a brush and make ourselves clean and tidy, not only as an example to the children, but because all husbands like to see their wives neatly dressed.
The children will soon be asking for dinner, and husband will be glad to have it all ready for him when he comes in. Dinner over, little remains to be done but to sit down to sewing. This may be done by half-past two or three o'clock. How much better is this than being on your feet all the day long, getting so tired that you are not able to attend church on the next day!
A good plan
Thus it can be seen that by the management of work on a good plan, and, of course, by practice, it is very easy to have your afternoons to yourself, and, at the same time, neglect no part of your work. Thus may it be through every day of the week, except in a few very large families, in which, on washing days, you may be busy until later. Mrs. R. B.