Happy Birthday!
GENERAL JOHN ARCHER ELMORE
BIOGRAPHY and GENEALOGY
(1762-1834)
Autauga County, Alabama
General John Archer Elmore was born in Prince Edward County, Virginia August 21, 1762 to Archelas and Susannah (Morris) Elmore, the former a Quaker. John was the grandson of Thomas and Cicely (Ellison) Elmore, of Kent County, Virginia. (Family Note: Archer Craddock (1790-1824) son of Edmund Craddock and Ann Elmore (daughter of Archelaus Elmore and Susannah Morris) was murdered with a knife in Laurens District, South Carolina in 1824. Brothers Samuel and Isaac Whitmore where charged with the murder. Isaac was acquitted but Samuel was convicted and hanged.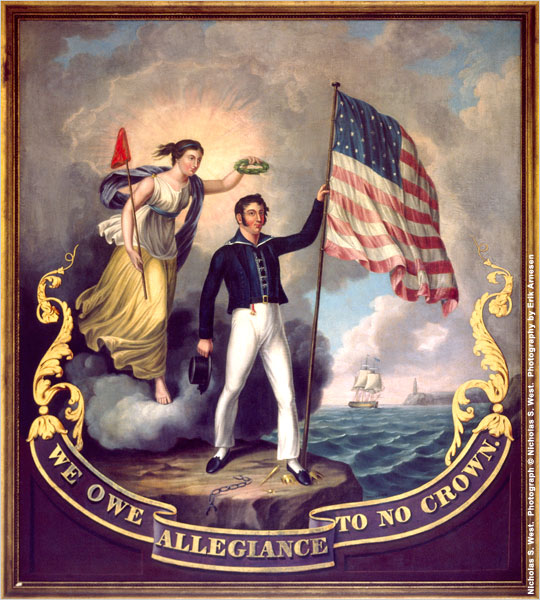 General Elmore was a very, young man when he entered Revolutionary War service under Greene's command in the Virginia line. He was also with Greene in his tour through the Carolinas and when he surrendered at Yorktown.
For many years Elmore resided in Laurens District, South Carolina where he was a member of the legislature. He married Miss Mary Ann Saxon, on March 1, 1788, and they had five children;
Hon. Franklin Harper Elmore of South Carolina, who succeeded Mr. Calhoun in the United States Senate and remained in South Carolina. Franklin married Harriet Chestnut;
Benjamin F. Elmore, treasurer of South Carolina, who married Sarah Aurora Brevard;
daughter Narcissa Elmore;
daughter Sophia Saxon Elmore, who married George Ross;
and daughter Charlotte Perry Elmore, who married Abner Crenshaw
His second wife, Ann Martin, was a sister of Hon. Abram Martin of Montgomery. She was a member of the famous Martin family of South Carolina and descended also from the Marshall family of Virginia, and from Lieutenant Nathaniel Terry of Virginia.
As a lad of 14, he had gone to South Carolina with Captain Samuel Brady's Virginia Rangers. He attained the rank of Colonel by the end of that war. After the war he settled in Laurens District, South Carolina where he served as a Representative in the South Carolina Legislature and continued his military service in the militia, attaining the rank of General.
John Archer Elmore moved to Autauga County, Alabama in 1819 where he established the Little Huntington Plantation.  In 1821 he represented the county once in the House of Representatives. He soon became one of the wealthiest men in the county. "His candor, good sense and sociability" were well remembered. He died April 24, 1834. When a new county was formed from Autauga, Coosa, Montgomery, and Tallapoosa Counties on 15 April 1866 the new county was named Elmore in his honor. His home is located just south of Elmore near Rucker Road. It still stands today and is lovingly cared for by his descendants. He is buried in the old family ground at the old homestead "Huntington" in Elmore County, Alabama.
"The legislature was exceedingly anxious to see the laws enforced; and, for that purpose, selected magistrates from among the most respectable and prominent men throughout the State. They discharged the same duties which the Judges of the County Courts had done previous to the adoption of the present Probate system, and as was the practice of Virginia. A few of those now selected must be mentioned merely to show the determination of our then infant State, to give tone and dignity to the administration of the laws, even in inferior courts. For the county of Autauga, for instance, John A Elmore, John Armstrong, Robert Gaston, James Jackson and William R. Pickett were elected magistrates.
General John A. Elmore, one of these justices, was a native of South Carolina, of the legislature of which State he had often been a respectable member. Not long after his removal to Alabama, he represented the county of Autauga in our legislature which then sat at Cahawba. He was a man of firmness and much good sense, and always delivered his opinions, even in common conversation, in a distinct and loud voice, with that candor and honesty which characterized his conduct through life. He had a commanding appearance, was large in person, and, altogether, an exceedingly fine looking man. He delighted in the sports of the chase, being a most successful and spirited hunter, and an agreeable companion in the many camp-hunts in which he engaged with his neighbors and friends. Towards the close of his life, we remember that he presented a dignified and venerable appearance, and we saw him preside as chairman of several large and exciting meetings in the town of Montgomery during the days of nullification."
John Archer Elmore and Ann had the following children;
John Archer Elmore, Jr. (b. 1808) of Montgomery, who married Laura Maria Martin;
Morris Martin Elmore
William Augustus Elmore, an eminent attorney of New Orleans, who married (1) Mary Ann Morrison (2) Julia Minor
Luther Alfred Elmore
Captain Rush Elmore, a physick who married Susan T. Nesbitt and commanded a company in the Mexican war and later was territorial judge of Kansas;
Henry Marshall Elmore, who judge of the probate of Macon County prior to the Civil War and then afterward moved to Texas, who married Elizabeth Harris;
Laurence Ludlow Elmore;
Winfield Scott Elmore
James Scott Elmore
an infant;
Albert Standhope Elmore, of Montgomery who marred Mary Jane Taylor and was Secretary of State in 1865 and collector of customs at Mobile under President Johnson.
His daughters by his second wife were:
Sarah Terry Elmore, who married Governor Benjamin Fitzpatrick of Alabama;
Elizabeth S. Elmore who married Hon. Dixon H. Lewis of Lowndes County, Alabama;
Ann Harriet Elmore who married Dr. J. T. Hearne of Lowndes County and was living in Montgomery, Alabama in 1904.
SOURCES
Albert James Pickett, History of Alabama and Incidentally of Georgia
and Mississippi, from the Earliest Period, (Birmingham Book and Magazine
Co.: Birmingham, AL, 1962), pp. 662-663 and Dictionary of Alabama Biography, Volume III, page 558]
Brewer, Willis, Alabama, Her History, Resources, War Record, and Public Men: From 1540 to 1872 and Memorial Record of Alabama" Published by Brant and Fuller, Madison, Wisc US/CAN 976.1 H2m, v.I. p.931.
Tombstone of John Archer Elmore
Albert James Pickett, History of Alabama and Incidentally of Georgia and Mississippi, from the Earliest Period, (Birmingham Book and Magazine Co.: Birmingham, AL, 1962), pp. 662-663.
Mrs. P. H. Mell in Transactions, of the Alabama Historical Society, Vol. iv, pp. 541-2.
Dictionary of Alabama Biography, Volume III, page 558
Find A Grave Memorial# 17969022