Speech and Voice Are Important Points
by
Olive Roberts Barton
From Tuscaloosa News, Aug 2, 1937
When our children grow up, we want them to be able to hold their own with the best, and to take their place in any social stratum, comfortably and easily.
Not Snobbish
This is not being snobbish, but merely honest because the world always has been and always will be discriminating. There is that audible something about a person that tickets him instantly regardless of money or "background."
Good manners are part of it, and personality, but the stranger will identify the gentleman first of all by his speech, the lady by hers.
That time is past for slang and pert expressions, which developed into a perfect orgy for some years after the World War. Besides during the heyday of Capone and his kind, a modified gangster lingo colored our tongue.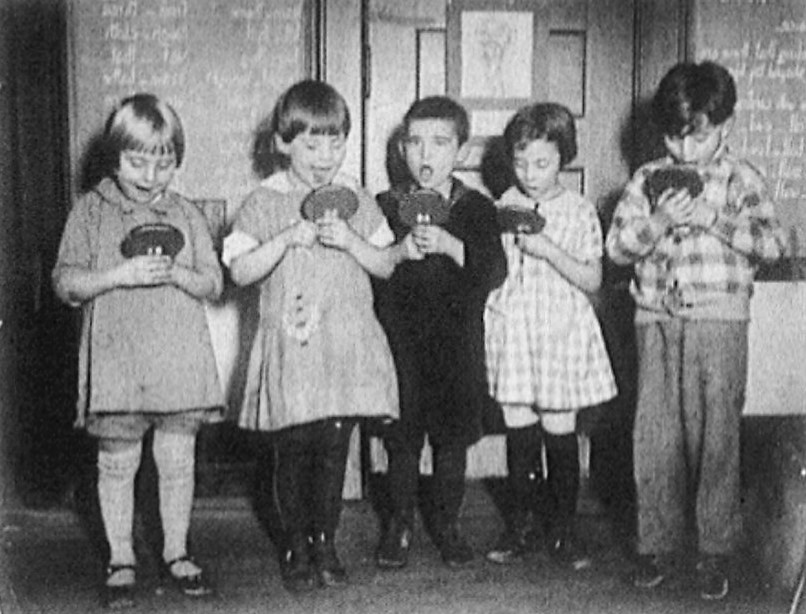 Row of students practicing speech holding mirrors 1910 (Detroit Publishing co., Library of Congress)
Young people pet expressions
Added to our already mixed Americanese, it was not helpful, and five years ago, to hear a crowd of young people rolling off their pet expressions was too much for the layman to understand at all.
There is still slang, which is even included in the dictionary. The very best authorities admit that it adds salt to expression and there are times when no other word will fit. Certain slang terms are therefore permissible, but once slang interferes with good English, it ceases to be useful. Too many people resort to ready-made expressions rather than sort their thoughts and put them into concise words.
But slovenly speech does not depend upon slang to give it its name. There is, for instance, the small item of grammar.
Mothers can teach
Schools do what they can, but they cannot do all. A mother can teach a child to speak correctly even though he never saw a grammar. She can show him enough basic rules about tenses and relative pronouns in a few weeks to make him a fundamentally correct talker. Children often balk at the technical side of grammar and make a mental hazard of it. The other way, then, is to teach by ear, so to speak, and make things so simple that Johnny will grasp the idea.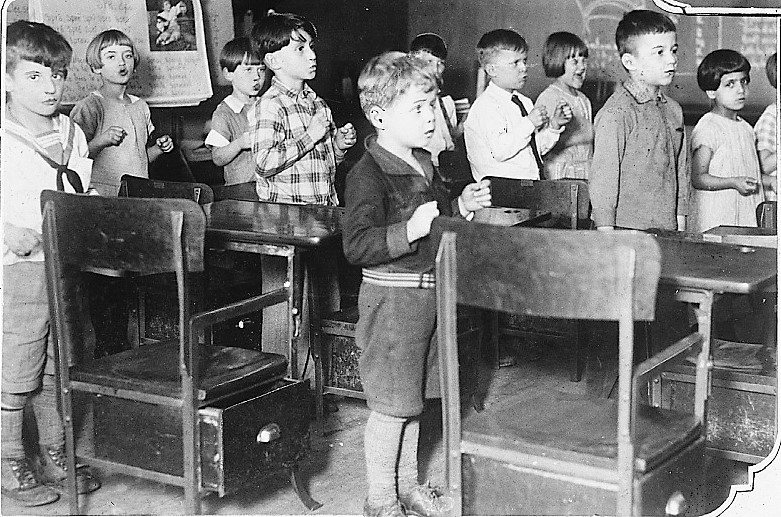 Speech class 1910 Detroit Publishing Company (Library of Congress)
Another shortcoming of children is the tendency to drop "g's" The word is "coming" not "comin". Or "Everyone ate his lunch," not "their lunch," as "everyone" is singular. So is"everybody." crude but it is correct. Cover one pronoun with a finger and Johnny will see the reason at once.
Pronunciation is important. The dictionary habit is excellent for the whole family . What IS the right way to pronounce "cemetery"? Or "tomato"? Look both of them up, as well as all other words you are not sure of. Decide while you are at it about "either" and "neither."
More than ever today, in this radio-movie-speechmaking era, is it necessary for young people to learn diction and grammar. Even stores today train their employees to speak correctly in modulated voices. We, at home, can give the children their start. What an asset it will be for them later, in every way.
And Additional lost & forgotten stories such as:
The Birth of Twickenham
Captain Slick – Fact or Fiction
Vine & Olive Company
The Death of Stooka