Telephones, party lines and old friends in Perote, Bullock County, Alabama —Find out more – http://www.alabamapioneers.com/telephones-party-lines-and-old-friends-in-perote-bullock-county-alabama/
Patron $2+ member story–as a reward to our Patrons who keep this website free!
Click http://www.alabamapioneers.com/did-you-know-we-now-have-an…/ to see how to Become a Patron and unlock this story now.
Telephones, party lines and people in old Perote, Bullock County, Alabama
REMINISCENCES OF PEROTE IN BULLOCK
By A Native
Catharine Elizabeth (Hixon) Rumphi
(This transcribed excerpt was written before 1958)
In 1909 Perote had a telephone party line, and I think it was from Inverness to Linwood through Perote and Josie.
We had about all the combinations of long and; short rings that you could combine. Nearly every family in the country had one and whenever the telephone rang nearly all that could, would listen in.
We have another line now from Union Springs that has just been put in (1958). It is a party line with five on the line but when your phone rings it is for you.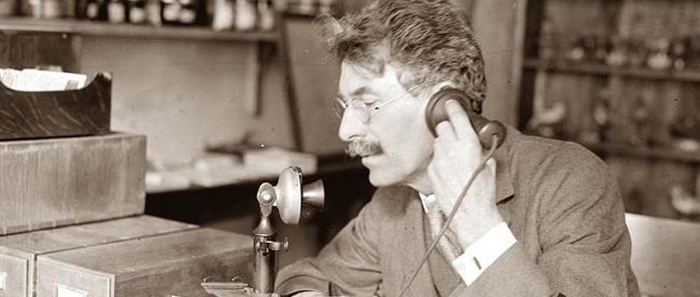 Mr. Henry White
In 1890 Mr. Henry White moved here from Barbour County to the old McCall place. It is on the left of the highway about 2 ½ miles below town. Mr. "Dred" Day, who married Miss Sallie Tinsley, lived there when I first remember. Mr. Day died there and I do not remember where she went. Mrs. Day was a sister of Mrs. W. T, "Dock" Hightower. The Days had no children.
That house was made of logs and had two large rooms with a wide open hall between. The front porch extended the length of the front. There were stairs from the front porch on the north side of the hall. There was one large room upstairs. There was a shed room back of the large room on the north and two rooms forming an ell on the south. A porch between the ells and a gable roof.
Isaac Johnson, J. S. Finlayson, and Mr. Kirkland
The Lows and Mrs. Isaac Johnson lived next in a log house. Mr. J. S. Finlayson bought the place, tore the house down and built a four-room frame house. It has two large rooms with a hall between and two rooms forming an ell. on the north side.
A Mr. Kirkland came from South Carolina and settled three miles below Perote on the left side of the highway and built a log house. It is one of the very few that is still standing as I suppose it was originally built. I was born there but we moved to town when I was ten months old. As well as I can remember this house has two large rooms with a stack chimney between and two rooms across the back and I think it has an upstairs.
iCatherine Elizabeth (Hixon) Rumph was born in Bullock County and has lived during her entire life time there. She is the daughter of a Confederate Veteran who was some time a prisoner at Ship Island off the coast of Mississippi and grew up in the environment of the small country village about which she writes and among interesting Confederate associates, Mrs. Rumph has collected Americana, folk lore and historical data and contributed in no small way to the life of this rural community.
SOURCE
The Alabama Historical Quarterly, Vol. 20, No. 03, Fall Issue 1958
Discordance: The Cottinghams
 Inspired by true events and the Cottingham family that resided in 17th century Somerset, Maryland, and Delaware, colonial America comes alive with pirate attacks, religious discord, and governmental disagreements in the pre-Revolutionary War days of America.