JOHN MURRAY FORBES'S HORSEBACK TRIP TO ALABAMA IN 1831.
By Thomas Semmes Forbes, Birmingham
Originally written ca 1904
(Transcribed from Transactions of the Alabama Historical Society volume 4, 1904)
So much occupied are we in the activities of the present and plans for the future that the past is apt to be neglected, especially the past of another people; and yet there a1e many for whom every item of information concerning the Indian, even during the last years of his sojourn east of the Mississippi is of the deepest interest. For the benefit of these I take the liberty of recording a few incidents of a trip on horseback from Virginia to Alabama made in the summer of 1831 by my father the late John Murray Forbes of Warrenton, Virginia. He left no written memoranda (sic) and I give them merely from my recollection of what he used to tell me.
Traveled one thousand miles by horseback to attend the University of Alabama
The son of Murray Forbes, he was born Nov. 17, 1816, in Virginia. Having passed through the local schools of his neighborhood at Fredericksburg, and the age requisite for matriculation at the University of Virginia, being sixteen, his father was persuaded to send him to the University of Alabama then about to open its doors for the first session of its useful career. Two of his uncles resided in this State, one of whom, Colonel James Innes Thornton, was secretary of state and dwelt at Tuscaloosa. At that time Col. Thornton was in Virginia on a visit and it was to his urgent solicitation that my grandfather yielded and permitted his fourteen-year-old son to make a journey of about one thousand miles on horseback and through an undeveloped country. Col. Thornton purchased a fine pair of carriage horses while in Virginia and brought back with him a negro boy, one of his family slaves, who rode one horse while the Colonel drove the other to a sulky. Their clothing was carried in large saddle-bags and in the sulky box. Occasionally the Colonel and the negro, John, would exchange and he would stretch his legs for a while in the saddle.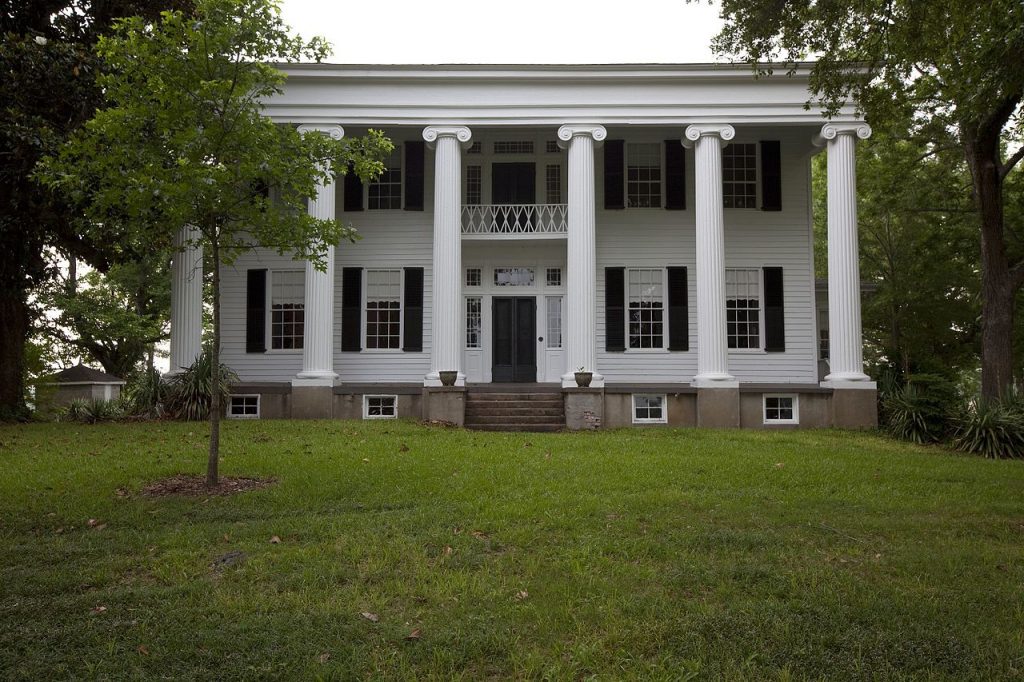 Thornhill, Plantation home of Col. James Innes Thorton ca. 2010 by photographer Carol Highsmith (Library of Congress)
In area of Chattanooga, only house visible was the ferryman's
They crossed the Tennessee river where Chattanooga now stands, and I have often heard my father say that the only house in sight of the ferry, which was in the Horseshoe Bend, was that of the ferryman. No city at that place was dreamed of then. What route they took from Chattanooga I never heard but I know that they did not go to Huntsville, where Col. Thornton had lived when he first settled in the State and which my father was anxious to visit.
They passed through Elyton, Jefferson County (near the present Birmingham), and dined there, and the description given me of the place as it was in 1831 would indicate that up to fifteen years ago there had been few changes in the ancient capital of Jefferson. It is natural to suppose that the road taken by them from the site of Chattanooga to Elyton would be down Wills' Valley along the present line of the Alabama Great Southern Railroad. It was between these places that the Indian country was entered.
Col. Thornton, who had made the trip several times, knew when to expect them. As their village was approached, he ordered Jim, who was on horseback, to go ahead at a brisk trot. This he did to have a little fun at Jim's expense. The boy had already disappeared over the little hill when he was seen returning at full speed, his arms and legs and the puffed outsides of the saddle-bags rising and falling with every leap of the horse. With wide-open eyes showing large and white in his black face and panting with fright, followed by a yelling band of Indians, it reminded them of the scene in "Tarn O'Shanter" after the alarm was given the dancing witches in "Kirk Alloway."
"So Maggy runs—the witches follow, Wi
Wi monie an eldritch screetch and hollow."
Poor Jim was persuaded to stop when he met his master but the Indians had already given up the chase. They were willing to scare the negro for the fun of the thing but they had no laughter for the white man.
As soon as they saw the whites they disappeared, hiding behind the trees and bushes. Nor could they be persuaded to come forth until Col. Thornton had produced a pipe and tobacco and lighting it took a whiff or two and then extended it towards the nearest Indians. Before throwing off their sulky humor or coming from their places of partial concealment one of the Indians asked in characteristic monosyllables, "Georgians? Georgians?"
"No," said Col. Thornton, "Virginians. Going to Tuscaloosa." The Colonel afterwards explained that the Indians were at enmity with the Georgians thinking that they had been badly treated by them in the sale of their lands and their enforced removal westward. However, when it was learned that they were not Georgians, the Indians came forward and smoked and accepted some beads and other trinkets as presents and gave every indication of friendliness.
Stopped a few days with Mrs. Pack
By this time, their horses showing considerable signs of weariness, they determined to stop a few days with a Mrs. Pack (or Pacque). She was the widow of a halfbreed chief or headman and was herself a halfbreed. Mrs. Pack must have been a person of considerable prominence. She owned negro slaves and her daughters were at a boarding school in Louisville, Ky. She had quite a number of cattle and lived in a comfortable house. I have been informed by Professor Samuel L. Robertson, of Birmingham, that old Mrs. Barbara Pack kept a tavern at or near Lebanon in DeKalb county and that he has frequently stopped there when a boy accompanying his father who was an Episcopal clergyman. He also tells me that she has left numerous descendants, some of whom live in Jefferson county and are among our worthiest citizens.
This is probably Mrs. Pack's house in Lebanon where they spent the night. Photograph taken around 1930. (Alabama Department of Archives and History) 
Caught and butchered a steer
It is easy to imagine that an enterprising "young American" after spending his first night with the Indians all around him would be up with the lark. In this instance his energy was fully repaid. He heard Mrs. Pack giving some orders to a group of Indians which he made out as something about "a little blue steer." When she saw him she asked him 1f he did not want to see the Indians catch and butcher a beef, and being answered in the affirmative, she called to one of the Indians and told him to take this young man with him and that she would look to him for his safety and comfort.
He was conducted off some distance to a thicket by the side of a broom-sedge field. Here the firebrand carried by one of the Indians was applied to the dried sedge which was soon ablaze in several places. It was not many minutes before a herd of little cattle came rushing and snorting from the brush.
Immediately a dash was made into the herd by one of the Indians and the "little blue steer" was singled out and given chase. He ran him for a few minutes, turning him towards the starting point where he was relieved by one of the others. The animal was thus made to run in a circle. This was kept up until the steer showed signs of fatigue. Then a fresh Indian, who had held himself in reserve, dashed up by his side and catching him by the horn with one hand and the nose with the other threw him heavily upon
Five or six Indians set to work to dress him and ripping off the skin, they cut the disemboweled carcass into four quarters, each one of which was shouldered by an Indian, a fifth carrying the skin. The rapidity with which it was all done was marvellous. (sic) For several days the party remained at Mrs. Pack's eating the "little blue steer."
Many fellow students became distinguished gentleman in later life
They went as far as Demopolis where they visited the Glovers, Col. Thornton having first married a lady of that family. Then they came back to Tuscaloosa where my father matriculated. His roommate was the late Judge Thomas A. Walker, of Calhoun county. Among those who were with him at college and remembered him pleasantly when I had the pleasure of conversing with them were the late Doctors John B. Read and Wm. A. Cochrane of Tuscaloosa. Doctor Read was fond of telling of a fight which he and my father had at college.
Professor Henry Tutwiler was a member of the faculty that year and at the end of the session the Professor, scarcely more than a boy, and his pupil returned to Virginia in the same stage coach and during this long trip was cemented between the travelers a friendship which had commenced at the University and which was maintained through life.
Read about:
The Yazoo land fraud

   

Daily life as an Alabama pioneer

  

The capture and arrest of Vice-president Aaron Burr

  

The early life of William Barrett Travis, hero of the Alamo

  

Description of Native Americans of early Alabama including the visit by Tecumseh
Treaties and building the first roads in Alabama.