In 1818, before Alabama became a state, Anne Newport Royall (June 11, 1769 – October 1, 1854) was a traveler in Alabama. After her husband died, she was left penniless and she toured Alabama for four years as one of the first newspaperwomen in America. She wrote letters to her friends about Alabama and the letters were published as a book entitled Letters from Alabama in 1830.
On July 15, 1821, Anne was in Florence, Alabama (now in Lauderdale County, Alabama)where she wrote her friend Matt about the people of Florence.
The letter has been transcribed exactly as published. (Including the misspellings)
Florence, July 15th, 1821.
Dear Matt,
More of Florence. I observed in my last, the surprizing wealth of this place. The principal gentlemen of wealth are General Coffee, James Jackson, Esq., Major McKinley,1 and Messrs. Simpson and Gaither. Of these J. Jackson is said to lie not only wealthy, but the wealthiest man in the state.— There are, however, many others quite easy in their circumstances.
Everything had the appearance of enchantment
General Coffee, and J. Jackson live out of town. Major McKinley lives in Florence, and is reputed to be the first lawyer in the three states. He is a stout, fine looking man; of easy manners, as all gentlemen are; and his dwelling contains more taste and splendor, by one half, than I ever saw in my whole life put together. But this is nothing.— Mrs. McKinley, the elegance of her manners, and the sweetness of her conversation, joined with her interesting children, completely disconcerted me.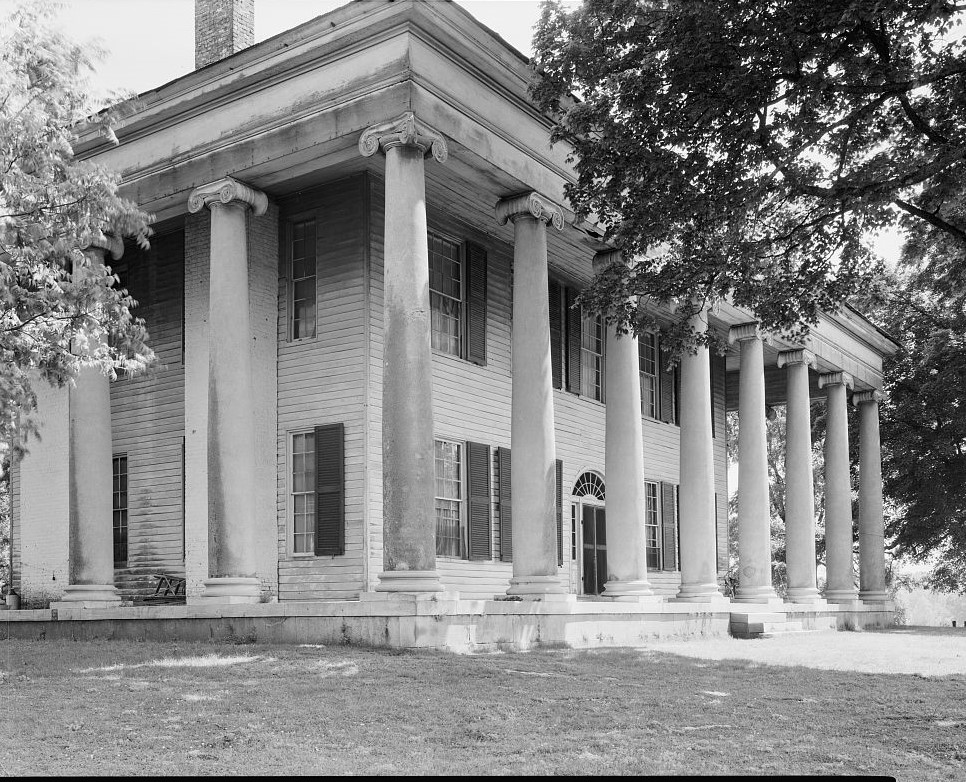 Click to see film of James Jackson home in Florence, Alabama (Library of Congress)
Every thing in the house had, to me, the appearance of enchantment. I never was in such a paradise before. Mrs. McKinley looked as though she had dropped from above. I never was more confounded. And the children! They are truly a pattern! The dear little things were in the nursery, and hearing there was a stranger in the parlour, prevailed on the nurse to open the door a few inches, that they might see who was there—but they were instantly upbraided by their mother.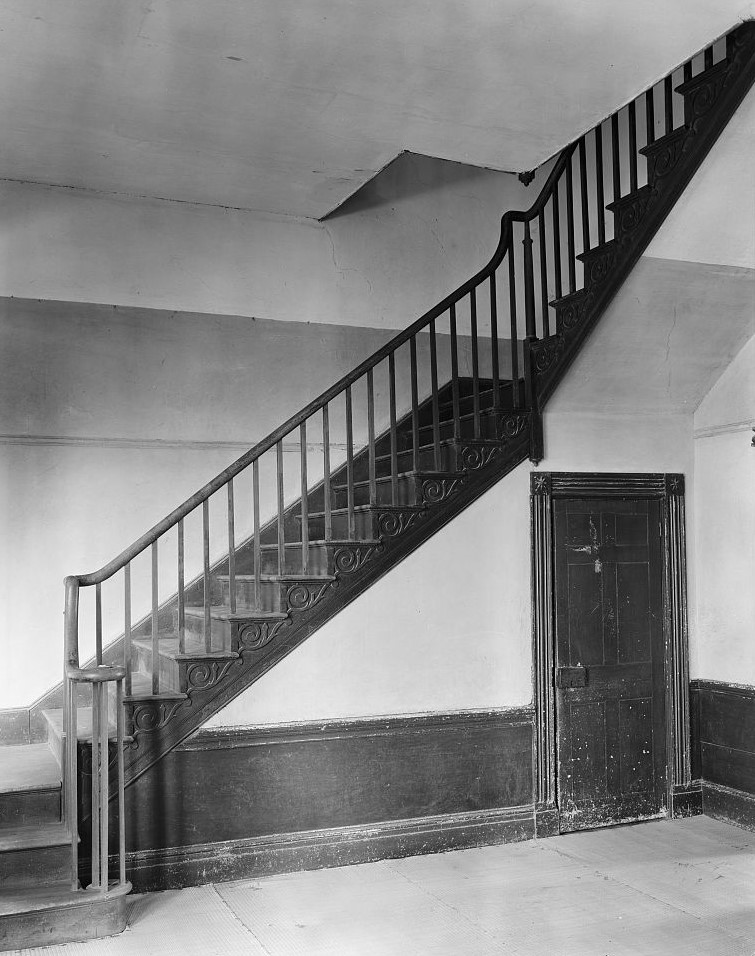 James Jackson house staircase  1939 Johnston, Frances Benjamin, 1864-1952, photographer
Make these a pattern for your children, if you should have any. I begged admission for the dear creatures, and they were admitted upon condition of good behavior. They were the handsomest children I ever beheld, and I was so completely facinated by their manners, I forgot every thing else. Mrs. McKinley informed me she was from Philadelphia, and was acquainted with Mrs. Doctor Charles Lewis.
All ladies excelled in domestic virtue
All the ladies of Florence excel in the domestic virtues. No gadding abroad. They demean themselves with that modesty and attention to their domestic affairs, beyond any ladies I have seen in the state. Mrs. Coffee (a niece of Mrs. General Jackson.) comes to preaching in a plain bonnet and calico dress.
General Coffee wes here since I arrived, and appears to be much reduced since I saw him in Huntsville. His constitution was much injured by the hardships he suffered in the army. I was never within speaking of James Jackson. It is said he is a native oi Ireland. Mrs. Ward, Mrs. Gibson, and Mrs. Southworth, the printer's wife, and several others, are charming women. Captain Gibson, a son of the brave Colonel Gibson, of Tennessee, is one of the most amiable men pn earth.
Every town is flooded with physicians
It is unaccountable why such a number of physicians should flock to this country. Every town is flooded with them. They are strung along the roads like so many blacksmith's shops. You can neither walk nor ride, but you have a physician on each side, one in front, and one in rear. Here are seven in Florence—seven more went away, for want of room. There are also, here, six lawyers.
I left thirteen doctors in Courtland, a much smaller place. One hundred passed through the latter, south, unable to get in. You cannot, as I stated before, travel a mile on any great road, without meeting with a Doctor's shop. But this is not all. Almost every practising doctor has three or four students. I have known mechanics quit their trade and commence the study of medicine.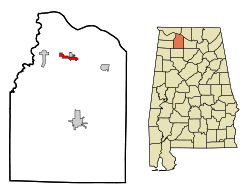 Courtland, Alabama
This would lead one to think the country was sickly. No such thing. It is a much healthier country than ours. It appears that the first doctors, who came here, made great fortunes, and every young man studied medicine, so that mankind has, indeed, given themselves up to the guidance of folly. They remind one of Erasmus' drunken man attempting to mount his horse; if you help him up on one side, he falls over on the other. Many of these physicians, however, are becoming planters, by which they will doubtless make their bread. They add, however, much to society, and help to pass off the time. They are all life and gaiety, and are constantly playing pranks on each other, for want of other employment. A most laughable scene occurred here the other day, which, for ingenuity of plot, and fertility of humor, might challenge the author of Don Quixotte.
Voice of a female cursing and swearing
The first we heard of it was the voice of a female entering the town, on foot, in a violent rage, cursing and swearing, (for it appears ladies do swear, or women I mean, as the word lady cannot possibly belong to one who would use such vulgar language.) She smote her fists together violently, and (passing over about ninety-nine oaths, at least) declared vengeance against every young man in Florence. Those who were in the secret, began to laugh; others laughed for company; but the most of the people were astonished.
"Twenty-four miles here I've walked, and torn myself to pieces with thorns, and bruises; look at my arms d—n you; look at my clothes; yes, laugh, laugh; see my shoes and stockings, wading all the creeks, you sons of b-ss. Oh, yes, you're the ones."
Her face was as red as scarlet, from the heat and rage together.— Briefly—a number of boats are generally lying at the landing, and it appears that the young men in Florence are no better than the young men of other towns, or what I would say, rather, that all young men are alike. This is an undeniable fact, and has been the case since the world began, if history be true, and will doubtless continue to the end of it.
Check the evil of swearing
Whether this be the effect of preaching, or the want of it, I pretend not to say. All I have to say, is, that the priests have been preaching these 1821 years, and yet young men, and young women, too, are still the same, and may be, a little worse. This may, however, be a part of the religion they preach, as I always find most of it where there is most preaching.
The sensible reader will understand me as wishing to check the evil of swearing, and without any desire to wound the delicacy of my fair sisters, though, like myself, they never ceased until they unravelled the mystery; and with no other view than to guard them against temptations and the cunning of young men.
Often spent the night in boats
It was ascertained, that parties of both sexes, for want of house room, doubtless, had often spent the night in these boats. It is said that people live in boats in China; probably this gave rise to the idea in this country. Let this be at it may, a very decent and respectable young man was seen leading a lady in the dusk of the evening into one of these boats; and sometime in the night, somebody untied the cable of the boat, and down the. river she sailed of her own accord.
There are shoals in Tennessee river, about 20 or 24 miles below Florence, and the first intelligence the inmates of the boat had of being under way, was the noise of the Shoals, which awakened them from a sound sleep! The woman waked first, and being alarmed at the noise, roused the young man, no other person happening to be on board. Upon looking out, and rubbing his eyes, the truth burst upon him; but there was no remedy, and their fears were no little, lest the boat might hang and break upon a rock.
Boat lodged against an island
Fortunately the boat lodged against an island, fair and softly— and there the gentleman and his companion had to remain, till fortune might send a boat for their relief, either up or down the river, which, by chance, happened sometime the ensuing day. But it appears the gentleman proved rather ungallant, in the end, as he left the lady to shift for herself, the moment he set foot on shore; and turning back to back, he went down the river, and she came up to Florence.
It is supposed he had two reasons for this: First—he did not wish to be seen walking side by side with the lady into Florence, which would have subjected him to the ridicule of his friends. Secondly—within six or seven miles below " Lover's Landing," as it has since been called, there was a small town, where he wished to refresh himself, and procure a horse, to ride back, being clerk of the court, his absence could not well be dispensed with.
It was very unkind
These incidents we learned partly from the woman, partly from observation, and partly from the contrivers of the plot. The woman said " it was very unkind," or in words to that amount, to go off, and leave her to come home through the swamps, by herself, without a road. And all the ladies thought so too: but they spoke differently, for they said she deserved it all, and a great deal more. They did not in my hearing cast the smallest reflection upon the young man.
He returned the next day, and in a very ill humour; and without adverting to his misfortunes, examined the countenance of every and each of his friends, with a view of detecting the party concerned. Being a man of spirit, he would have certainly walked the man or men out; but this part of the farce will never be known; and he is very silent himself, for obvious reasons. This incident has afforded much amusement.
Has to haul water two miles
I ought to have mentioned Mr. Mayers,2 your old acquaintance. He lives in Franklin county, over the river from hence. I dined at his house on my way to Florence. He is delighted with the country, owns a valuable plantation, and is up to the eyes rearing cotton. But he lacks one very essential comfort, which is water; having to haul it about two miles.— He has been at great expense digging for water on his land, but has failed.
Miss Ann, looks as charming as ever, and is often a visiter at the house of my friend, Judge Ellis, one of the most interesting families in Alabama. I never, though long acquainted with Mr. Mayers, and Miss M. saw Mrs. Mayers before. She is one of the finest women I have seen in this or any other country. They are all highly pleased with the change; and Mr. Mayers has a number of very promising children. But he talks of removing to Tuscaloosa, if he can sell out to advantage.
In noting all the fine things of Florence, I overlooked a Mr. Fulton, an eminent lawyer, and a gentleman of first rate talents. He is from Maryland, and one of the ornaments of society. I was just now called on for a toast, and gave an old one which is said to have been given extempore by one of my Irish ancestors, and which follows:
"Health to the sick;
"Wealth to the brave;
"A husband to the widow,
"And freedom to the slave!"
I should have no objection to realize one line of the toast. You may readily guess which; but that is between ourselves.
Yours, &c.
N. B. Pray give my respects to Mrs. Dunbar.
SOURCE:
Letters from Alabama, 1817-1822: Biographical introd. and notes by Lucille Griffith
1Now a Senator in Congress for Alabama.
2This amiable man I lament to hear, is now dead.
FreeHearts: 2nd edition A Novel of Colonial America
Col. John Washington (ancestor of President George Washington), Randall Revell, Tom Cottingham, Edmund Beauchamp ward off Indian attacks and conquer the wilds of Maryland's Eastern shore in 17th century colonial America in this historical novel, inspired by true events.