MATRIMONIAL MUSSES AT MOBILE
A Breezy Elopement and a Hilarious Grass Widow.
(Transcribed from The Montgomery Advertiser June 21, 1890)
Mr. Ulmer and Mrs. Hill Leave for New Orleans, Where It Is Supposed They Were Wed on Thursday – Mrs. William's Husband Leaves and She Celebrates the Event by a Big Spree.
Mobile, June 20 [Special] – This city has been thrown into quite a state of excitement over two incidents which leaked out during the day.
One is the supposed elopement of E. F. Ulmer, and Mrs. W. A. Hill, both well-known people. Ulmer, up to two weeks ago, was superintendent for the Mobile Coal Company. While Mrs. Hill is the wife of W. A. Hill a Louisville and Nashville railroad telegraph operator. Ulmer has been paying attention to the lady for quite a while, and it was a common thing to see his horse and buggy stop at the door of the Farley House on Government street, and Ulmer alight and remain in the house for some time.
Government Street Scene, Mobile, Alaca. 1890 (Alabama Department of Archives and History)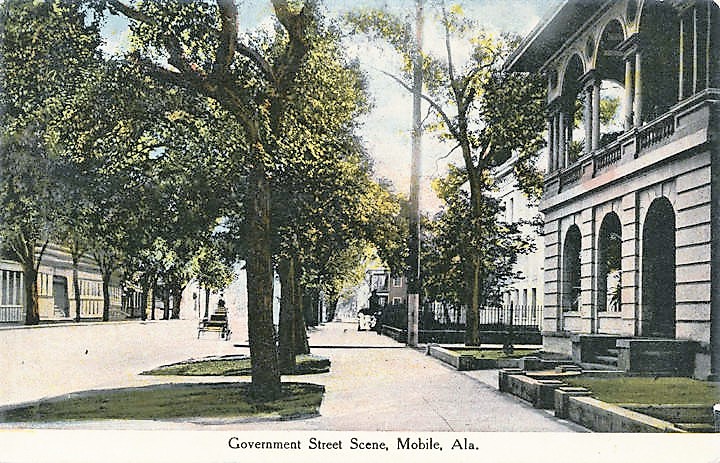 Wednesday night Ulmer left town going in the direction of New Orleans, and the following morning Mrs. Hill boarded the same train and went in the same direction, and it is supposed met Ulmer in the Crescent City.
Ulmer leaves a mourning wife and three children, who are destitute. To-night their home is locked up and no one knows their whereabouts. Mr. Hill takes the matter cooly (sic) and says he don't care.
Tonight Mrs. Maggie J. Williams is suddenly left a grass widow. It occurred in this way: She kept a boarding house in Huntsville, and while so engaged met Williams. Her name before was Maggie McMahon. She became infatuated with his pleasant address and he got stuck on her money. They were married and came to Mobile, when the cash gave out and Williams suddenly departed for parts unknown. The woman is celebrating the event by going out on a big spree tonight and raising war generally. She is without means of support.
REVIEWS
The exhilarating action & subplots keep the reader in constant anticipation. It is almost impossible to put the book down until completion,Dr. Don P. Brandon, Retired Professor, Anderson University, Anderson, Indiana
This is the first book I have read that puts a personal touch to some seemingly real people in factual events.Ladyhawk
Love books with strong women…this has one. Love early American history about ordinary people…even though they were not 'ordinary'…it took courage to populate our country. This book is well researched and well written. Julia Smith
A picture of love and history rolled into one. A step back in time that pulls you in and makes you a part of the family and their world. Ken Flessas
Each book's writing gets stronger, characters become real, the struggles and sorrows that laid the foundation for this country. Addictedtobooks
Not only is the story entertaining, it opens the eastern shore of the early Virginia Colony to the reader as a picture book….I know this story will touch many peoples' hearts. B. Thomas