The Buttahatchee River is a tributary to the Tombigbee River having its source in Winston and flowing to Marion County, then flowing southwestwardly, through Marion and the northern extremity of Lamar County, to its junction with the Tombigbee, about 20 miles above Columbus, Mississippi.
Flows through Marion and Lamar Counties
The Buttahatchee River rises in northwestern Winston County, Alabama, near the town of Delmar, and flows generally westwardly through Marion County, where it collects a short tributary, the West Branch Buttahatchee River. At Hamilton, Alabama, the river turns to the southwest and flows through Lamar County, Alabama and Monroe County, Mississippi; its lower reach is used to define part of the boundary between Monroe and Lowndes Counties. The Buttahatchee joins the Tombigbee near Columbus Air Force Base, 12 mi north-northwest of Columbus.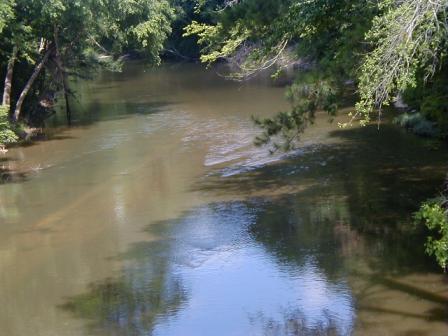 Buttahatchee River (waterdata.usgs.gov)
Lottery was used to improve the river
In December, 1820, the Alabama Legislature passed an act authorizing Anthony Winston, William Wilson, Jesse VanHoose, James Davis, Robert Gillespie, Isaac Anderson, James Moore, William Metcalf, Jabez Fitzgerald, Lemuel Bean, J. S. Fulton, Richard Ellis and John D. Terrell, to raise by lottery a sum not exceeding $30,000, to be appropriated exclusively to the improvement of the navigation of the Buttahatchee River. The act provided that "within a convenient and reasonable time after the lottery shall have been drawn," the work of improving the river should be let by contract to the lowest bidder. What work was done if anything, under this authority is not known. (Acts, 1820, pp. 34-35).What work was done if anything, under this authority is not known.
Choctaw Name
The name "Buttahatchee" is Choctaw for "sumac river", from bati, "sumac", and hahcha, "river. A key Indian location is marked by three large mounds on the Buttahatchee River just south of Hamilton, Alabama, at the so-called "Military Ford", where Andrew Jackson's Military Road crossed that river.
There were a few plantations concentrated along the Buttahatchee River in the southern part of the Marion county that became Lamar County in 1867 (first formed as Sanford and Jones County).
Including:
A Russian princess settling in early Alabama
How the early setters traveled to Alabama and the risks they took
A ruse that saved immigrants lives while traveling through Native American Territory
Alliances formed with the Native Americans
How an independent republic, separate from the United States was almost formed in Alabama