MEXICAN WAR and ALABAMA MILITARY
The war between Mexico and the United States, 1846-1848, brought on by a series of attacks on American citizens, the sympathy of the people of the United States, for the independent State of Texas, the annexation of Texas, a dispute regarding the boundary of Texas, and other friction between the two countries on account of violation of territory of the two, was participated in by a large number of volunteers from Alabama, though but one regular regiment, one battalion, and a few independent companies, were mustered in.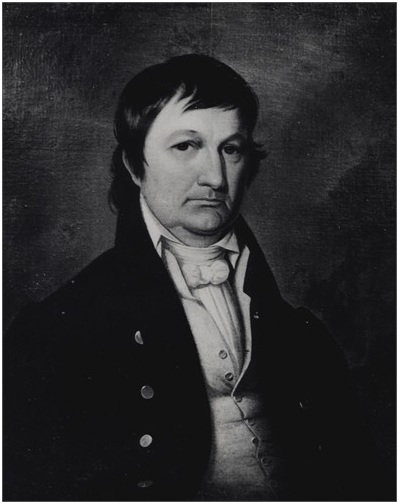 Col. John R. Coffee
The first Alabama volunteers under Col. John R. Coffee, with:
A company, commanded by Captain Al. Pickens;
B by Captain W. Thomason;
C by William G. Coleman;
D by S. Moore;
E by J. D. Shelly;
F by R. W. Jones;
G by D. P. Baldwin;
H by J. P. Youngblood;
I by R. G. Earle;
K by H. M. Cunningham.
These were twelve months volunteers in the regular establishment.
Prior to this organization, a regiment of six months volunteers under Col. John M. Withers, and Captains John L. Mumford, H. W. Cox, D. P. Baldwin, Daniel Gibbs, Sydenham Moore, Jacob D. Shelly, E. W. Martin, James Crawford, J. D. Parke, Sumeral Dennis, John B. Todd, and John A. Winston, had volunteered. As will be seen Captain S. Moore, Captain J. D. Shelly, and Captain D. P. Baldwin, were in the regular volunteers.
Major John J. Seibels' battalion of volunteers, also shown as Lieut.-Col. Seibels' independent battalion, with captains John G. Barr. Co. A.; Thomas E. Irby, Co. B.; Daniel Gibbs, Co. C.; Tennant Lomax, Co. D.; and Blanton McAlpin. Co. E., was also accepted. They volunteered for the period of the war.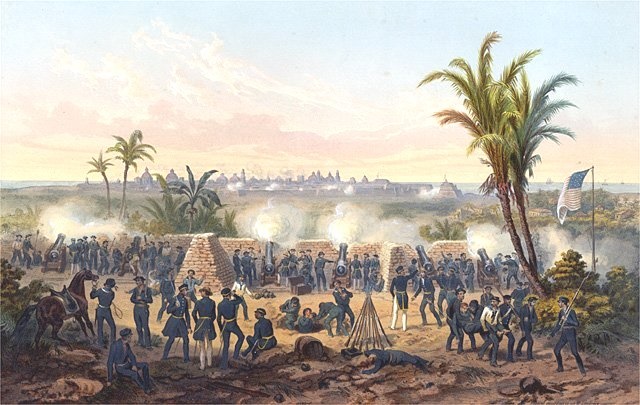 Battle of Veracruz – Mexican-American War (Wikipedia)
Lieutenant-Colonel P. H. Raiford, mustered an infantry battalion of four companies under Captains James M. Curtis, Robert L. Downman, Robert F. Ligon, and John J. Seibels, for six months volunteer service, prior to the formation of Colonel Seibels' battalion.
Independent companies under Captains William H. Piatt, Robert Desha, Rush Elmore, and James N. Gee, were accepted for service, but these companies, nor any of the regularly enrolled  Alabama  troops participated in any of the campaigns.
The 13th United States Infantry, raised under the 10 Regiment Bill of 1847, was officered in part by Alabamians.
Colonel Coffee's regiment was mustered into service in June, 1846, at Mobile, by Walter Smith, Brigadier General and Mustering Officer. The completed muster of the regiment dates the 29th of that month. The officers were John R. Coffee, Colonel; Richard G. Earle, Lieut.-Col.; Goode Bryan, Major; James D. Parke, Adjutant; A. H. Hughes, Quartermaster; John C. Anderson, Surgeon; Nesbitt, surgeon mate; Arithy B. Green, surgeon mate; with a non-commissioned staff of John B. Fuller, Sergeant Major, no quartermaster sergeant, Christopher Darrow, Drum Major; Joseph Anderson, Fife Major.
The staff of the six months volunteers regiment under Col. Withers, and which was mustered originally June 11, 1846, was Jones M. Withers, Col.; Philip H. Renford, Lieut.-Col.; J. A. Winston, Major; and R. W. Smith, Adjutant; and Jefferson Noble, Sergeant-Major. The individual companies of these volunteers, show musters in May and early June.
Attack on Chapultepec, Sept. 13th 1847–Mexicans routed with great loss (Wikipedia)
Lieutenant-Colonel Seibels' battalion muster, shows the following staff: John J. Seibels, promoted from Major, 23rd of February, 1848, though his service muster is December 20, 1847; George W. Thomas, Acting Surgeon; Robert A. Hardaway, Adjutant; Charles M. Martin, Sergeant-Major; John B. Brewer, Quartermaster Sergeant; and John Perry, private and musician.
There are no extant records of the field and staff of Colonel Raiford's battalion. The muster rolls show August 17 and 18, 1846, as the date these companies were mustered out of service.
The independent companies were mustered out of service in New Orleans and Mobile between August, 1846, and July, 1848, Captain Elmore's company being mustered out on August 18, 1846, but Captain Gee's company was not mustered out until July 29, 1848.
An examination of these records will show that many of the officers and men who participated in the Mexican War, later saw service, the majority with high commands, in the War of Secession. Among them are Colonel Seibels, Col. Lomax, Col. Ligon, Major Elmore, General Shelly, and Captain Hardaway, and many of these men took prominent parts in the political life of the State in after years. Among these being Col. Withers, Sydenham Moore, Daniel Gibbs, Lieut.-Gov. Robert F. Ligon, and Governor John Anthony Winston.
SOURCES
History of Alabama and Dictionary of Alabama Biography By Thomas McAdory Owen, Marie Bankhead Owen with References.—Pickett, History of Alabama (Owen Edition, 1900); Brewer, Alabama (1872); Muster Rolls Alabama Volunteers, Mexican War, 1846-47 (official) in Alabama Department of Archives and History.

History of the Mexican War By Cadmus Marcellus Wilcox 1892 Church News Publishing Company