After the American Civil War ended, Emperor Dom Pedro II of Brazil offered asylum for the Confederates to continue their life in Brazil. The Brazilian government, under the rule of Emperor Dom Pedro II, recruited the Confederates, taking out advertisements in U.S. newspapers and sending representatives to the American South to persuade proud Southerners to live out their dreams in Brazil.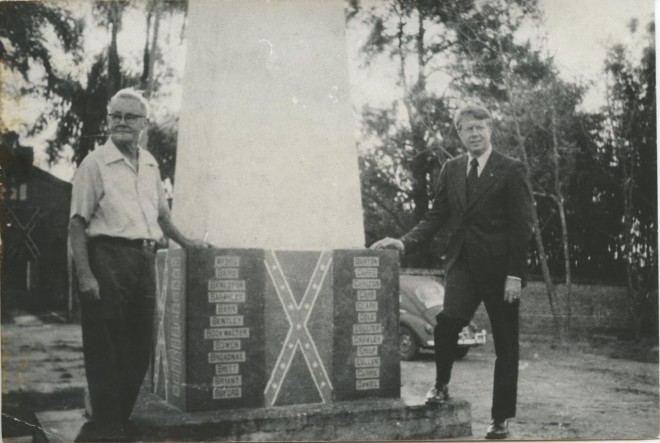 Pres. Carter at Americana, Brazil
SOUTHERN IMMIGRATION TO BRAZIL
PART III
(These excerpts come from the article written by Peter A. Brannon in the
The Alabama Historical Quarterly Summer -1930)
A Southern Colonization Society for those desiring to move to Brazil was formed. Among its membership were: Dr. Hugh A. Shaw, Major Isaac Boles, Mr. B. C. Bryan, Mr. William M. Williams, Mr. T. B. Reese, Mr. Harrison S. Strom, Dr. T. J. Teague, John L. Nicholson, William F. Duriscoe, Benjamin F. Mays, Henry G. Arthur, D. F. McEwin, Thomas J. Davis, S. J. M. Clark, Capt. Tillman Watson, Jr., W. J. Gardner, Charles Glover, John Sentell Esq. Capt. W. H. Brunson, Dr. W. D. Jennings, Mr. G. W. Morgan, John R. Carwile, Major Robert Meriwether
The Officers were:
President – Major Joseph Abney
Vice-President – Colonel D. L. Shaw
Secretary – Colonel A. P. Butler
Corresponding Secretary – Major John E. Bacon
Treasurer – Thomas B. Reese
It is not recorded who of this list went to Brazil. Thomas J. Adams and Hiram Q. Adams went down with Colonel Meriwether, but did not remain very long.
Diary of Mrs. Julia Keyes
Jennie Rutledge Keyes, the second child of Dr. Keyes, married James A. Davidson, Jr. in Montgomery February 8, 1875. She died in 1879. She was the grandchild of the celebrated novelist, Caroline Lee Hentz.
Her Diary is frank and expressive and at the same time, bubbling with that romantic spirit which the environment of that cultured grandmother would suggest. Mr. Davidson resided, (1930), with his daughter, Mrs. Fitzgerald Salter, in the city of Montgomery No picture of the life of the Americans in Brazil, can be more vividly painted than to quote, just as they are set out, the volumes which are affectionately referred to by the members of the families, as "Jennie's Diaries."
The first volume includes a statement of several pages made by Mrs. Julia Louisa Keyes, wife of Dr. John Washington Keyes a dentist, who married the daughter of Professor Nicholas M. and Caroline Lee Hentz.
Certain fly-leaf notations in these volumes, made by Jennie, give pertinent information, and they, too, are used here. A statement of much value is one prepared on board the Barque Wavelet on their return home in 1870. It concludes the story.
Dr. John Washington Keyes was born at Athens, Limestone County, Alabama, November 24, 1825, and died in Wewahitchka, Florida, November 27, 1892. He studied medicine and graduated from the Cincinnati Dental College and practiced dentistry in Montgomery. He entered the Confederate Army as a member of a Cavalry Company under Captain, later General, James H. Clanton. He was subsequently a 2nd Lieutenant of Company E, 1st Battalion, Hilliard's Legion and later became a 2nd Lieutenant of Company F of the 60th Alabama Infantry Regiment. He was subsequently Surgeon of the 17th Infantry Regiment. In 1867 the family moved to Brazil. After their return to Alabama, in 1870, he removed to Florida.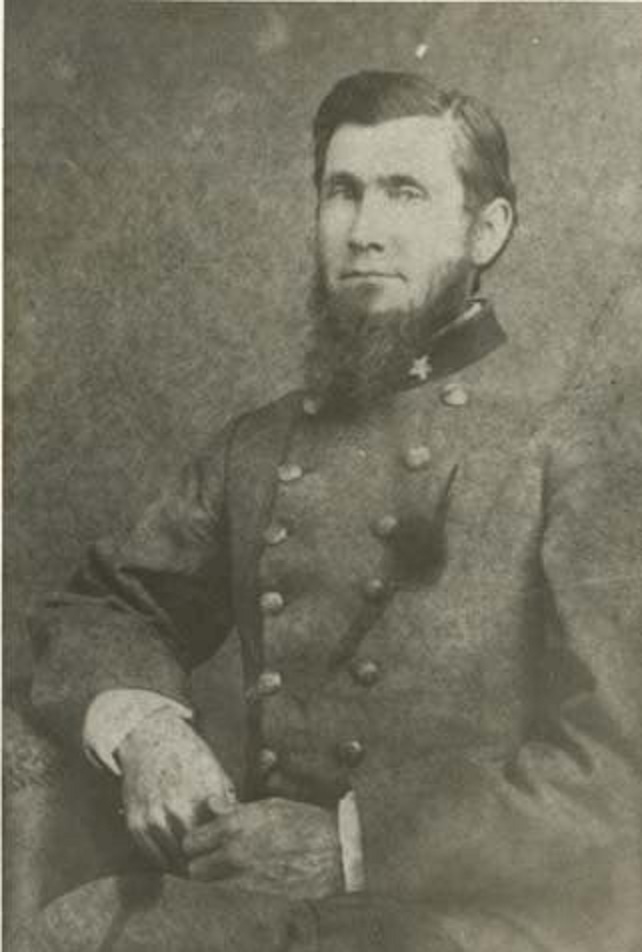 John Washington Keyes
Below is an excerpt from Jennie R. Keyes diaries printed in The Alabama Historical Quarterly Summer -1930
Steamship "Marmion"
April 27th
1867
Saturday morn
On our way to Brazil! The long-anticipated voyage began-Twelve days since we sailed & I have not yet begun a Diary-Not because I have been disappointed -neither has it been from sea-sickness. This great terror of the passengers, I have been spared almost entirely, but responsibilities & varied cares, which of a necessity follow me, have prevented my setting down a thought.
So many I have had that were pleasant & grateful I shall ever bear in my heart the memory of them. Ever feel thankful that we were cast with such delightful company-Gentlemen whose manners are so engaging that any circle might be improved by their presence. Not from politeness & delicate attention to ladies alone as these can be assumed on occasion, but we believe that these are the signs of the true gentleman which cannot be mistaken.
Some whose faces we can trust and whose kind forbearance and gentle consideration of ***** children will, at once, win our confidence. Next to those whom our Savior has "suffered to come unto Him" should be those who can dive down into their hearts, inquiring what they need & what they can administer to their comforts-and for those who care not for these helpless ones, remembering not the days of their innocence, let us draw a sigh of intense pity. No domestic happiness will be theirs. They are ignorant of the kindest affections of the human heart & "home" has never any charm for them.
Will we ever forget the parting from our Home & from those we love
Will we ever forget the parting from our Home & from those we love? I think not. It is pleasant to believe that kind hearts, beating so far away, are with us on our voyage, praying to our common Father for our safety and prosperity. It is pleasant also to look forward to the day when we can open a door of hospitable welcome to some that will follow us. If our journey continues as pleasant as it has begun, how much we will have to be thankful for—How earnest we should be to return thanks by our daily actions—and prepare ourselves for another home, not made with hands.
On the morning of the 16th (April) we left N. Orleans—a clear sky above & hopeful hearts around us still we cannot say we were not met by disappointments in regard to our "quarters" between decks.
We knew nothing of the accommodation of an emigrant ship and consequently did not see as we do now that we are far better off in many respects than we might have expected—The rough fare if we keep our health, will never be remembered with thoughts of regret. We will only think of all that has been so very delightful.
Passed out of the Gulf on a moonlight night
We passed out of the Gulf on a lovely moonlight night. The waters as smoothe as a lake—crossed the bar safely between two vessels that were stuck, lying in wait for the rising of the tide— so much so good" we thought. On rounding Florida point we had some clouds, rough water, in consequence of a little blow, and some sea-sickness amongst the passengers. We watched the light-house with some interest, also the faint outline of a home of "Wreckers" who were doubtless watching the red lights on our masts with equal concern.
On the 18th we passed the Tortugas. The night previous to the blow—on the 20th passed Great Isaac's, saw a few rocks and a striped light-house, about breakfast hour—Sunday got into the Atlantic—the rolling waves brought more sea-sickness amongst the passengers. In our family we had more cases with the smaller children, Julia, Charlie and Reb—I suffered some with my head. Our Captain had services on deck. Our two ministers being sick, he distributed a number of new Episcopal prayer books and it was with great satisfaction we saw the passengers, all that were able, go out to participate.
Most of our time we spent on deck
I think we have a good Captain. Prim, considerate—& seems to know well his duties and his course. Most of our time we spent on deck and we found our Captain very agreeable in conversation. With a rough manner and stern treatment to his crew, he was respected For several days the water remained rough—On Wed. we were annoyed by the appearance on board of a case of varioloid, very slight, but a cause of uneasiness, particularly to the Mothers of young families —Passed Porto Rico by night—Those that were up said that the streets, lighted by gas, could be readily distinguished and the scene very beautiful.
 One or two small fights occurred
Sunday—28th — Water rough again—
Reverend Ballard Dunn held service on deck. One or two small fights occurred amongst the men. One dutchman who leads a blind man much like him,—probably his brother—had some rough handling, his eye blackened, an uncouth, unpolished set of individuals—If it were not for being obliged to be near some such people as these all the time, we would be more comfortable, So entirely different are they from beings we are accustomed to mingle with, but we have only those to look at and enough of a better class to associate with. Dear me! if we had not been thrown with some pleasant and agreeable people, what a sad & lonely time we might have had.
Beautiful weather continued—lasted all the way. Our Captain said he had never made a more beautiful passage—that he had crossed the ocean thirty times.
Five months later
Oct. 14th —Lake Japarana It is now nearly five months since we came to Brazil—Our voyage was happily ended by reaching the magnificent City of Rio Janeiro on a beautiful moonlight night—the 16th of May—without accident of any kind—Perhaps I will never feel again such an overpowering sense of gratitude & pleasure as when beholding those far-famed mountains & city lights. It was quite enough to repay me for a month's discomfort on board ship *Then— our reception at the Government House—"Casa de Suade" was so gratifying.
We were a happy band of Emigrants,— felt we had reached a place of rest and among kind, generous people who had given us a welcome we had not expected. We were sheltered & fed at Government expense and fared much better than on our steamship, the food not really better but prepared in a manner to make it more palatable. The proprietor, Col. Broome, was a Confederate soldier, as kind and obliging as we could wish—and the house was a little less than a palace, with marble floors—most of the rooms having frescoed and gilded ceilings & beautifully papered walls.
Flower yards, tastily arranged with marble benches beneath vine-covered arbors. Just within the great iron-gate is a long row of those stately Palms—never before seen except in our imaginary pictures of oriental scenes. We bought fruit in abundance, at a small expense and all little delicacies which we needed and considered ourselves blessed in many ways.
The Emperor came in person to pay us a visit
Two days after our arrival, the Steamship N. America came in from N. York with a large number of Emigrants and our hotel then entertained nearly three hundred. Very soon they began to circulate. In the meantime, we received visits from Brazilians and Americans, too, by throngs. It was quite bewildering, but gratifying to know that we were the cause of so much interest. The Emperor came in person to pay us a visit and we heard that he expressed himself as being much pleased with the appearance of the Americans.
Many gathered in throngs discussing the respective merits of their separate colonies. Many acted rashly as they afterward found, coming to a conclusion. If all had gone together to one colony they probably would be there now with a flourishing town of their own making, but they did not. They scattered * * * Mr. Charles Nathans, Mr. Andrew Steel & Sons were very obliging to us. Assisted us in many ways and we will never forget them.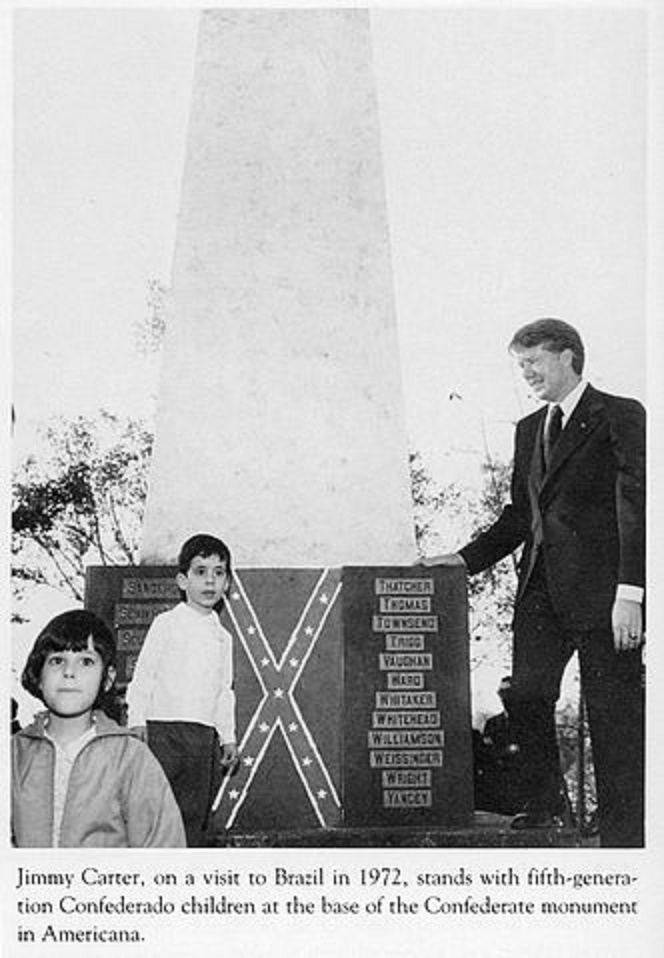 SOURCES
Excerpts come from the article written by Peter A. Brannon in The Alabama Historical Quarterly Summer -1930 – "Embodying the Diary of Jennie R. Keyes Montgomery, Alabama. This study was made at the request of Dr. Wyatt H. Blake a zealous member of the Board of Trustees of the Alabama State Department of Archives and History since its creation in 1901"
Wikipedia