(Transcribed and unedited (with misspelled, capitals and grammatical errors) excerpt from a story written by WPA (Works Projects Administration) writer Annie L. Bowman, Escambia County, Alabama, January 18, 1940 information gathered from interviewing old time residents)
An Inventor in Escambia County
Written January 18, 1940
by
Annie L. Bowman
Mr. J. A. Harold has justly earned the title of self-made man, for he, without the help of influence has risen to prosperity and attained a position of importance. This man has not reached the goal of his desires along any roy-road (sic) to fortune, nor has he attained his objective point through chicanery, but day by day has worked industriously, never satisfied with the present, always looking to the future. One who knows the value as well as the meaning of hard and industrious labor.
Father native of Germany
His father Mr. G. C. Harold was a native of Germany, who came to America when a young man and settled in Brewton where he was engaged in the lumber business and had accumulated a small fortune.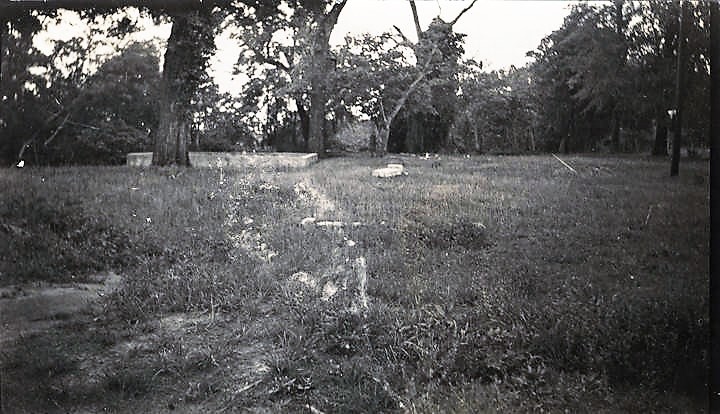 G. C. Harold lived in Little Germany near the site of Fort Crawford. This sign from 1940 is the only sign of old Fort Crawford at Brewton, just back of the C.L. Wiggins Hall at East Brewton (Alabama Department of Archives and History)
Mr. Harold attended the grammar and high schools in Brewton. After this he felt convinced was enough education for him and he was sure he could make a living with what knowledge he had. And he did.
After his fathers death he looked around for an opening to work and decided on the grocery business and decided to settle in Brewton where he was born and reared. He was continually engaged in this business successfully for 20 years.
Saw a need for his invention
He married Miss Julia Scott in Brewton when a very young man, and they have one daughter who is a teacher in the public schools of Escambia County.
During all of this time he was trying to better himself and thinking of some way to do this. One day while serving a cold soft drink at the curb to a lady, the drippings fell on her dress, and when she raved, an idea was conceived on the spot.
Why not, says he, invent something that will be both sanitary and save the ladies dresses. Whereupon he began to work his brain dilligently (sic) and a few months he had carved out his objective point. He applied for a patent and after two years of waiting and at the cost of 200 he was granted a patent. He calls it San An No Drip. It protects the bottle and wipes the top, which is a very useful article for soft drink stands.
But he says the trouble has just begun. Some one will have to invent a machine to make them. He has a man who expects to have a machine ready to turn out in less than a year. And when he gets it in operation he expects to make quite a little money. "Sanitation has become a necessity if you make good these modern times," says he.
Do you need some guidance in your genealogy search? Save time and avoid pitfalls in your research. This book provides simple, no-nonsense instructions to help you get started. Many FREE research links included. Where Do I Start is filled with Hints and Tips to begin your family genealogy research and acquire Genealogy information.
WHERE TO FIND – online resources, experienced genealogists will not be aware of many of these.
COURT RESEARCH – how to do court house research, where to find birth, death, social security records free online.
EIGHTY – ONE QUESTIONS – you should ask your elderly loved-ones before it's too late.
TIPS ON BREAKING DOWN THE WALL – Everyone faces some difficulties in research, often called a 'brick wall' but WHERE DO I START? provides suggestions for overcoming them.

Download Where do I Start? to your Kindle in less than 30 seconds or to your PC, iPAD, iPhone, MAC or Android device with FREE Apps from Kindle.