"In 1822, Mr. Edward Davis purchased Job and brought him to old Jonesboro, in Jefferson County, Alabama, to be his slave. Mr. Davis lived near Canaan Baptist Church in Bessemer. Mr. Davis and Job attended church at Canaan Baptist.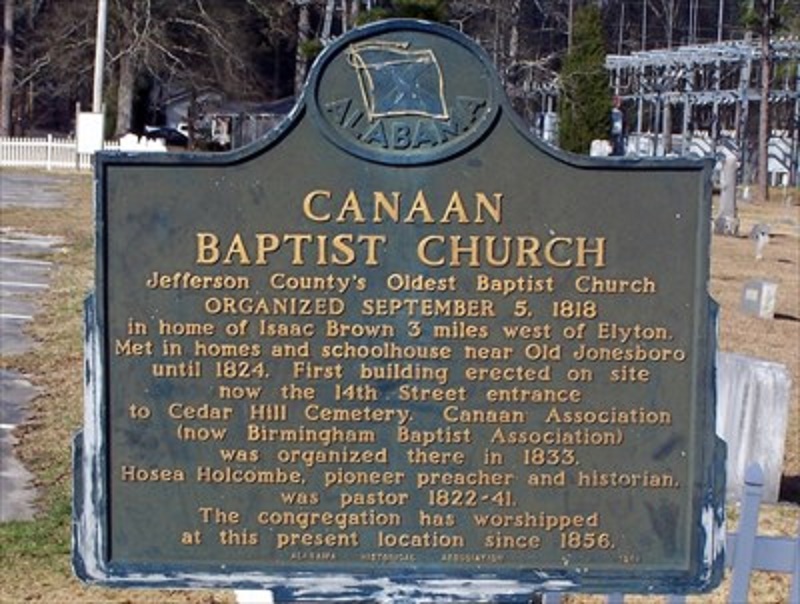 In 1823 it is recorded by Hosea Holcombe, in his History of Baptist's in Alabama, that Job was received into Rock Creek Baptist Church. Job was a member of Rock Creek Baptist Church for four years. In 1827, he was among a group of members from Rock Creek Baptist Church that formed Roupe's Valley Baptist Church. Job reunited with Rock Creek Baptist Church. This was sometime between 1827 and 1833, because in 1833, Mr. Davis moved to Pickens County, Alabama. Job became a member of Pilgrim's Rest, under the care of Rev. Henry Petty in that County. Job died on November 17, 1835 in Pickens County, Alabama. In less than 18 months his wife was also dead. Her last words were: "O tell me no more of this word's vain sore, etc." When she finished the verse, she closed her eyes on the world. Even though Job and his wife were in bondage, they still loved and honored God." (A Brief History of Rock Creek Baptist)
Excerpt below is from The Cyclopedia of the Colored Baptists of Alabama – Their Leaders and Their Work copyright 1896 – The book contains many biographies as well as information on churches of early African American Baptists leaders
TUSCALOOSA AND JEFFERSON COUNTIES
African-American Baptist Ministers
Perhaps the first church (white) organized in Jefferson county was organized about the year 1818. Dr. Holcombe's history tells us that in 1823 the "Rock Creek Church," in Tuscaloosa county, received into its membership from South Carolina an African preacher, Job Davis. Mr. Holcombe says of him: "He was an acceptable preacher, a man of deep thought, sound judgment, and was well skilled in the Scriptures of Divine Truth."
There is our man
The venerable Mr. A. J. Waldrop, of Birmingham, informed the writer that when a little boy he heard Job preach in a camp meeting. He said: "The meeting had been in progress a week or so, and mother and father went to the camp on Sunday morning. The meeting was very cold. Brother Holcombe was wondering who would be the fit preacher to open the day's services, as Job, now free from his daily toil, walked into camp. As Brother Holcombe saw him, he remarked: 'There is our man.'
Job was led up to the stand and invited to go up and take a seat. Job replied: 'No, I'll stand down here in front of it.' Job then reached back to the top of the stand and took off the Bible and opened it. I can never forget the deep thrill of devotion which Job's person and manner turned in upon the audience that day; something of the feeling is with me yet. He had hardly parted his lips before men and women began to sob. When he was through with his sermon, it was plain to all that the meeting was no longer a dead meeting. This was the beginning of a revival which affected much of Tuscaloosa County."
He died a saint
Mr. Holcombe says of Job, in another place in his book: "Job was brought from Africa to Charleston, S. C., in 1806; professed religion in 1812; soon learned to read and write; taught Sunday school for two summers in Abbeville district, S. C.; licensed to preach in 1818; came to Alabama in 1822; died November 17, 1835, in Pickens county. He lived the Christian, he died a saint."
Further, Mr. Holcombe says: "In those days we had but few better preachers than Job."
Thus it appears that not only in wars for independence, but in gospel labors as well, the negro is in the foundations of this country.
Rev. Prince Murrell, who had bought himself sometime before the days of the Emancipation, opened the work at Tuscaloosa on the dawn of freedom. Rev. Messrs. M. Tyler and M. D. Alexander came into the van at Lowndesboro.
Where Do I Start?: HINTS and TIPS for BEGINNING GENEALOGISTS with ONLINE RESOURCE

Do you need some guidance in your genealogy search? Save time and avoid pitfalls in your research. This book provides simple, no-nonsense instructions to help you get started. Many FREE research links included.
Tips include:
WHERE TO FIND – on-line resources, experienced genealogists will not be aware of many of these.
COURT RESEARCH – how to do courthouse research, where to find birth, death, social security records free on-line.
EIGHTY – ONE QUESTIONS – you should ask your elderly loved ones before it's too late.
TIPS ON BREAKING DOWN THE WALL – Everyone faces some difficulties in research, often called a 'brick wall' but WHERE DO I START? provides suggestions for overcoming them.
Get the Daily Update from Alabama Pioneers
Don't miss out on Alabama history, get our daily updates in your email.