Jackson's Oak is located in Historic Village Point Preserve in Daphne, Baldwin County, Alabama.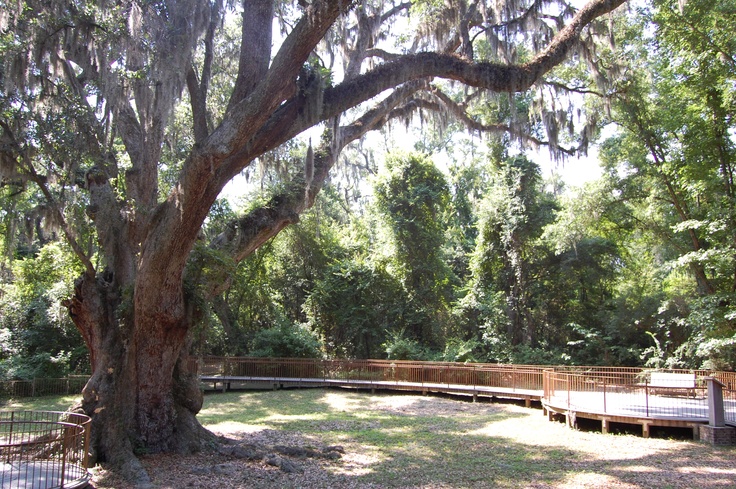 This giant tree, which is 95 feet tall, with a circumference of 28 feet, was a landmark in the eighteenth century: it is shown as a survey line marker in the original Spanish Land Grant survey map of 1787.
Jackson's Oak" in Baldwin County, Alabama, where Andrew Jackson stood to address his troops on the way to New Orleans in 1814
Alabama State Archives
ca. 1930

In 1814, General Andrew Jackson marched from New Orleans and bivouacked his 3000 soldiers here en route to Pensacola.
Legend states that Jackson climbed the limbs of this magnificent oak draped with graceful silvery moss to rally his bedraggled troops with a speech. Protection and preservation of this magnificent live oak is a top priority of the City of Daphne and the Village Point Foundation.
The following transcribed story about Jackson's Oak and the Village was
written and compiled by Francois Ludgere Diard March 24, 1939
is from a Vacation Visit to the two principal ghost towns in Baldwin County, Alabama
Federal Writers Project (Alabama State Archives)
Your Vacation in Alabama
The vacationist can have a pleasant stay by parking his car and trailer near the noted "Jackson's Oak. It has a limb spread of 125 feet and stands at the avenue of ancient oaks two miles north of Daphne. It was here as tradition has it that General Andrew Jackson had his camping ground in his march to Pensacola in the War of 1812, and is called by the natives "Jackson's Oak." It is really a wonderful tree to see, as well as those of lesser size standing there also. The story that General Jackson climbed the tree and addressed his troops from one of its large limbs has been told in detail for a hundred years, and portions of the speech are sometimes quoted, but Colonel Landers of the Army College, visiting the scene with many military records to back him up, expressed doubt if the thing happened. The Mobile Advertiser, however, of Tuesday, April 22, 1856, gives a strong reference to this historical happening.
Standing on the site of an obliverated (sic) bayshore town termed "The Village," these stately oaks have seen history in the making. Indians, French, Confederate and Union forces, as well as local militia, have all held councils, sought enemies or camped beneath their spreading limbs. "The Village," which is three miles south from the Bridgehead, is termed like Blakeley one of the deadest of all dead towns in Alabama. Historian Hamilton writing of "The Village," says, "Many people had summer residents across the bay at the place called the "Village, and lower at Howard's, at Montrose, where British troops were once encamped, and at Point Clear, jutting into the bay, was built a hotel which became a favorite resort of Mobile during the summer. These places were reached by steamboats from town.
"The Village" waned in popularity before the Civil War and became a resort of some wild people who were law unto themselves. It has long been a deserted village, though occupying a beautiful site overlooking the bay and having a fine beach of clear sand at its front. But the glory of "The Village" old as its oaks, some of which are 200 years old and over, has come to us as part of the history of South Alabama.
Start researching your family genealogy research in minutes for FREE! This Ebook has simple instructions on where to start. Download 

WHERE DO I START? Hints and Tips for Beginning Genealogists with On-line resources 

to your computer immediately with the a FREE APP below and begin your research today!
Reviews
"This book was very informative and at a very modest price. One web site I may have missed in your book that has been very helpful to me is genealogybank.com. I found articles about several of my ancestors in their newspaper archives. Thank you for your great newsletter and this book."
"The book was clear & concise, with excellent information for beginners. As an experienced genealogist, I enjoyed the chapter with lists of interview questions. I'd recommend this book to those who are just beginning to work on their genealogies. For more experienced genealogists, it provides a nice refresher."