[Anne Newport Royall was alive to witness the Revolutionary War and recorded her sentiments about the experience in this letter written on President Washington's birthday Feb 22, 1822 while residing in Huntsville, Alabama]
In 1818, before Alabama became a state, Anne Newport Royall (June 11, 1769 – October 1, 1854) was a traveler in Alabama. After her husband died, she was left penniless and she toured Alabama for four years as one of the first newspaperwomen in America. She wrote letters to her friends about Alabama and the letters were published as a book entitled Letters from Alabama in 1830.
On February 22nd, 1822, Anne was in Huntsville, Alabama (now in Madison County, Alabama)where she wrote her friend Matt about the celebration of President George Washington's birthday with parades and a ball.
The letter has been transcribed exactly as published. (Including the misspellings)
Huntsville, February 22d, 1822.
Dear Matt,
This day, the anniversary of our beloved Washington, was ushered in with all manner of rejoicing. The star spangled banner is now waving on the cupola, before my window, and an elegant ball is to conclude the day.
Mind thrown back to the Revolutionary War
While I sat in my window, with my eye on the flag, my mind was thrown back to the Revolutionary War; and whilst I gazed on this emblem of our liberty, I thought on the day that I first saw the colors of the then conflicting states: the occasion nor the date I do not now remember. But I well remember the brilliant striped flag.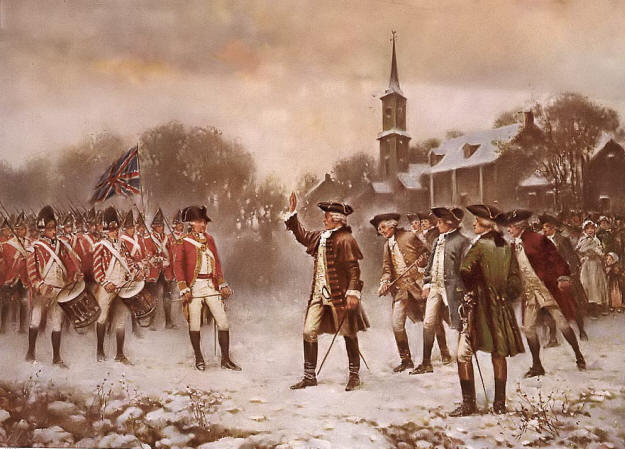 I was then a child, and lived in Hannah's Town, not far from Pittsburg. I was standing in the street one morning, with other little children, and happening to turn my eyes in the direction of Pittsburg, I caught a view of soldiers marching into the Town, their colours flying, and drums beating. I remember the order of march—I remember, too, that there were several women: but I am sorry I cannot tell how they came to visit Hannah's Town, or to pass through it, which they did.
I recall that day I first saw the colors
I never saw the United States' colors since, that it does not recall that day! and the whole repasses again before me, and with it all the sufferings of those; trying times. I suffered all that human nature could bear, both with cold and hunger.
Wealthy have little idea how poor frontier settlers suffered
Oh, ye wealthy of those times, little idea had ye of what the poor frontier settlers suffered. Often running for our lives to the forts, the Indians pursuing and shooting at us. At other times lying concealed in brushwood, exposed to rain and snakes, for days and nights without food, and almost without clothes! We were one half of the time without salt or bread! pinned our scanty clothing with thorns; lived on nuts, bear's meat, and dried venison! All these things revive in my mind, and I love to dwell on them.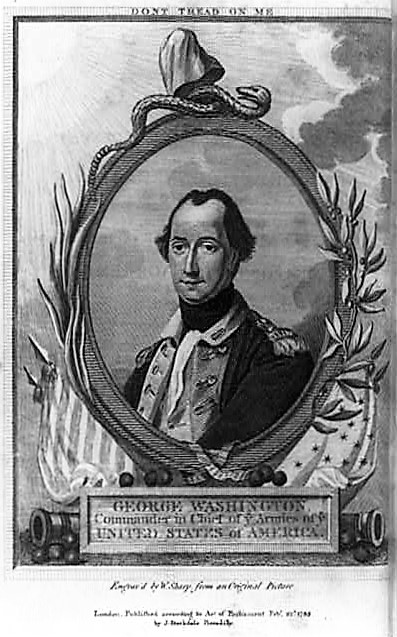 George Washington commander in chief of ye armies of ye United States of America / engraved by W. Sharp, from an original picture.London : Published according to Act of Parliament by J. Stockdale, Piccadilly, 1783 Feby. 22d.(Library of Congress)
Now marching before me
The company are now marching before me, under arms, in a handsome uniform; they step light and graceful, and are tall fine looking men. Their captain, Howard, boards with me; I mean at the same house. He is just six feet in height, and one of the finest figures of them all, and has a martial look. He is a great favorite among the ladies, and is, doubtless, to open the ball this evening with some of the fairest of the fair.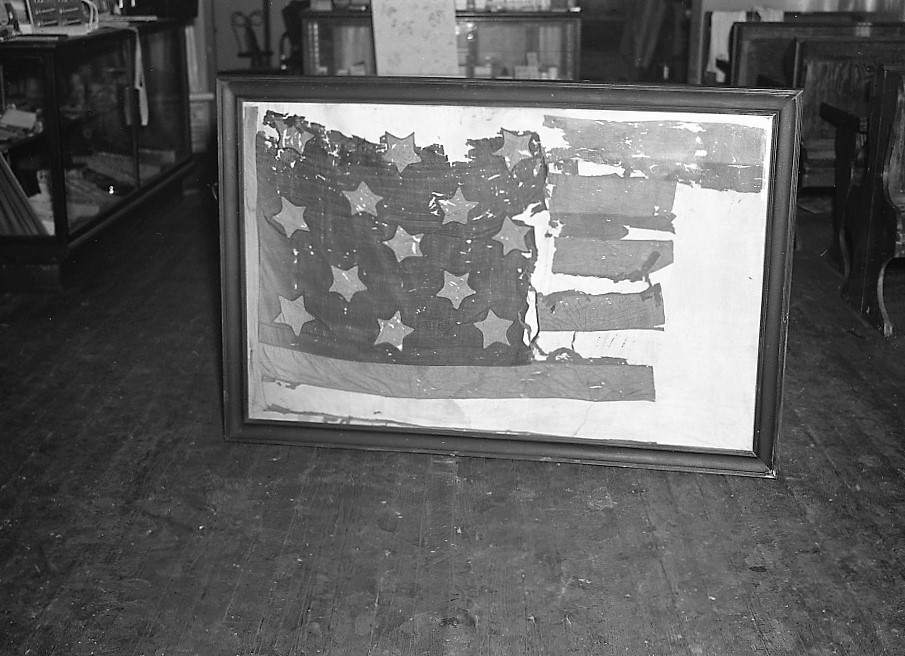 One of two Revolutionary War flags in existence. This one was carried at the Battle of Stoney Point, General Posey commanding (photographer Russell Lee, 1937, Library of Congress)
Major Rose is as merry as ever
I board with Major Rose, the merry old veteran mentioned some time back. He has met with a dreadful reverse of fortune since I first saw him. He was then one of the first merchants in the place, but was overwhelmed in the general wreck, which prostrated so many of our merchants. But the Major is as merry as ever; keeps a tavern and boarding house; amuses himself with a pet crow; and sings "Jerry go Nimble."
Mrs. Rose, too, bears her misfortunes like a philosopher. She is a mild, sensible woman, and the most benevolent of her sex.— Captain Luke Howard, just mentioned, Mr. Tharp, and Mr. Wooldridge, and two Italians, are the only new acquaintance I have made.
Captain Howard, is an Irish gentleman, highly polished, and breathes the very soul of philanthropy and feeling. Nature has showered her bounties on him liberally, and these are cultivated with great care and taste. He is the soul of music—performs well on the flute—sings a-good song—is lively and facetious, which, united with a general knowledge of the world, renders him a most desirable companion.
Irish here do not have habits of drinking
It appears to me, that all the Irish who visit this country, are very different from any I every saw with us. They have none of those habits of drinking, common to all I knew in other states. These are perfect gentlemen and men of business. Mr. Tharp is a neat, pleasant young man, with the sweetest temper in the world; though he conceives he is mighty ill sometimes, and it is amusing enough to hear Mr. Howard quizzing, and advising him to make his will. I sometimes advise him to marry, and this seems to agree with his malady, better than Howard's prescription. I think he will take my advice.
Mr. Wooldridge is a lawyer, next door, retiring, learned and modest.— He is little known in Huntsville. He is a man of reading, taste and abilities, and one of the most amiable and polite.— But the Italians—they are brothers, and seem to belong to a different species of the human race. They have fine full features, round faces, and dark complexions. Their eyes and hair are jet black. But such eyes belong to no other nation— they sparkle like diamonds. Their manners and dispositions, likewise, differ from those of any people, or nation, I have seen. They are men of rich imaginations, very gay and lively in conversation, and philanthropy itself. Their company is courted by all.
Yours, &c.
SOURCE:
FreeHearts: 2nd edition A Novel of Colonial America
Col. John Washington (ancestor of President George Washington), Randall Revell, Tom Cottingham, Edmund Beauchamp ward off Indian attacks and conquer the wilds of Maryland's Eastern shore in 17th century colonial America in this historical novel, inspired by true events.