History of Camp Ground Bethlehem Church, Graham Alabama
by
Mrs. W. M. Caskey Mississippi of Calif. in 1979
The Old Brockville Camp Ground
Bethlehem Methodist Church, which is one hundred years old (1959) and seven years has stood the test of time over the years. Many chapters would be filled with joy and happiness, while others would record sadness, grief's and disappointments. But at the end of each there would always be hope for the believer whose faith is in God.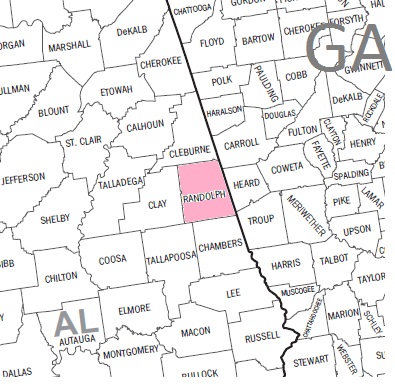 Randolph County, Alabama
First Meeting house was a frame structure
This historic church was established in 1852, one mile north of Graham, Alabama in Randolph County Alabama. The land on which it was erected was secured from the Rev. Elijah B. Smith and his wife, Caroline M. Smith, for the sum of $50.74.
The original deed describes the location of the land as being the 'North East Fourth of the North East quarter, in section 12, Township 14 and Range 12 containing forty acres of land for use, benefit and promotion of the Methodist Episcopal Church South".
The Trustees in Trust were:- Rev. E. B. Smith, Rev. Joel Henry Cosper, William M. Sims, B. W. Woods and Hampton Harmon Cosper, the writer's great grandfather. The legal document of this land transaction was drawn up on March 13, 1852, and witnessed by S. E. Swope and B. W. Cowins.
The first "Meeting House" was a frame structure, which was used for many years. Then it was torn down and replaced by a somewhat larger building. This second building was destroyed by fire in 1935. The third building, the present one, was erected in 1936. It is a beautiful brick structure. Each of these two later buildings were built on the original spot where the first church stood.
Pioneers from Virginia, Carolinas and Indians Lands of Georgia
But first let us learn something about these early Christian people who settled in this section of Randolph County, and who erected the first house of worship. The large majority were pioneers from Virginia, Carolinas, and the Indian Lands of Georgia. The men and women who settled and developed this country were strong enough to carve out new homes from the wilderness – determined to build new lives on a raw frontier. Certainly there were no physical or moral cowards among these early pioneers, for only the brave and strong ever sought a new life beyond the horizon.

Many of the settlers were well rewarded in material ways for their struggles, self-denials and hard work because many of them eventually became large landowners and many possessed slaves, having the "Negroes to do the plowing", which was too hard for the women and children.
These Randolph County soldiers also wrote about health conditions which existed in the Army Camps. One wrote that the hospital is full with sick and dead men — the complaint is measles and mumps. But these Christian soldiers were most concerned at this critical time, (hour), about Spiritual needs, both for themselves and their loved ones. In one of these letters one wrote: "Now is the time to do better when there are so many dying every day". He concluded with the request that he be remembered in prayer, promising that he would also pray for his wife and children at the same time of the day they had always had prayers at home.
First Trustees served in the Confederacy
It is interesting to note here that three, and possibly all five of the first trustees of the Brookville Camp Ground — Bethlehem Methodist Church served in the Confederacy.
The Rev. Elijah B. Smith served as Captain of Co. K, 13th Alabama Infantry Regiment. He was mustered into service July 26, 1861 at Montgomery. His CSA record reveals that he was fifty years of age, born in Georgia, resided in Randolph County, was a merchant and listed his post office as Brookville.
Capt. Smith resigned from the Military service on Jan. 1, 1863.
The Rev. Joel Henry Cosper, who lost two sons at Bloody Shiloh, served as 1st. Lieutenant in Capt. Larkin Breed's Co. F. Randolph Co. Militia, a mounted infantry home guard for Col. Falkned's Battalion. He was listed as being 56 years of age in 1864.
Hampton Harmon Cosper, who migrated to Collins Co. Texas in 1854 by wagon, served in Capt. John R. Brisco's Co., 16th Regiment, Texas Calvary. He was seriously wounded in the left leg while delivering a message for the commanding officer but recovered and continued to serve for the remainder of the war. However his son, David Smith Cosper, who was in the same outfit died in service from pneumonia.
All six of Rev. Cosper's sons served
The Rev. George Henry Cosper had six other sons, all with families, who served in the War Between the States. They were: Jacob P., James G., Rev. William M., Edward, Joseph B., and George Robert Perren. The last named died in a military hospital in Selma, Ala. His body was brought back and laid to rest in the Old Camp Ground Methodist Cemetery. His widow, the former Rebecca Merrell, was left with seven children. The oldest, Joseph Berry, Mark was only sixteen years of age at the time, but the military records reveals that he was a private and served under O. W. Sheppard.
The most tragic era in the History of the church and the community was revealed in the chapter which records the war records of the young men and boys who served in that heart-rendering and destructive conflict, the War Between the States. Many of them no older than sixteen years of age, left their homes and families to defend a cause that was dearer than life itself. In their frequent answers to homefolks they expressed their great anxiety about living conditions at home. They were deeply concerned about how their wives and small children were managing the farms, "if the crops were good", and if the stock were being well cared for". They were deeply interested in the welfare of their friends and neighbors back home. They asked families to lend a helping hand to the less fortunate by forming a Mounted Infantry Home Guard in 1864.
Other Cospers, all of whom were our relatives, served from the community. The authentic records reveal that "more than fifty Cospers served in the Confederacy from the State of Alabama" alone. There were many other representatives of the families from the vicinity who served with distinction in the Confederate Army. Some of these were: The four Gibbs brothers, Dr. George Washington Gibbs, who died while in service. Casual Gibbs also died in service. Major Edmond Gibbs and Chaplin Richard Park Gibbs; Chaplin J. C. A. Bridges who served with Gen. Lee. Jesse Wiggins who was killed in battle. Capt. Robinson, Boon Trent, killed, William Marshall Williams, and three King brothers, Thomas, Hill, and Dock, killed.
Boys became adults over night
It is interesting to note that many descendants of these Confederate men still live in this section of Alabama and the adjoining state of Georgia. Historians have never adequately described conditions which existed in the South at the close of the war. When the war-scarred and tattered men and boys in Grey returned they found their homes and farms in a deplorable state. They could not have undertaken the almost super-human task of piecing together the broken threads of life had it not been for the unwavering courage and devotion of their womenfolk. Together they endured many hardships and sacrifices during the reconstruction days and we must not overlook the part the children played. They became adults almost over night when they assumed the responsibilities far too heavy for their young shoulders. Many of these children were left fatherless with only a brokenhearted mother to guide them through the after math of the war.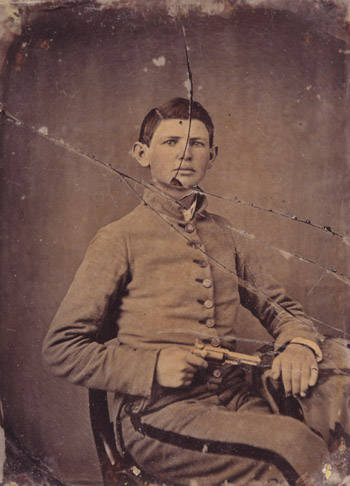 Many of these war veterans decided to carve out a new fortune in the west. Some of these who organized or joined wagon trains headed in that direction were the three Cosper brothers, the Rev. Joel Henry, James Glenn, and the Rev. William M., who headed a wagon caravan, which left Randolph Co. Ala. late in October 1869.
Moved to Texas
The last survivor of that trek was 92 years old in 1954. He was the son of Jesse Wiggins who was killed in battle. 1862. He wrote: "I was 8 years when we made the trip to Texas. There were 42 adults and 64 children, 2 former slaves, 23 hound dogs, one team of mules and several horses. The rest of the stock were steers and oxen to pull the wagons.
We made about eight miles a day.- At the end of the day we circled the wagons and made ready for the night. Then grandpa (Rev. Joel Henry Cosper) would hold devotional and prayer services. We camped in Rusk Co. Texas for Christmas holidays and arrived in Bell Co. Texas early in February 1870. In that "famous 1869 – 70 Texas bound caravan" were representatives of each of the following families: Gibbs, Tindall, (Tendall), Mitchell, Moore, Johnson, Bridges, Bagby, Cole, Saxton, Clemments, (Clemmons), Bass, Garrett, Wiggins, Heulett and Cospers.
There were 'golden opportunities" for these western pioneers, who were blessed with strong bodies, strong enough to endure the hardships and privations and had the courage to face the Indian dangers and the lawlessness of the frontier. A few of these became homesick and dissatisfied and returned to Randolph Co. Ala. but many remained in the West and made a great contribution to the development of that country which included Oklahoma, New Mexico, Arizona, Oregon and Texas. Today hundreds – yes I'll venture to say thousands – of the descendants of these rugged pioneers reside in the Southwest and Western States and they are still making their invaluable contribution as they serve their fellowmen while pursuing their many occupations and professions in life. I should like to add, especially for the information of the present day youngsters that Rex Alien, the Singing Cowboy, Rodeo, Movie and TV Star is numbered among these descendants.
Brookville Camp Ground
Why not ask why have I written somewhat at length about the War Between the States and its relationship to the story of the Brookville Camp Ground – Bethlehem Methodist Church. My answer is that I wish in this brief memorial paper to reveal the true character and lofty principals that motivated these dedicated Christians. I have also purposed in my heart to pay honor and tribute to these ancestors who not only had a deep and abiding faith in the Holy Scripture but who also revered their womenfolk and kept inviolate the sanctity of the home. May we, as we study the lives of these worthy ancestors, bow our heads in humble thanksgiving and may we endeavor to perpetuate the memory of these noble men and women who erected that first "Meeting House" and left us such a priceless heritage.
Be it said to the credit of the early ministers who served the Brockville Camp Ground – Bethlehem Methodist Church that they were well informed and good preachers, (Rev. George Henry Cosper was the first pastor). Although they were not men of letters, they did promote in a great way the cause of Christianity and they most assuredly earned for themselves the blessed approval of "Well done thou good and faithful servant Thou hast been faithful over a few things. I will make the ruler over many things. Enter into the joy of the Lord".
Ordained by Bishop Francis Asbury
Rev. George Henry Cosper, who was ordained by that great Missionary, Bishop Francis Asbury, the greatest of them all as a circuit rider. The Rev. George Henry Cosper preached many times in the original building. He proclaimed the Gospel in lengthy sermons to these devoted Christians who assembled there on the Sabbath that their souls might be "refreshed and strengthened". The influence of this old patriarch is still left in the membership lives because to this day the membership roster has been composed of many direct descendants of this pious old pioneer crusader.
This man of God left not written sermons but many marked passages of scripture can be found in his badly worn Bible which is in the possession (1956) of a great grandson, William Robert Johnson of Graham Ala. all of his life in the community.
Some of these marked scriptures are: Amos. 8th chapter, verses 2, 3, and 4; Amos 8: 13 and 14; Song of Solomon Ch. 1, V 15; Song of Solomon Ch. 6, V 10 Job, Ch. 21, V 15 and 16. The following inscriptions are written on the fly leaf: 'Here you may see my name, Rev. G. H. Cosper, was born Oct. 17, Day 1773: Elizabeth Cosper was born 18 day of January 1779, South Carolina".
Note added by Donna R. Causey
The Bethlehem Campground United Methodist Church Cemetery is located in Township 18, Range 12, Section 12 in Randolph County, Alabama approximately 2. 5 miles south from the Cleburne County line on County Highway 87. Here is a link to a survey made by Linda Ayres in 2002