Biographies of the Delegates to the Alabama Secession Convention
Part IX 1
J. G. Hawkins
Washington County
No information for sketch is available.
Jeremiah Augustus Henderson
Pike County
Jeremiah Augustus Henderson (Alabama Department of Archives and History)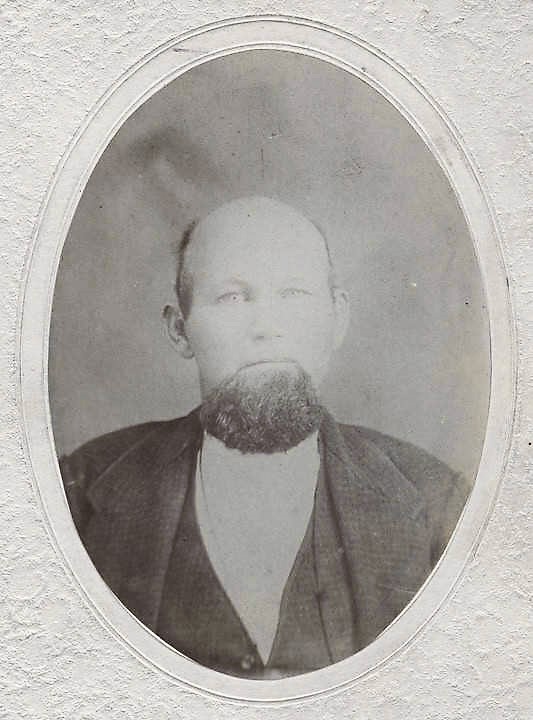 Born June 12, 1831, near Troy, Pike County, Alabama, and dying in the same county on April 6, 1877, Jeremiah Augustus was the son of Eli. and Mary Henderson. He received his early education in the public schools of Pike County. Henderson was a member of Company I of the Fourth Alabama Cavalry Battalion; a successful merchant in his hometown; and married Mildred Elizabeth Hill of Troy, on January 6, 1832. Their children were Fox, Ella, Jere Clemens, Charles, Willis, Julia and J. E. (Findagrave.com memorial 5846825)
NOTE ADDITIONAL INFORMATION: Jeremiah Henderson was born in Gainers Store, Alabama (now Henderson, Alabama). He was placed in charge of his father's general store in 1852 when his father went to Texas to open a store. His father, Eli sent for his son soon after, but they returned to Alabama a year later and resumed business there. Shortly before the breaking out of war he disposed of his business interests, and converted his possessions into lands, foreseeing a long and bitter struggle. Henderson was a member of the Whig party, was personally opposed to secession, but he acted in accordance with his constituents and voted in favor of the secession from the Union. He later enlisted in Love's cavalry, serving until the close of the war. He then farmed for a year and re-entered mercantile life, opened a small store at Henderson, in Pike County. He prospered despite the disadvantages of being some distance from railroads, and accumulated property in about eight years' time which made him one of the wealthiest men in that part of Alabama. He died in 1877 at the age of forty-six. He had married at twenty-one. His wife was a daughter of William Murray and Martha (Ward) Hill. He left seven children. Charles, the son of Jeremiah and Mildred Henderson, became Governor of Alabama.
Samuel Henderson
Macon County
Samuel Henderson (History of the Baptist Denomination in Georgia with Biographical Compendium, 1881)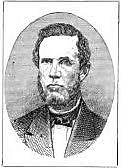 A foremost Baptist minister, Samuel Henderson was born in Jefferson County, Tennessee, March 4, 1817, and died on the way to attend a Baptist Convention in 1890. He was the son of John F. and Nancy Mohler Henderson. His father owned the Southern Register and Talladega County Advertiser, and young Henderson became a printer's devil at an early age. He edited his father's paper before it was sold to Sam F, Rice in 1838. The paper was taken back one year later and the name changed to The Patriot, which Henderson edited. He was ordained to preach in 1840, and retired from the editorship two years later. In all the associations and other meetings of the Baptist denomination, Henderson was an outstanding personality. When the plan for raising money to establish the East Alabama Female College, Auburn, was approved, he was made the agent to receive and solicit contributions for this purpose. Before the college was opened, he was on the committee to nominate a board of trustees for the institution. Serving as editor of the Southwestern Baptist and Christian Index, Henderson contributed a great deal of interesting religious thought to the people of the state. After the war, he returned to his farm in Talladega County. He was President of the Alabama State Baptist Convention from 1868 to 1873. He was the father of a large family, among them Mary Nancey, Samuel, Thomas, Joseph, and John.
NOTE ADDITIONAL INFORMATION: Excerpt below from History of the Baptist Denomination in Georgia: With Biographical Compendium and Portrait Gallery of Baptist Ministers and Other Georgia Baptists, J.P. Harrison & Company, 1881.
Samuel Henderson (The Alabama Baptist 175 years)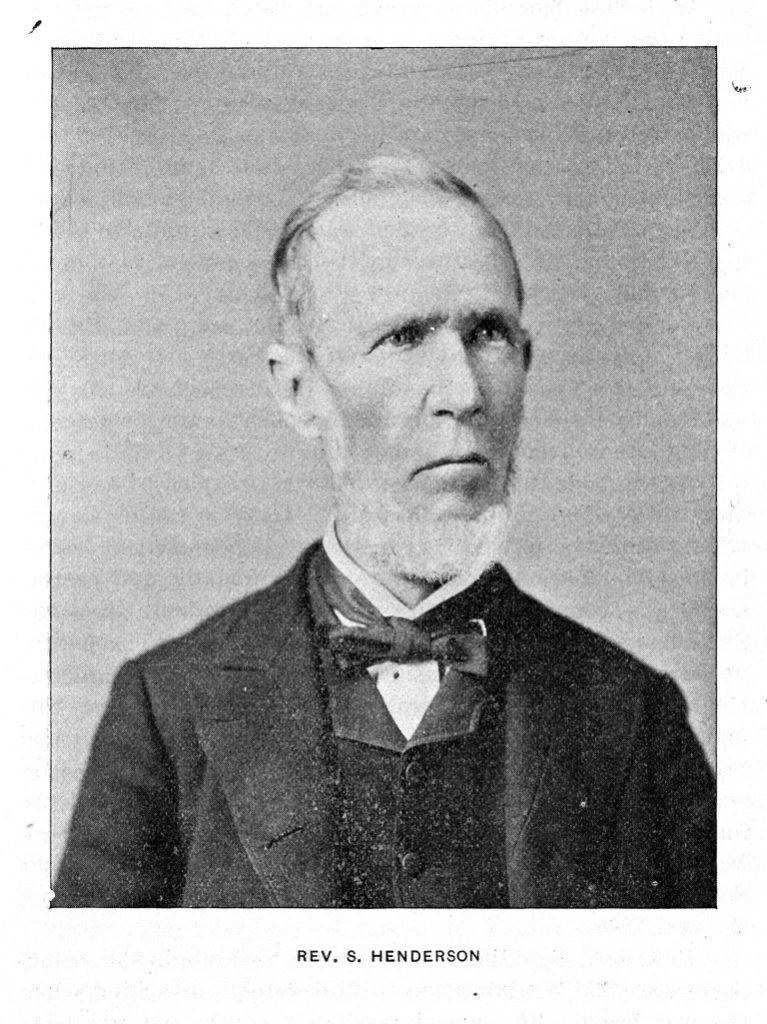 This distinguished occupant of the Alabama Baptist pulpit rightly fills a page in our work because of his connection with the Georgia Baptist press, holding, as he does, a position on the editorial staff of THE CHRISTIAN INDEX. He was born in Jefferson County, Tennessee, on the 4th of March, 1817; united with the church in September, 1832; and was married to Miss Eliza W. McGehee, in January, 1840. His excellent wife still lives, and they have reared a large and intelligent family of children. He was ordained to the ministry at Talladega, Alabama, in November 1840, and his main pastoral relations have been with the churches at Talladega, Tuskegee, Alpine, Mt. Zion, Alexandria, and Childersburg. From time to time, he has been pastor of other churches of influential position in the country and in villages. Tuskegee, — one of the most highly refined, wealthy and liberal cities of the State, and the site of colleges and schools of high grade was the seat of Dr. HENDERSON's most famous and useful work. There he was pastor for more than twenty years; there he edited the South-Western Baptist so successfully; and there, under his pastorate, grew up one of the most influential churches in the State of Alabama, and—in point of numbers, wealth, culture, social position, and liberality and activity in all the great enterprises of Baptists—one of the most prominent churches in the South. Many distinguished men were among its members, and its elegant house of worship, hardly excelled in the State, was erected during Dr. Henderson's pastoral connection with the church, largely, through his efforts. The East Alabama Female College, with buildings costing fifty thousand dollars, but since destroyed by fire, an institution which had a career of unusual honor, was begun and established, in a great measure, as a result of his wise and earnest advocacy. Very much of Dr. Henderson's time has been devoted to editorial work. Before he entered the ministry, he was engaged in the editorial management of a political paper, in Talladega; and, for many years, in Tuskegee, in addition to his heavy pastoral work, he edited the South-Western Baptist, the able organ of the Alabama Baptists at that time. It was in his editorial conduct of this paper that he gained his greatest distinction, showing himself a master of all current questions, leading in the advocacy of every denominational enterprise, and proving himself powerful in Christian controversy, yet happy in the spirit of his productions. His discussion on Methodist Episcopacy, with Rev. Mr. Hammill, a Methodist minister of ability and lovely spirit, which was published in book-form, has been universally adjudged a real model of Christian disputation, in spirit, style, and ability. Dr. Henderson took charge of the South-Western Baptist when it had a circulation of about 1,800; at the commencement of the war it had attained a circulation of nearly, if not quite, 5,000; its publication was continued until the close of the war, when an order from the Federal general, after Tuskegee was occupied by the Federal forces, suspended the paper. It was afterwards sold to J. J. Toon, Proprietor of THE CHRISTIAN INDEX, and merged into that paper. As a writer and preacher, Dr. Henderson is clear, graceful, prudent, practical, strong and eminently sensible. His productions and sermons abound in suitable and happy literary allusions, and, theologically, are thoroughly sound. His style is full, flowing, easy and natural. While he does not hesitate to handle the most profound questions in the Christian system, he does so with modesty and propriety, with earnestness and pathos, in a systematic method and with great ability. Although he has never taken a college course in either literature or theology, yet his extensive reading has made him scholarly, and he is correctly regarded as a man of learning. The title of Doctor of Divinity was conferred on him, nearly twenty years ago, by the University of Alabama. As a Christian, he has led a spotless life, and has ever maintained a character eminent for piety; as a minister, he has been always consecrated to his work, exerting a commanding influence among Alabama Baptists; and, as such, he is still laboring successfully and watching at his post with a cheerful heart. His piety, amiability, conservative spirit, and gentleness of manner, coupled with mental vigor and good judgment, all gain him the love and confidence of his brethren. Dr. Henderson has, for many years, ranked among our best Southern preachers. His sermons are often expository in character, embracing a paragraph, and, sometimes, a whole chapter. At times he devotes himself to a theme, and, occasionally to a mere suggestion drawn from some passage; but most generally his discourses are textual. A full and comprehensive text is selected, discussed in its natural divisions and woven into a strong and beautiful system. In a majority of instances, his subjects embrace the great fundamental principles of Christianity, although he does not neglect practical topics, and even his fundamental subjects are generally carried to a practical end. In his preparation, he is very thorough, and the impression made on the mind of a frequent hearer is that Dr. Henderson has an almost unconquerable disposition to exhaust a subject. His analysis is generally full and complete. Generally he uses ample notes, and, sometimes, his sermon is entirely written, but he is not at all dependent on his manuscript; for he readily discusses a subject thoroughly and, often, powerfully, without a line of manuscript. Hence, in Associations and Conventions he is a most successful platform speaker. Being quite familiar with the theological discussions of different ages, and being a man of extensive reading combined with decided thinking powers, his sermons show culture, strength, and amplification, with a happy adjustment to the wants of all classes of hearers. They abound in an accurate use of Scripture quotations and in correct analyses of Bible characters, with a properly acknowledged selection of allusions to the teachings of other authors. In the earlier part of his ministry, Dr. Henderson expended an unnecessary amount of physical force in the delivery of his sermons; but latterly his manner has become far more gentle and moderate. Still, his style is earnest, bold, unhesitating, and often characterized by strains of real eloquence; and when dilating on a dying Saviour's love, or on experimental religion—themes that often engage his attention—he has the eloquence of tears and of impassioned zeal, combined with rhetorical elegance and great propriety and felicity of expression. All things considered, he is, in an eminent sense, "a good minister of Jesus Christ."
Another biography can be found at: Who was editor Samuel Henderson (The Alabama Baptist Celebrating 175 years)
Thomas Hord Herndon
Greene County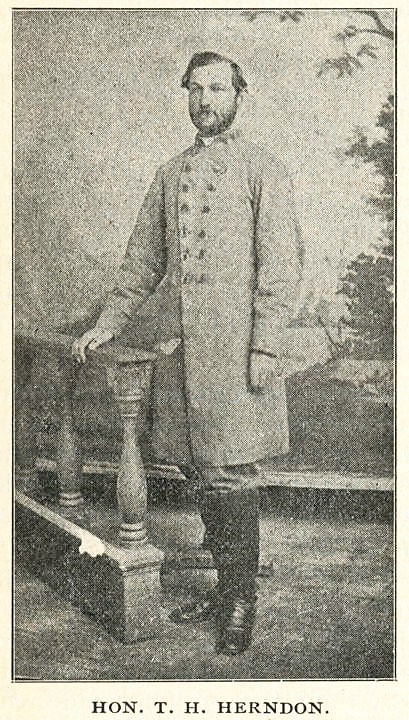 Thomas Hord Herndon was born July 1, 1828, at Erie, Greene County, Alabama and died in Mobile on March 28, 1883. A son of Thomas Hord and Emma Sarah Herndon, he received his early schooling at LaGrange. He received A.B. and M.A. degrees from the University of Alabama in 1847 and 1850 respectively, and LL.B. degree from Harvard in 1848. After reading law with J. W. Taylor he was admitted to the bar in 1849. He had charge of the editorial columns of the Eutaw Democrat in 1850 and ran unsuccessfully for the legislature in 1851. Moving to Mobile in 1853 he became a partner in the firm of Chandler, Smith, and Herndon. In 1857 he was elected to represent Mobile County in the legislature. Herndon returned to Greene County in 1859 and maintained his residence there until after the war. At the beginning of the war, he aided in recruiting the Thirty-sixth Alabama Infantry Regiment and was elected major. Subsequently, he was promoted to lieutenant colonel and finally colonel of the unit. At the close of the war he volunteered to command the troops during the evacuation of Spanish Fort, and his duty was performed so well that he was credited with saving the lives of a number of his comrades. After the war, he resumed the practice of law in Mobile. Herndon was the Democratic nominee for Governor in 1872 but was defeated; member of the Constitutional Convention of 1875; legislator in 1876-77; and was in Congress from 1878 until his death. He was author of a series of letters published in the Montgomery Advertiser and Gazette under the name of "John Taylor of South Carolina." He was a Presbyterian and a Mason. Herndon was married to Mary Edmonia Alexander and their children were Leila Helen, Mary Eleanor, Emma Elizabeth, Carolina, Thomas and Frances Toulmin. (Findagrave.com memorial 6406697)
NOTE ADDITIONAL INFORMATION: Excerpt below from A Register of the Officers and Students of the University of Alabama, 1831-1901, University of Alabama, The University, 1901
Herndon, Thomas Hord, A. B., A. M., 'so, lawyer, Mobile. 1845, Eutaw; s. Thomas Hord Herndon and Emma Sarah Toulmin; b. July 1. 1828; Law Student, Harvard, 1847-48; Rep., Gen. Alsen., of Ala., 1857-58; Mem. Constitu. Convention, Ala., 1861; Maj., Lieut.-Col. and Col., 36th Reg., Ala. Inf., C. S. A.; Democratic Nominee for Gov. of Ala., 1872; Mem., Constitu. Convention of Ala., 1875; Rep., Gen. Assent, Ala., 1876-77; Mem., Congress, U. S., 1878-83; m. Miss Alexander, Greene Co.; d. March 28, 1883.
Also see the reprint of book Personal Recollections of Thomas Hord [sic] Herndon: With Remarks Upon His Life and Character by Sutton Selwyn Scott 1905
W. A. Hood
Jackson County
No information available for a personal sketch.
Ralph Owens Howard
Russell County
The only information available concerning Mr. Howard is the inscription upon his tombstone, six miles east of Seale, Alabama: "In memory of Ralph O. Howard, born Feb. 23, 1797, died December 22, 1869." The name of his wife was Euphemia, who survived him nearly a quarter century. Among their children were John, Ella, Mary and Emma. (Findagrave.com memorial 14423941)
NOTE ADDITIONAL INFORMATION: Children: Eliza J., William J., Robert N., James P., Thomas B., Lou, John C., Emma C., Mary E. C., Ella,
Henry Gordon Humphries
Mobile County
Although nothing is known of his parents and early life, Henry Gordon Humphries was born at Union, South Carolina, He lived for a while at Columbus, Mississippi, but moved to Mobile where he was engaged before and after the war as a cotton merchant and a wholesale grocer. From the beginning of the war to 1863, Humphries was the Provost Marshal at Mobile; he was the Confederate enrolling officer with the rank of major 1864-65. First a Presbyterian, he later became a Catholic. He married Cormne Krebs and there were eleven children born to this union.
NOTE ADDITIONAL INFORMATION: 1945 article from Mobile, AL newspaper obituary submitted 2004 by Marla Phillips to Ancestry.com boards-
Sunday March 18,1945, The Mobile Press Register , page 6-A.
DESCENDANT OF PROMINENT MOBILE FAMILY SUCCUMBS
Mrs. Corrine Dallas Humphries, descendent of an eminent family of Mobile residents that antedates 1730, died this week in Alexandria, Va. Services were held at Roche Funeral Home Friday at 8:45 a.m., followed by mass at the Cathedral of the Immaculate Conception at 9 a.m.
Interment was in Magnolia Cemetery. Rt. Rev. James F. Madigan conducted the services.
Mrs. Humphries was the daughter of the late Maj. Henry Gordon Humphries and Mary Kreb Humphries, a family that includes many prominent public figures in the history of Mobile and both English and German royalty.
The Mobile family dates back to Baron Franz von Krebs, who left his Castle Cachem on the Moselle River, to live in Mobile. When Baron Krebs came to Mobile he married the daughter of Joseph Simon de la Pointe and dropped his royal title. He operated in Pascagoula, Miss. the first-known cotton gin of which there is any local record.
Descendents of the Baron and his Mobile bride were notable leaders in the government of Mobile. A son-in-law, Sig. Don Enrique Grimarest, became political and military governor of the town of Mobile and district.
United in 1850
The Krebs and Humphries families who were of a lineage of British royalty, were united with the marriage of Corrine Krebs to Henry G. Humphries in the Krebs home, Conti and Hamilton Sts. The Humphries family dates back to a lineage beginning with Sir John Humphries of the House of Bohun in Dorestshire, England. Henry Humphries settled in Mobile in 1819.
Corrine Dallas Humphries married Richard E. Jones and had a son, John. Following the death of her husband, Mrs. Jones and her son assumed her maiden name of Humphries.
The End.
Does anyone know if the Castle in Cachem is still standing?
There are many German castles pictured on the web that are on the Moselle River, does anyone know if one of those is the one that the Krebs lived in? Marla, [email protected]
John Washington Inzer
St. Clair County
Inzer home in St. Clair County, Alabama 1930s (Alabama Department of Archives and History)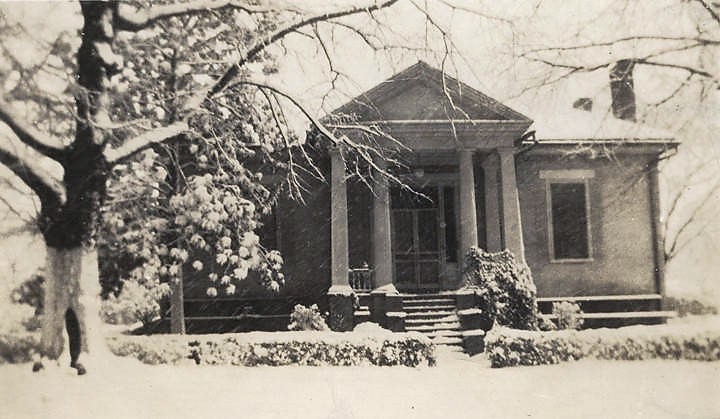 On January 9, 1834, John Washington Inzer was born near Lawrenceville, Gwinnett County, Georgia. A son of Henry White and Phoebe Hardan Inzer, he attended the common schools of his community and the Gwinnett Institute. He taught in a country school of his native county in 1853 but migrated to St. Clair County, Alabama, with his parents the following year. A few months later he went to Talladega to study law in the offices of John T. Morgan and A. J. Walker. Admitted to the bar, Inzer began to practice law at Ashville on January 8, 1856. Governor Moore appointed him probate judge of St. Clair County and he served until the election a year later. Soon after the war began he entered the Confederate Army as a private in the Fifth Alabama Infantry Battalion, but he was later promoted to first lieutenant of Company L of the Eighteenth Alabama Infantry Regiment. He was elected captain of Company G of the. Ninth Alabama Infantry Battalion in 1863 and promoted to major in less than a month. After the organization of the battalion into Fifty-eighth Alabama Infantry Regiment, Inzer was made lieutenant colonel of this unit. While commanding his regiment at Missionary Ridge on November 25, 1863, he was captured with his comrades in arms and was held as a prisoner until released by special order of President Andrew Johnson in June 1865. Appointed probate judge again after his return home Inzer went to Ashville to reorganize and set up civil government for St. Clair County, but he resigned' about two months later. The following year he was elected probate judge and held the office until displaced by the Reconstruction Acts. He was a member of the convention which assembled at Montgomery in 1870; elected to the state senate from Jefferson, Walker and St. Clair counties in 1874; a delegate to the Constitutional Convention of 1875; and elected without opposition to the state senate, again in 1890. Appointed judge of the sixteenth judicial circuit in 1907, Inzer was elected the following year without opposition, but because of poor health he was not a candidate for reelection. He was chairman of the road commission of St. Clair County when the bond issue for $80,000 was made a law; trustee of the Alabama Insane Hospital for twenty-four years, part of which time he was chairman of the board; and was appointed brigadier-general of the militia by Governor George S. Houston and reappointed by Governors Cobb, Seay and O'Neal. A religious and fraternal leader he was a member of the board of trustees of Howard College, a deacon in the Missionary Baptist Church, vice-president of the Alabama State Baptist Convention, a Royal Arch Mason and a Knight of the Golden Eagles. On August 2, 1866, Inzer was married to Sallie E, Pope of Columbiana. Their children were Clara, Lila Bowden, and John Manley. (Findagrave.com memorial 41239445)
NOTE ADDITIONAL INFORMATION: Book Diary of A Confederate Soldier by John Washington Inzer (1834-1928) edited and annotated by Mattie Lou Teague Crow
Excerpt below from St. Clair News: Inzer House: Preserving History in Ashville by Joel Paris/Staff Reporter, January 28, 2009
"In 1866, Judge John Washington Inzer moved into what would become the historical Inzer Museum in Ashville. In the months that followed, Inzer got into an argument with a Yankee officer during reconstruction and the officer fired at him. "Yankees could kill civilians without recourse during Reconstruction. Reconstruction was 12 of the worst years the south has had outside of the war," Benjamin Hestley said. The blasts missed Inzer and pierced the glass above the door. To this day visitors can still see the rays of light that sneak through the three holes of the ruby red transom glass in the classic Greek revival architecture home."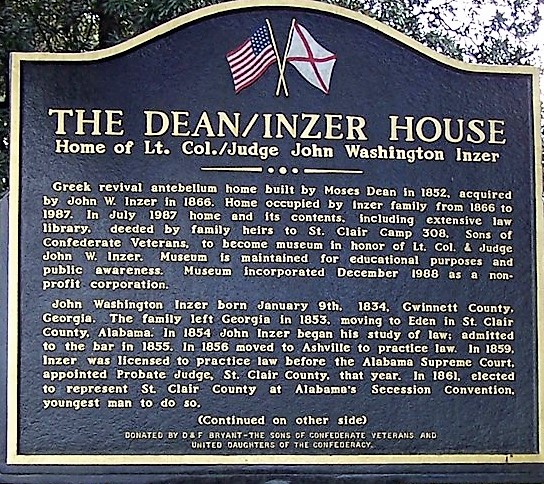 1 Transcribed from The Alabama Historical Quarterly, Vol. 03, Nos. 03 & 04, Fall and Winter Issue 1941
Revised with direct links to many sources and burial sites! This book includes the genealogy of and biography of William Barrett Travis of Alamo fame and Elisha Cottingham, the Alabama descendants from the Tapestry of Love, Historical Fiction Series by Donna R. Causey. The biographies of Alabama pioneers included in this book include: REV. JOHN WESLEY STARR (1806-1870) ELBERT SOULE STARR (1845-1908) JOHN WESLEY STARR, JR. (1830-1853) RICHARD ELLIS (1781 – 1846) JOHN WHITE, ESQ., (1778 – 1842) JOSEPH GLOVER BALDWIN (1815 – 1864) COL. JONATHAN NEWTON SMITH (1814 -1885) RICHARD HOPKINS PRATT (1827 – 1908) HOPKINS PRATT (1791-1841) MARY DICKERSON PRATT (1800-1882) ABSALOM PRATT (1793-1845) RICHARD PRATT (1764-1822) REBECCA BEAVERS PRATT (1770-1847) EDMOND PIERCE ANDERSON (1800-1827) DAVID W. HUNTER (b. ca. 1800) AMBROSE HUNTER (b. ca. 1800) JOHN ALEXANDER GRUGETT (ca. 1774 – ca. 1826) ISAAC NEWTON LANGSTON (1775 -1850) OBEDIAH LANGSTON (1801 – 1888) DORANTON PATTON NEWTON LANGSTON (1812 – 1873) ELISHA COTTINGHAM, SR.. (b. ca. 1755 – 1820) ELISHA COTTINGHAM, JR. (1793 -1870) JOHN C. D. MAT TROTT (1809 – 1883) COL. WILLIAM BARRETT TRAVIS (Hero of the Alamo) (1809-1836) HENLEY GRAHAM SNEAD (1814 – 1906) WINTHROP SARGEANT (1755 – 1820) TOD ROBINSON, SR. (1776 – 1838) TOD ROBINSON, JR. (1812 – 1870) WILLIAM RAIFORD PICKETT (1777 – 1850) COLONEL ALBERT J. PICKETT (1810 -1858) BRIG. GENERAL WILLIAM FLANK PERRY (1823 -1901) GEORGE FOOTE (1784 – 1825) PHILLIP A. FOOTE (1793 – 1831) JONATHAN BURFORD (1793 – 1849) includes many slave names DANIEL WASHINGTON BURFORD (1782 – 1847) JOHN GALLAGHER (ca. 1796 – 1839) DAVID JOHNSON GOODLETT (1804 – 1878) JUDGE HENRY ANDERSON MCGHEE (1808 – 1901)