CAPTAIN WILLIAM ARMISTEAD
BIOGRAPHY and GENEALOGY
(b. 1762-d. March 1, 1842)
Revolutionary War soldier in Clarke County, Alabama
Captain William Armistead of Virginia married Rebecca Kimbell in 1790, the daughter of Benjamin Kimbell and Mary Ransom of Ransom Kimbell. Rebecca was born in 1764 in Warrenton, NC and died in 1797 at age 33.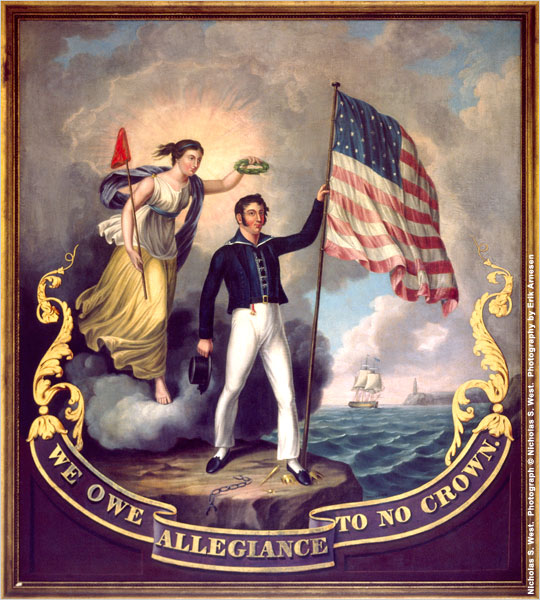 "William Armistead was a man of strong peculiarities, a gentleman of the old school, wearing knee buckles and retaining English tastes." He married twice and had three sons and three daughters. Captain William Armistead is related to President Tyler.
Captain William Armistead's grave stands alone, neatly enclosed with rocks and pickets on a hill near Amity church in the family burial ground, on the plantation bequeathed by him to his son-in-law, Dr. Neal Smith, about eight miles from Grove Hill. There is but a solitary grave that is encompassed on all four sides by a 2-foot high wall of rocks upon which was built a fence of heart pine. Although in disrepair, the wall and fence still remain. The four corner posts once supported a roof but no sign of the roof is to be found. From U.S. Hwy. 84 in Clarke County, AL proceed North on County road 35 for 2.4 miles thence East .6 miles through a locked gate to the site. Lat. N31degrees 40.181′ Long. W87degrees 39.279′. This grave is on private property. (File contributed for use in US GenWeb Archives by: William F. Prim, Jr. [email protected] March 6, 2004, 9:30 am)
Captain William Armistead was the brother of Anthony, Robert, Westwood, and Alexander Carver. Captain William served as a Drummer Boy in the Revolution. He had at least two brothers, killed during the Revolution. He saw his brother Westwood killed at the Battle of Brandywine. He had two sisters who died young.
The following is a copy from the marble slab:
IN MEMORY OF
CAPTAIN WILLIAM ARMISTEAD
a soldier of the
Revolution, a native
of Virginia,
who departed this life
March 1st, 1842,
aged 80 years.
The Revolutionary services of Captain William Armistead copied from archives at Washington, D. C. Record Book E, vol 8:
"William Armistead was born in Elizabeth City, Va., about 1762. He entered the U. S. service at Williamsburg, Va., under Captain Spiller Dent, 1777, Virginia State Troops; marched to Valley forge, joined Muhlenburg Brigade; pursued the British on their retreat through Jersey; was in the battle of Monmouth; afterwards detached from Muhlenburg Brigade and attached to troops under command of General Wayne and Major Llewry; marched to Hudson river; stationed between West Point and Stony Point for some time; was at the storming of Stony Point, 1779. After long service marched to New Brunswick on Raritan river; remained in Philadelphia some time. After serving three years, marched back to Williamsburg, Va., and was there with the other troops regularly discharged."
William Armistead of Clarke County, Alabama is on the U. S. Pension List for 1840.
After the Revolution, he moved to Warren then Randolph county, North Carolina. He married Rebecca Kimbell near Warrenton. The family Bible, (according to his descendant Mrs. Sallie Jones Featherston of Rome, GA.) gives authentic information for the births of their children:
Westwood Armistead, born Aug. 24, 1791; married Elizabeth Boroughs, daughter of Bryant Boroughs and Sally Waddell, in North Carolina, came to Alabama and died in 1845. Westwood and Elizabeth's children were: William Westwood Armistead (b. August 3, 1813) m. Sarah Ann Lee, married 2nd her sister, Elizabeth J. Lee on January 5, 1844, 3rd Cynthia Presnall on Dec. 31, 1855 and 4th Nancy J. Presnall on January 13, 1864; Bryant Burroughs Armistead married Sarah Prenall in 1851. They had several childrenEliza Ann Armistead (b. July. 4, 1824 – d. Feb. 2, 1897) m. Dr. Miles Edward King o feb. 18, 1847; James Westwood Armistead (b. April 15, 1828 – d. Jan 5, 1906) m. Jane Elmira Davidson on Dec. 22, 1849 and Martha Thornton Cox, May 19, 1868; Emma Judith Armistead (b. Jun 27, 1834 – d. Oct 1, 1910) m. William Cunninghame on November 24, 1856 marriage records show 6 January 1857; Robert Starkey Armistead, married Mary A. Lockett on April 2, 1854 and Nancy E. Gilmore on Nove. 28, 1854 (maiden name Cox and daughter of Matthew and Elinor Cox; Martha Elizabeth Armistead (b. Jan 3, 1831 – d. July 27, 1930) married 1st Jacob B. Williams on Oct. 11, 1850 – 2nd married her second cousin John Carney Kimball on September 20, 1866.
John Kimbell Armistead, born Dec. 16, 1792; married Julia Gaines. They lived in Wilcox County, Alabama, thence he moved with his family to Mississippi about 1840. They had the following chilren: William Armistead, James Armistead, Gen. Charles Armistead – of the Confederate Army, John Armistead, and Dr. E. R. Armistead of Prescott, Alabama.
Elizabeth Lee Armistead, born Oct. 13, 1794: She married Captain Armistead's step-son, John Morriss and they lived in Alabama. They had four children: (a)William Armistead Morriss – who married Nancy Hearin, a sister of the William J. Hearin of Mobile. (b) Rebecca Kimbell Morriss -who married Thomas Boroughs, brother of Westwood Armistead's wife. (c)Washington Morriss (d)Martha Jane Morriss – who married Samuel Forwood, a Marylander, who was executor, with Westwood Armistead of Captain William Armistead's will.
Martha Armistead, born Sept 1, 1796: married Edmund Waddill
Captain William Armistead married 2nd to Elizabeth Lewis, widow of John Morriss and daughter of Mr. Lewis and his wife, Jane Westmoreland, of Halifax county, Va. His second wife had one son by her first husband, John Morriss.
Captain William and Elizabeth (Lewis) Armistead had
Robert Starkey Armistead, born Nov. 5, 1800 – Robert Starkey married Ann Carney They moved to Texas in 1835 where he died in 1866 without any children
Jane Westmoreland Armistead, born April 10, 1802. She married in Alabama in 1821 to Dr. Neal Smith, a native of Moore county, N. C., and the son of Malcolm Smith. Malcolm Smith and Malcolm Smith, Sr., were also soldiers of the Revolution and though of Scotch descent, their worst foes were the "Scotch Tories." (See Ball's Clarke Co., Al and Brewer's Alabama for sketches of Dr. Neal Smith) They had the following children; Julia Elizabeth Smith – who married 1st David White, a native of Virginia and 2nd James M. Jackson;  Sarah Louisa Smith -who married John B. Savage; Margaret Smith – who married 1st Kirkland Harrison of South Carolina and 2nd Asa M. Lewis, of Texas;  Robert Neal Smith -who married Miss Watkins from Virginia; Jane Smith- who married James D. Bryant of Wilcox county, Alabama; Martha Rebecca Smith – who married 1st Richard Starkey Jones, of Selma and 2nd Mr. Rixey; Catharine Jeanet Smith – who married Dr. H. G. Davis; Mary Caroline Smith – who married Thomas Boroughs, Jr.
Captain William Armistead moved in 1819 to Clarke County, Alabama and died there on March 1, 1842.
Some Grandchildren and their children include:
Rebecca Kimbell Morris had by her husband, Thomas Boroughs, the following children;
Anne Elizabeth Boroughs – who married 1st Henley W. Coate, first judge of probate of Clarke County and 2nd James Addison Newman, of Orange County, Virginia
William Morriss Boroughs married Laura Jenkins of Monroe county, Alabama
Thomas Boroughs married his cousin, Mary Caroline Smith
Martha Jane Boroughs married her cousin Captain Thomas Isham Kimbell, of Clarke County, Alabama
Rebecca Boroughs married Frank Stall worth, of Falls County, Texas, a native of Conecuh County, Alabama.
Mary Louise Boroughs, died, unmarried.
Bryan Boroughs married Elizabeth Dickinson, daughter of James Shelton Dickinson, a member of the second Confederate Congress.
SOURCES
Ball's Clarke County, Alabama pp. 475-6
Revolutionary Soldiers Buried in Alabama by Annie R. White Mell
Transactions of the Alabama Historical Society
Find a grave.com # 17954050
http://www.clarkemuseum.com/html/william_armistead.html