Happy Birthday!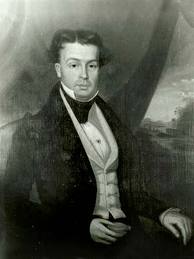 COL. CHARLES TEED POLLARD
BIOGRAPHY and GENEALOGY
(b. 1805 – 1888)
Montgomery, Alabama
(transcribed from The Alabama Historical Quarterly, Vol. 01, No. 04, Winter Issue 1930. p. 389-405)
When Col. Charles Teed Pollard, who was born in Fredericksburg, Virginia, August 25, 1805, felt that he was near the end of his days, then in his eighty-second year, he set down in writing an account of his family for the information of his descendants. It is revealed in that statement that he was the son of Joseph Pollard, born in King County, Virginia, and that his mother was Susanna Peacock, of Fredericksburg. The Pollards were amongst the earliest settlers in Virginia, locating originally in Loudon County. They are mentioned by Bishop Meade in his History of Old Churches and Families of Virginia, as one of the prominent Colonial families.
Colonel Pollard's grandfather was Major John Pollard, of "Mountain View," in King George County, Virginia, whose wife was Mrs. Mildred (Payd) Skinker, widow of Samuel Skinker. The paternal great grandfather of Col. Pollard was John Pollard of King George County, whose wife was a Miss Strother of Stafford County, Virginia.
On the maternal line, Susanna Peacock was the daughter of Richard Peacock, the son of an Englishman who settled in Fredericksburg. This Richard Peacock served with the Virginia troops in the Revolutionary Army as a lieutenant of Infantry, under the command of General Weedon, and in the regiment of Aaron Burr. Lieutenant Peacock saw active service in the campaigns of New Jersey and New York, and became a very noted and valuable scout on the North River, being three times captured by the British, and each time managing to escape.
In his statement Col. Pollard declared that about the year 1834, when he called on Col. Aaron Burr, that he said to him that Lieutenant Peacock's last escape from his captors was one of the most marvelous individual feats performed during the Revolution. The young American officer, who had been captured by the Hessians and condemned to death as a spy, killed his guard and swam the North River in the month of February, when the ice in great quantities was floating down the stream. It was while on duty as a scout in the American Army that the young officer met Emma Gregory, whom he married at the close of the War. Her oldest sister married Charles Teed, a wealthy farmer living near Tarrytown, N. Y., and it was from his uncle-in-law that Colonel Pollard received the name of Charles Teed.
After giving an account of his ancestors in this memoirs, Col. Pollard told the story of his own early life and his business experiences. His father, having chosen the sea for his profession, the son was inclined to the same vocation, but was dissuaded from it owing to his desire to build a substantial fortune. His first employment at the age of fifteen years, was as a copyist in Fredericksburg, in the office of the Chancery Clerk, John Taylor Ford, grandfather of Colonel Henry Clay Tompkins, who later located in Montgomery as a member of the law firm of Grey, Tompkins and London. Young Pollard next filled a clerical place in the old Scotch firm of Mackey and Campbell in Fredericksburg, being promoted from clerk to book-keeper, receiving what seemed to him at the time, 1822, a splendid salary—$50 a month.
After the failure of this firm and the loss of their business, young Pollard accepted the position of book-keeper and practically the management of the John Peck Company, a firm of Rhode Island men that had located in Fredericksburg, as large buyers of wheat, and corn. Owing to the death of one of the partners, this firm went out of business, and Mr. Pollard took up his residence at the home of an uncle, Mr. William Skinker, "Spring Farm" in Farquier County. In this new life the young future industrialist was employed in keeping books, and collecting outstanding debts for his uncle. "Spring Farm" was only a few miles from "Deep Run," the home of young Pollard's parents. He states in his memoirs that during this period he lived a life of luxury and practical leisure, enjoying society as it then flourished in Virginia.
Among the number of homes he visited was that of Col. Stanton Slaughter, who married his Aunt Catherine Pollard. At that time young Pollard was Lieutenant of the Rifle Company, of which T. H. Botts was Captain. He gives an account of a grand festival given by the Volunteer Officers of Virginia in 1824, in honor of Gen. LaFayette. This Assembly took place at Yorktown, and was a very brilliant affair. Coming back from this experience, he accepted an invitation to the wedding of Frank Brook who was being married to Mary Morgan, daughter of Mrs. Caroline Morgan who was a Skinker.
"I attended the wedding and had a regular Virginia frolic for about three weeks, first at one home on my way down from "Southern View" to "Spring Farm," and then at another home, always belonging to the family connection of either Frank Brook or his wife. He was a young lawyer of one of the most prominent families of that State, and his wife of another. Finally we reached "Spring Farm" with about 35 or 40 young ladies and gentlemen, visitors in the old house. We had been there several days when one day I received a letter from my uncle, Colonel Slaughter, which changed the whole future of my life. He complimented me on my high business reputation for so young a man, but said that I was giving myself up to habits of ease and indulgence, then the way with your Virginians of good family, and he urged and begged me to go with him to Augusta, Georgia, for which place he would leave on the 30th of November, 1824, there to begin a new life, and to battle for position and fortune."
This letter from his kinsman had a definite influence upon the young Virginian, and after due consideration and consultation with his family he joined his fortune with that of Col. Slaughter, and journeyed forth into what was then regarded as the Western Frontier. Continuing, Col. Pollard states in his memoirs:
"I had a very pleasant journey, having a large party in company. Col. Slaughter was moving South, and had with him about thirty negroes, and his son Augustine, and his daughter Diana, and my aunt Elizabeth, known as "Aunt Betsy Pollard." With us was Major Byrd Willis, who was going to Florida, and his family, three daughters, three sons, and his wife, and he had with him about fifty negroes. One of his daughters, Mrs. Atheson Grey, was a beautiful woman; she afterwards married Achilles Murat, a nephew of Emperor Napoleon. His other daughter married Commodore Dallas, of the U. S. Navy.
"After a journey of three weeks which I greatly enjoyed as we camped out, near Willington, S. C., we reached the home of my Aunt Jane, who had married Captain Arthur Slaughter, the son by his first marriage of Col. Stanton Slaughter who married my second oldest aunt. My father had but three sisters, the oldest, Aunt Betsy, never married, lived until she was ninety three and died at the home of my Aunt Jane, in Noxubee County, Mississippi, to which place Uncle Arthur moved. Aunt Catherine married Colonel Staunton Slaughter and Aunt Jane, who was the youngest, married his son, Arthur; she was one of the handsomest women I ever saw. She was the youngest of my grandmother's children; her children and their descendants are living in Arkansas and Mississippi."
And thus ends Col. Pollard's own account of his ancestors and his migration to Georgia, from which state he later came to Alabama. He was twice married, his first wife being Miss Edna Matilda Freeman, daughter of Fleming Freeman. The young wife lived only a short while and left no children. On November 15, 1835 he married Emily Virginia Scott, daughter of General John Scott, one of the founders of Montgomery.
"In the early days of Montgomery," records one who knew him, "Col. Pollard was one of the foremost in all public enterprises, and to him is Montgomery indebted for her first railroad, the Montgomery and West Point, of which he was so long President. He also aided largely in building the Mobile and Montgomery railroad, and was likewise for many years its President. He was considered the financial genius of the South. He was chairman of the building committee for the building of the present State Capitol."
When Montgomery was named as the future Capital City, Col. Pollard was made Chairman of the Building Committee for the new State House. The present structure succeeded that original building, which was burned soon after completion, but was modeled on the same architectural plan. This building has attracted the attention of architects from all over the world, and is a monument, not only to the designer, but to the committee that approved it.
Col. Charles Teed Pollard ca. 1870
Alabama Department of Archives and History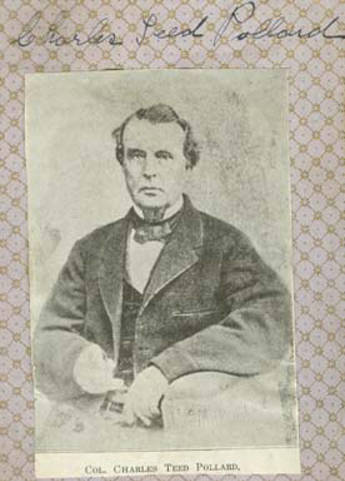 For forty-one years Col. Pollard was Senior Warder of St. John's Episcopal Church, and was one of the founders and trustees of the University of the South, at Sewanee.
The biographer above quoted says: "If  Col. Pollard had desired political honors the highest were in his reach, for he had the ability to have creditably and honorably filled any position, but he refused resolutely to enter the political arena, and would never allow his name used for any public office, although was ever alive to the honor and interest of his City and State. No man ever doubted what he said, or promises he made. His word was literally his bond, and faithfully kept."
"At the beginning of the War between the States, Col. Pollard was a man of large means, which were freely used in the Confederate cause, and for the relief of the distressed families of soldiers and for the sick and wounded. After the close of the War, he saw his property all go to meet obligations incurred largely in public enterprises. With that courage that characterized the men of that period, he never murmured or faltered, but bravely set his face to the future, working in his latter days with as much diligence and pains as in the earlier days when he was beginning life. He was characterized by manly courtesy, and used to say that a gentleman would never be rude to his equals, then certainly never to his inferiors."
Home of Charles Teed Pollard from Library of Congress
The magnificent home which Col. Pollard erected to house his beloved wife and children still stands as a monument to the splendor of the ante-bellum life of Montgomery. While its beautiful gardens have disappeared, the old building is practically in tact, a glory to the surroundings and industrial environments.
He and his second wife had the following known children:
Bettie (Pollard) Lee (1839-1918)
Charles Teed Pollard (1842 – 1917)
Clara Vernon (Pollard) Cocke (1849-1925)
Col. Charles Teed Pollard died Jan. 10, 1888 and is buried in Oakwood Cemetery in Montgomery, Alabama.
SOURCES
The Alabama Historical Quarterly, Vol. 01, No. 04, Winter Issue 1930. p. 389-405
Alabama State Archives
Find A Grave Memorial# 8287569 # 92642178# 124519182
Some stories include:
The true story of the first Mardi Gras in America and where it took place
The Mississippi Bubble Burst – how it affected the settlers
Did you know that many people devoted to the Crown settled in Alabama –
Sophia McGillivray- what she did when she was nine months pregnant
Alabama had its first Interstate in the early days of settlement