Click http://www.alabamapioneers.com/honor-your-ancestor-on-alab…/to see how to honor your ancestor as a Notable Alabama Pioneer
CHARLES S. WHELAN, M. D.
BIOGRAPHY and GENEALOGY
(1841-1898)
Hale and Jefferson Counties, Alabama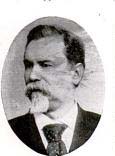 Dr. Charles S. Whelan of Birmingham, Alabama, was born in Greensboro, Alabama, May 26, 1841. He was the youngest son of Charles and Adeline T. Whelan, the former of County Wexford, Ireland, and the latter of Winnsboro, S. C. Both of them lived in Greensboro up to their death. Charles, his father died May 9, 1862, and is buried in Greensboro Cemetery in Hale County, Alabama along with his wife.
Charles Whelan at the age of twelve was sent to a select preparatory school at Asheville, N. C., taught by Colonel Stephen Lee, a graduate of West Point, a distinguished lawyer of Charleston, S. C., and uncle of Gen. Stephen D. Lee of Confederate fame. On his return to Greensboro, he entered Spring Hill College, near Mobile, Ala., which was under the direction of the Jesuit fathers. He remained there for two years and then went to Georgetown College, Washington, D. C., the oldest Catholic college in the United States. After completing his collegiate course he entered the office of Dr. John H. Parish of Greensboro, where he began the study of medicine and was there, thus engaged when the war began.
During the first excitement, he enlisted as a private soldier in Captain James A..Wemwys' company, which was afterward attached to the Thirty-sixth Alabama infantry, in which he remained until he was paroled at the close of the war. After about twelve months he was assigned to duty with Dabney H. Herndon senior surgeon of the brigade, with whom he remained until his capture at Missionary Ridge, Nov. 25, 1863. He was detained as a prisoner of war from that date until October 1864, at Fort Delaware, below the City of Philadelphia. Both governments being desirous of making an exchange of prisoners, he was sent in charge of the Confederate sick and disabled to Richmond, Va. Here, by permission of the surgeon-general, he remained in attendance upon the lectures of the Medical College of Virginia,
At the close of the session, he was ordered to his regiment at Spanish Fort, off Mobile, Ala. After the war was over he matriculated at the University of Louisiana, New Orleans, and was there graduated in 1866. Locating in the canebrake region of Alabama he had a lucrative practice until 1880 when he moved to Birmingham and formed a co-partnership with M. H. Jordan with whom he practiced one year. He then prosecuted his profession without a partner and enjoyed a good practice and the confidence and esteem of his community until his death, Oct. 25, 1898.
He was married to the daughter of Dr. James D. and Juliette Chapron Browder, of the canebrake.
Dr. and Mrs. Whelan had two known children, Charles and Juliette. All the family were members of the Roman Catholic church.
Dr. Charles Whelan, only son of the above, was born July 9, 1873, at Gallion, Hale county, Alabama. He was educated at Bellvue academy, Birmingham, Ala., under Professors Henry and Brittain He took an academic course at Georgetown college, D. C., and medical courses at the universities of Virginia and Alabama, graduating as doctor of medicine at the latter in 1895-96. He was elected city physician of Birmingham in 1899. He was married Nov. 25, 1896, to Lizzie, daughter of Mrs. F. A. Steele and niece of Gen. John Sanders, and Dr. William H. Sanders, State health officer of Alabama.
SOURCES
Notable men of Alabama By Joel Campbell DuBose 1904

Find A Grave Memorial

# 41082932
Start researching your family genealogy research in minutes. This Ebook has simple instructions on where to start. Download WHERE DO I START? Hints and Tips for Beginning Genealogists with On-line resources to your computer immediately with the FREE APP below and begin your research today!