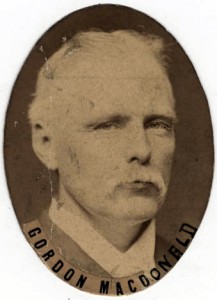 GORDON ROWALEYN CUMMING MACDONALD
BIOGRAPHY AND GENEALOGY
(1848-1905)
Anniston and Montgomery, ALABAMA
Gordon MacDonald was born at Mt. Meigs, Montgomery County, Ala., Feb, 1848. He was the son of Dr. Alfred and Olivia P. (Cooper)MacDonald (b. 1819 PA. d. before 1900 AL), of South Carolina and Philadelphia, Pennsylvania, respectively.
Gordon's maternal grandfather, Thomas Cooper was a native of near Liverpool, England. He came to America in 1802, and settled in New York City, and married Mary Fairley a daughter of Major James Fairley who was on the staff of Baron Steuben during the Revolutionary war.
The mother of James Fairley was a daughter of Judge Van Ness, of the Supreme court of New York, in early days. Her mother was a Miss Yeates, daughter of Hon. Joseph Yeates, also the Supreme Justice of New York. Miss Fairley was a great friend of Washington Irving, and was known under the name of "Sophie Sparkle" in his works.
Gordon MacDonald's great-great-grandfather, A MacDonald, was one of the few survivors of the celebrated massacre at Glencoe, and was brought over as an infant by a relative shortly after that massacre, to South Carolina around 1745.
Dr. Alfred MacDonald, the father of Gordon MacDonald was a county physician who came to Montgomery county, Ala., from South Carolina in 1839. He was a strong friend of Dr. J. Marion Sims the celebrated physician. He was murdered in 1855 by one of his slaves, who was in turn burned at the stake by the enraged neighbors. "It appears that the negro had applied for permission to Dr. MacDonald to visit his (the negro's) wife and having been refused, attacked the doctor with a rail and killed him."1 Dr. Alfred MacDonald was a graduate of the Medical college of Philadelphia. Olivia (Cooper)MacDonald died in 1870. Alfred MacDonald's father was John MacDonald (b. 1785 NC d. after 1850 Montgomery Co., AL)
Dr. Gordon MacDonald and Olivia (Cooper)MacDonald were parents of four children:
Alfred MacDonald who was killed in the war between the States;
Louise MacDonald (deceased) in 1901 married Dr. Hallonquist
Robert T. MacDonald was chief engineer of the Mexican National railway in the City of Mexico.
Gordon MacDonald, born 1853, Attorney-At-Law
Gordon MacDonald was educated in the home of his mother by private instructors and studied law in Montgomery. At the age of eighteen, he began the study of law in the office of Fitzpatrick Williamson and Goldwaite in Montgomery.
He was admitted to the bar in April 1874. He practiced in Montgomery for a few years, then moved to Anniston, Alabama in 1887, where he formed a partnership with Howard Williams. Later he returned to Montgomery and was a member of the Constitutional convention of Alabama in 1901.
Gordon married in April 27, 1882, Miss Bell Gordon Cary (b. May 1860) daughter of Capt. Gill Armistead Cary and Jane Ladson Alston Pinkney Smith "Jennie" Cary (b. Oct. 1837 VA. ) of Richmond, VA Gordon and Belle had one daughter, Olivia "Olive" Cary MacDonald  born April 1887. Belle had one sister Mattie L. who lived with them.
Belle and Mattie's maternal grandparents were John Rutledge Smith of South Carolina (grandson of Edward Rutledge – signer of the Declaration of Independence) and Sophia Gordon Taylor (granddaughter of George Taylor of Pennsylvania b. 1716 Ireland- d. Feb./25, 1781 –George Taylor was a delegate to the Provincial Assembly and was one of the busiest on the Committee of Safety for Pennsylvania and one of the first to actually sign the Declaration of Independence-He lost all his property doing this. He lived in Easton, Pennsylvania. He had two sons James Taylor and Lewis Gordon Taylor and descendants in Alabama are from James Taylor.
Gordon Rowaleym Cumming MacDonald and his wife were members of the Episcopal church and he was a Democrat. Gordon MacDonald ranked as one of the leading lawyers of Montgomery around 1901
SOURCES
1900 Montgomery, U. S. census
Notable Men of Alabama edited by Joel Campbell DuBose
Northern Alabama HISTORICAL AND BIOGRAPHICAL 1888 SMITH & DELAND
The History of Easton, PA, From the Earliest Times to the Present -1738-1885 Rev. Uzal W. Condit, A.M.
Find A Grave Memorial# 65073075 # 65073096
1Northern Alabama HISTORICAL AND BIOGRAPHICAL 1888 SMITH & DELAND