HAPPY BIRTHDAY!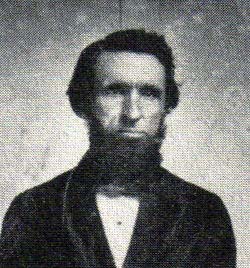 HENRY CLINTON LEA
BIOGRAPHY and GENEALOGY
(1804-1854)
Perry County, Alabama
Henry Clinton Lea was born in Hancock County, Georgia in October 7, 1804. He graduated from the University of Georgia. His parents were Temple Lea and Nancy Moffett who married on October 8, 1797 in Hancock County, Georgia. His grandparents were George Lea and Lucy Talbet of Virginia.
Lea married Serena Ryng Rootes (b. Oct. 5, 1802- d. 1889) on August 26th 1828. She was the daughter of Col. Thomas R. and Sarah R. Rootes. He moved to Marion, Perry County, Alabama to practice law in 1829 and built a beautiful home on Green St. in Marion. This was the home where Lea's sister, Margaret married Gen. Sam Houston in 1840. Henry and Serena had seven children.
unnamed Lea b. September 7, 1829
Lucy Ann Lea (b. November 10, 1830 – Nov. 13, 1903) married J. M. Langhorne
Laura Adeline Lea b. June 26, 1833, d. May 16, 1834
Sumpter Lea b. February 26, 1835
Henry Clinton Lea (1841-1914)
Martha Lea
Mary Willis Lea
Lea was a constituting member of Siloam Church in Marion, Alabama founded in May 1822, a founder of Judson College and a member of the first boards of trustees at both Howard College and at the Marion Female Seminary. He was appointed aide-de-camp on the staff of Brig. Gen. J. Crook, of the 14th Brigade on November 18, 1841.
From 1836 to 1842, he was the Alabama Senator from Perry County. He was again elected Senator from 1847 until 1851, and he died on November 7, 1854 at the age of fifty years.
Physically he was six feet four inches tall and considered handsome. He is described as fluent, eloquent, popular and sociable. Henry died on November 7, 1854 at the age of fifty years and is buried in the Marion Alabama, Cemetery.
SOURCES
World Connect Project; England, Alabama Notes, p. 3;
Brewer, Alabama History
Howell Cobb Family Bible (unpublished)
W. Stuart Harris, "Heritage of Perry County"
Find A Grave.com Memorial # 53806878  # 98605038 # 53858050 # 53858041 # 53830991