Happy Birthday!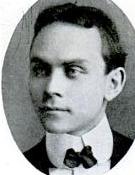 LUTHER CLARENCE ABBOTT
BIOGRAPHY and GENEALOGY
(1878-1964)
Shelby County, Alabama
Luther Clarence Abbott was an enterprising man who held the responsible position of head clerk in the grocery department attached to the Shelby Iron company of Shelby, Alabama. He was a man of exceptionally pleasing address and good business ability, and was popular with his employers and the men he served. He was born in Shelby, Aug. 27, 1878.
His father was a blacksmith of Shelby, where he and his wife settled in 1872. He was born at Newsite, Tallapoosa county, Alabama, his christened name being Green Ezekiel Abbott. (Nov. 9, 1852 – May 27, 1920) He was the son of James Dowdell Abbott, who was a native of Georgia and who settled in this State in an early day. Luther Clarence's mother was Mary Ophelia Sturdivant, (Apr 15, 1856– Oct. 5, 1923) daughter of Allen Sturdivant and Louisa (Fielder) Sturdivant, the latter said to be the first white child born in Autauga county, Alabama. Green Abbott was a self-respecting, wide-awake citizen, taking a keen interest in affairs. He was for years a member of the Democratic county executive committee of Shelby county. He and his wife were members of the Baptist church. They were the parents of four children, all living in 1904.
Luther C. Abbott received a good common school education in the schools of his native village, and at twenty-one years entered the employ of the Shelby Iron company as clerk in the grocery department. Here his attention to business and devotion to the interests of his employers secured deserved recognition and in 1902 he was advanced to the position of head clerk.
Mr. Abbott followed the political and religious example of his father, the whole family being members of the Baptist church, in which he was a deacon. He was also a worthy member of the Independent Order of Odd Fellows, a past grand of his lodge and represented it several times in the grand lodge of Alabama.
Luther Clarence Abbott died August 13, 1964, and is buried at Old Shelby Cemetery in Shelby County, Alabama where his father and mother are also buried.
SOURCES
Notable Men of Alabama Vol I – Joel Campbell Dubose 1904
Findagrave.com 33300488 # 33300532 # 33300552
READER REVIEW Donna shares how she "got bitten" by the genealogy bug. She imparts her amazement at how much can be learned about the history of this country as well as one's own family by researching one's family tree. And what's more amazing is that she was able to go back with her family to the 1600s in England, over 400 years. The author has a website where she is asked many "how to" questions by the participants. She advises one to use a computer for their research and seems to describe the use of genealogy software as an easy task and quite intuitive. She identifies many excellent genealogy websites for the new user, some of which I hadn't known about despite my history of 20 years of searching for my family tree, much of it on the internet. The author provides sample interview questions for eliciting past stories from family elders. She gives quite a few tips on how to organize your materials to make the best use of your time. She includes everything a "newby" to the genealogy research field will need to get started and more. And for those with more experience, she includes tips on how to break down the "brick walls" that researchers inevitably encounter and she advises readers to challenge the assumptions in family lore and stories when the brick wall is hit. She also identifies many of the pitfalls inherent in requested records. And if you've ever gone to a courthouse to search without preparing yourself for the kinds of questions you'll need to ask, you will appreciate the author's advice about getting ready first. You'll save yourself time in the long run.