Click http://www.alabamapioneers.com/honor-your-ancestor-on-alabama-pioneers-for-the-bicentennial/ to see how to honor your ancestor as a Notable Alabama Pioneer
SAMUEL S. BEMAN
BIOGRAPHY and GENEALOGY
(March 11, 1822 – May 9, 1882)
New York, Minnesota, Coosa County, Alabama
(Excerpt from History of Coosa County: by the Rev. George Evans Brewer, 1887)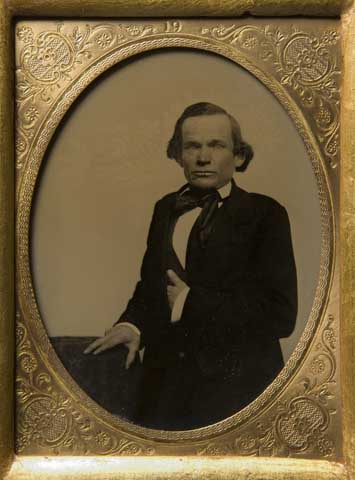 Another who reflected credit upon his adopted county of Coosa was Samuel S. Beman who began in the county that career which will prevent his name from being forgotten. He was the son of the celebrated Nathan S. Beman of New York, long and widely known in Georgia and Alabama as an educator. He was a half-brother of W. L. and B.-C. Yancey, whose widowed mother married Nathan Beman.
When Samuel was young he was well formed, but by a hurt when he was twelve years old, his body grew but little more in height. He was well educated. In 1843 he came to Wetumpka and established a law partnership with W. L, Yancey. After Yancey's removal to Montgomery, Beman continued at Wetumpka.
In 1844 he took an active part in politics, and his canvass was so brilliant as to give him desirable prominence among the Whigs. In 1846 he was the Whig candidate for Congress and only failed by 29 votes in the District of being elected over Mr. Cottrell, the Democratic candidate. He added much to his reputation as a stump orator, already brilliant, by his canvass as an elector for General Taylor as President, in 1848. In 1849 he returned to New York where he had been partially reared. He was elected to the Legislature in New York in 1853.
A speech in that body in favor of the Fugitive Slave Law ended his prospect for political advancement there. He also delivered temperance lectures in Ohio. In 1856 he moved to Minnesota, and was a member of the first Legislature of the State, in 1857. In 1871 he was elected to the Senate of that State from Winona County. But his sympathy with the South was a barrier to his political advancement in the North. It is freely confessed by all who knew him that his oratorical ability was of a high order.
One family gave three distinguished sons to Coosa, and Coosa gave each of them their start in their careers of fame.
ADDITIONAL INFORMATION FROM Alabama, Her History, Resources, War Record, and Public Men: From 1540 to 1872 by Willis Brewer and Minnesota Legislature Reference Library
"He was a well-formed youth till, at the age of twelve years, he was thrown by a colt on a heap of rocks, and his spine injured. He grew no more in height but was otherwise well matured. He could not attend school, but was taught by his mother for several years, then went to western New York, whither his father had returned in 1824, and there completed his education. In 1843 he came to Wetumka, and began the practice of law with his half-brother, Mr. Yancey."
"He was afterwards a temperance lecturer in Ohio, and in 1856 removed to Minnesota. He was a member of the first legislature of the State (1857), and in 1871 was again elected to the Senate from Winona county. His strong sympathy for the South is a clog to his political advancement, but his unsurpassed oratorical talents are freely admitted, and universally admired. He is a farmer, and has a wife and children."