Happy Birthday!
WILLIAM LOWNDES YANCEY
BIOGRAPHY and GENEALOGY
(August 10, 1814 – July 28, 1863)
(Excerpt from History of Coosa County: by the Rev. George Evans Brewer, 1887)
W. L. Yancey can easily be said, without disparagement to others, to have been the most distinguished resident Coosa ever had, and but few countries have ever produced a man of more note. As an orator he had no superiors, and but few equals. An audience before him was swayed like a field of waving grain before the breeze.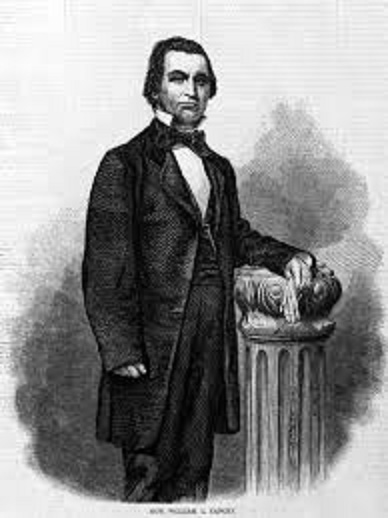 William Lowndes Yancey
He was a son of Hon. B. C. Yancey of South Carolina, born while his mother was on a visit to her parents at the Shoals of Ogeechee, Georgia, August 10th, 1814. The family were of Welch origin, and oratory seemed inheritable with them, for several of the family, in different States, have been distinguished for it.
W. L. was well educated, a Presbyterian, and came to Alabama in 1836, settling as a planter in Dallas County. He also edited a paper at Cahaba. In 1839, he and his brother, B. C., bought The Wetumpka Argus and Sentinel, and continued its publication under the name of The Wetumpka Argus. After August 1840, W. L., having moved to Wetumpka, and B. C., having returned to South Carolina, took the entire charge of the paper. Owing to the loss of a number of slaves, killed by drinking water from a spring that had been poisoned, he disposed of the paper in 1842, and gave himself more fully to the practice of law to rebuild his financial losses.
He formed a partnership with Sampson W. Harris. This made a strong firm, and commanded a large practice. His editorials had made such a political reputation for him, that his services were demanded by the public. He was yet unknown as speaker. He ran against W. W. Morris for the House, in 1841, and was elected. In a speech before the House on the banking question he became known elsewhere as an orator, as he had become known in the canvas at home.
In 1843 he was elected from the senatorial district of Coosa and Autauga over W. W. Morris, after a rather warm race. W. S. Kyle was also a candidate. Hon. Dixon H. Lewis resigned his seat in Congress, and in 1844 Yancey was elected to fill the vacancy, resigning his position as senator. In 1845 he was re-elected to Congress over Daniel E. Watrous of Shelby. He resigned in 1846, feeling too poor to continue in public life. During his stay in Congress he fought a duel with Mr. Clingman of North Carolina. Early In life he had killed a Mr. Earle of South Carolina, but public opinion justified it later as an act of self-defense. Upon retiring from public life he moved to Montgomery and formed a law partnership with John A. Elmore.
In 1848 he was a member of the National Democratic Convention for the nomination of a president. The Alabama State Convention had instructed its delegation to withdraw from the Convention if it failed to adopt certain principles involving the rights of the Southern States. The Convention failed to adopt them, and nominated General Lewis Cass, who was himself inimical to them, or at least occupied a questionable attitude toward them. Yancey and a Mr. Wray withdrew as instructed, and refused to support Cass. The rest of the delegation retained their places, and supported the nominee. For this Mr. Yancey was for some years ostracized by his party. But he was not anxious for office, and stood by his convictions.
In after years his course was vindicated, and the sentiments for which he was condemned became prominent in the party creed. From 1856 till his death no one was called on so frequently to speak, and no speaker ever held firmer grip upon his audience, whether in sympathy with or opposed to his views. The writer has seen juries awaken from listless indifference, to an actual leaning forward with open mouths and distended eyes under the spell of his magic oratory. He has seen vast audiences changed rapidly from a scowl of displeasure on the face, to the wildest enthusiasm, expressed by hundreds of waving hats and handkerchiefs, while yell after yell would peal forth from surcharged hearts; then again in a little while almost the whole crowd of stalwart men would be weeping like friends around the grave of the beloved dead.
Mr. Yancey was at the head of the electoral ticket for Mr. Buchannan in 1856. There was a feeling widespread during the session of the Legislature in 1859-60, to give him the place in the United States Senate, then occupied by Governor Fitzpatrick, but the election was held off, and so no vote was ever had as between them, as the secession of the State from the Union took place before an election was had.
In 1860 the delegates to the Democratic Convention in Charleston were again instructed to withdraw if guarantees to Southern interests were not inserted in the platform. They were not given, and Yancey was the recognized leader of the large party that withdrew to hold another Convention in Baltimore. The breach was final and the Democrats had two tickets in the field, known as the "Breckenridge" and the "Douglas" tickets. The Whigs had a ticket with Bell of Tennessee at its head, and the Republicans one with Lincoln leading. Never has there been an election that so stirred the hearts of all the people. Yancey was the recognized leader of the Breckenridge forces. He spoke in the leading cities north and south, and captivated the audiences everywhere by his matchless power, and commanded their respect and admiration, even where he failed to convince of the rightfulness of his cause. But it was of no avail. Lincoln was elected. The South felt robbed of her Constitutional guarantees, and must seek them by withdrawal from the broken compact. The result was secession by the Convention in 1861, Mr. Yancey was a delegate from Montgomery, and was made chairman of the committee that reported the ordinance of secession.
When Davis was made President of the Confederate States, he offered Mr. Yancey any position in the gift of the Executive. He chose the mission to Great Britain and France. His efforts were vigorous, but failed to receive an acknowledgment of the Confederate States as an independent nation by European Powers. On his return in 1862, he told his countrymen their only reliance was on themselves. While absent he had been elected to the Confederate Senate, and on his return he took his seat in that body, where he faithfully attempted to carry out his long cherished views of a government administered within the limits of a strict construction of constitutionally granted powers. The results of the war as they developed cast a gloom over him, as over all who loved the South and sympathized in her struggle. But he was saved the humiliation of seeing his beloved country go down in defeat, for he died July 28th, 1863, and is buried in beautiful Oakwood Cemetery at Montgomery, and the spot is marked by a pretty marble shaft. His end came almost simultaneously with the terrible blow of the fall of Vicksburg, and the carnage of Gettysburg, which was the beginning of the end of the terrible struggle. Coosa may well feel proud that it was her privilege to launch Mr. Yancey upon that career which reflected so much credit upon the State and the South.
ADDITIONAL NOTES:
Yancey was born on August 10, 1814, at The Aviary, the family home of his mother, Caroline Bird Yancey, at the Shoals of Ogeechee in Georgia.
His father, Benjamin Cudworth Yancey, was a leading South Carolina lawyer and legislator who died in 1817 of malaria, when William was three and his brother, B. C. Yancey Jr., was an infant. Although she removed the family to Georgia, Caroline intended that William should pursue his father's interrupted career. She trained her son from childhood to be an orator, an important vocation for public men in the nineteenth century. For his formal education, she enrolled him in Mount Zion Academy in Hancock, Georgia. The school's headmaster, Nathan Sidney Smith Beman, was a New England Presbyterian minister of puritanical views who had come to Georgia to recover from a mild case of tuberculosis. A widower with several grown children, Beman married Caroline Yancey in 1821. The Bemans subsequently had two children of their own, but the couple often quarreled, due to her violent temper and his extremely strict religious views.
Yancey suspended his law studies in 1835 and married Sarah Caroline Earle, a Greenville heiress whose dowry included 35 slaves. Suddenly elevated to the planter class, Yancey became caught up in "Alabama Fever," a land rush of the mid-1830s. Yancey sent his slaves to Cahaba, the former state capital located in the Black Belt, to join the work force and farm on the lands of his uncle, Jesse Beene, a prominent planter and state's rights political leader. Yancey also persuaded his reluctant bride to move to Alabama in 1837. The couple lived with his uncle.
A series of calamities reduced Yancey from affluence to poverty. Prior to his departure from South Carolina, Yancey shot and killed his wife's uncle in a street brawl after a family dispute. Tried for first degree murder in Greenville, Yancey was convicted of manslaughter, sentenced to a year in prison, and fined $1,500. Governor Patrick Noble, a family friend, pardoned Yancey after three months in jail and returned $1,000 of the fine. To add to Yancey's troubles, the nation was plunged into the financial crisis known as the Panic of 1837, which severely depressed agriculture prices.
WILL OF WILLIAM LOWNDES YANCEY
More about William Lowndes Yancey
READER REVIEW Donna shares how she "got bitten" by the genealogy bug. She imparts her amazement at how much can be learned about the history of this country as well as one's own family by researching one's family tree. And what's more amazing is that she was able to go back with her family to the 1600s in England, over 400 years. The author has a website where she is asked many "how to" questions by the participants. She advises one to use a computer for their research and seems to describe the use of genealogy software as an easy task and quite intuitive. She identifies many excellent genealogy websites for the new user, some of which I hadn't known about despite my history of 20 years of searching for my family tree, much of it on the internet. The author provides sample interview questions for eliciting past stories from family elders. She gives quite a few tips on how to organize your materials to make the best use of your time. She includes everything a "newby" to the genealogy research field will need to get started and more. And for those with more experience, she includes tips on how to break down the "brick walls" that researchers inevitably encounter and she advises readers to challenge the assumptions in family lore and stories when the brick wall is hit. She also identifies many of the pitfalls inherent in requested records. And if you've ever gone to a courthouse to search without preparing yourself for the kinds of questions you'll need to ask, you will appreciate the author's advice about getting ready first. You'll save yourself time in the long run.