Click to see how to Become a Patron of Alabama Pioneers and read thousands of lost and forgotten stories, free books and other added benefits for only $2 a month. Cancel anytime.
The Birmingham Airport opened in 1931. At the time of the opening a Birmingham to Los Angeles flight took 19 hours.  It was dedicated June 1, 1931.
In 1932, "a spectacular air carnival, featured by a night air attack on the city of Birmingham and numerous unusual and thrilling air events," took place at the Birmingham Municipal Airport on June3-4-5. The three day carnival of events was in celebration of the first anniversary of the dedication of the airport and the award of its A-T-A rating, the highest given by the Department of Commerce. At the time the Birmingham Municipal Airport was the only airport in the South that received an A-T-A rating and was only one of the three in the country on which the honor had been conferred. (The Florence Times May 6, 1932)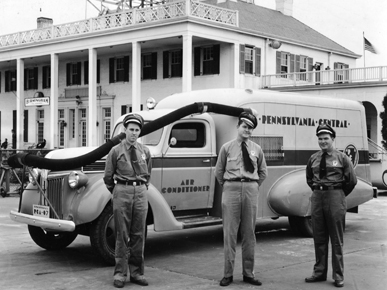 Black and white photograph of three men with a truck from Pennsylvania Central Air Conditioner Company in front of the first terminal at Birmingham Municipal Airport (courtesy Birmingham Public Library)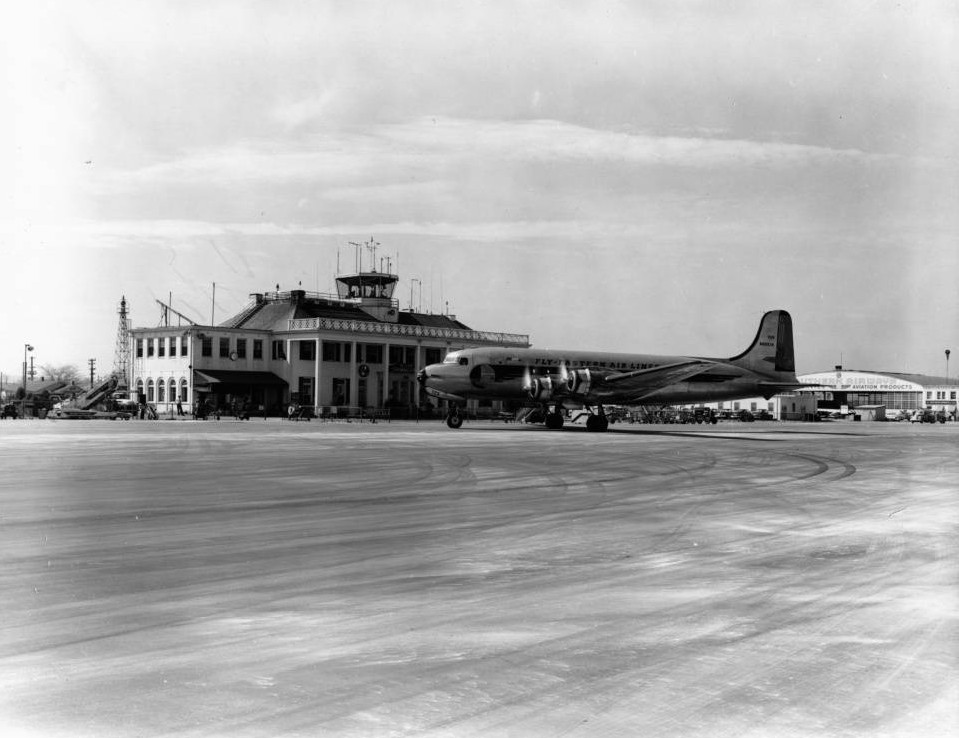 Black and white photograph of the Birmingham Municipal Airport with Eastern Air Lines airplane on the tarmac. (courtesy Birmingham Public Library)
The Birmingham Airport opened with pomp, ceremony and the greatest air show that the city had ever seen. Hundreds came to witness the Birmingham debut of commercial passenger service with a stop by American Airways along its Atlanta to Fort Worth route.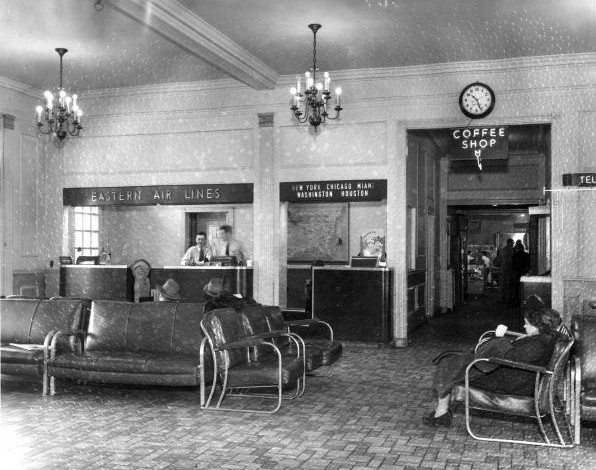 Black and white photograph of Birmingham Airport's interior showing the Eastern Air Lines ticket counter and a sign for the coffee shop. (courtesy Birmingham Public Library Feb 5,1847 Charles Preston Photographs, Collection 98)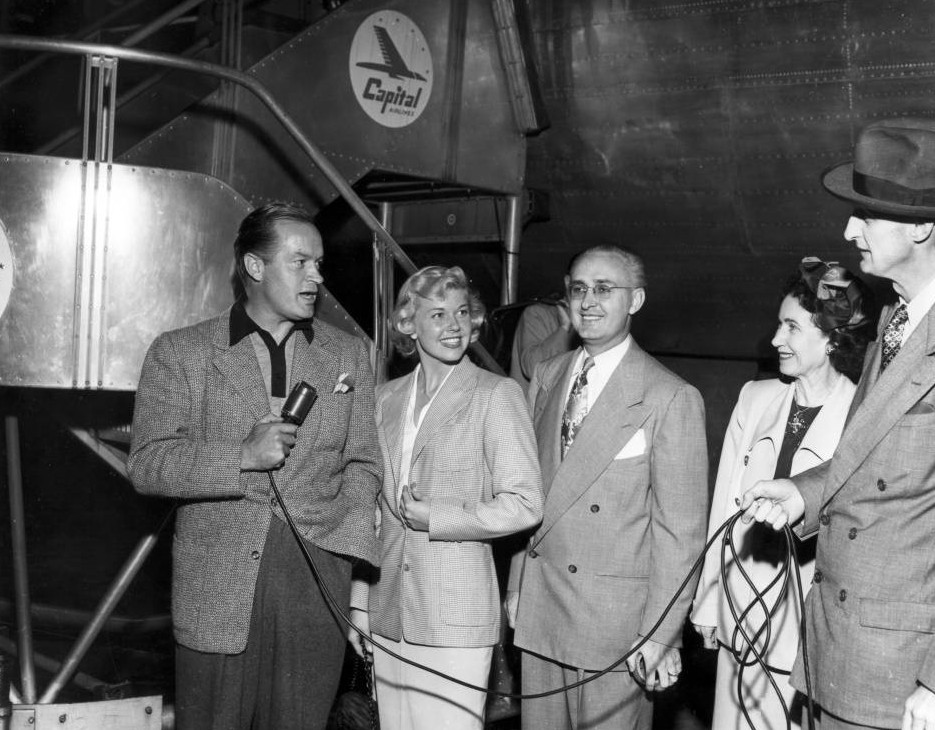 The photograph of the interior of the airport is probably the view of Birmingham Airport that Doris Day and Bob Hope probably saw when they arrived in Birmingham on April 22, 1949. Bob Hope was promoting his 'Bob Hope Radio Show and Dors Day came with him. While in town, Doris Day attended the showing of her new Warner Brothers movie "My Dream is Yours" at the Alabama Theater. They also visited Vulcan while in Birmingham. (courtesy Birmingham Public Library)
The postcard below shows the administration and terminal buildings. It covered 315 acres and could accommodate 300 to 500 planes and was five miles northeast of the heart of the city and cost approximately one million dollars.
Birmingham's Million Dollar Airport, Birmingham, Alabama ca. 1931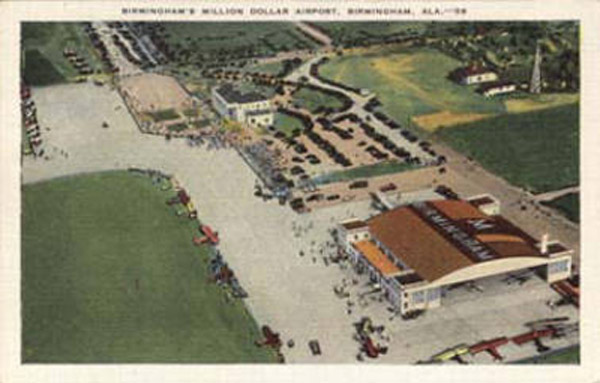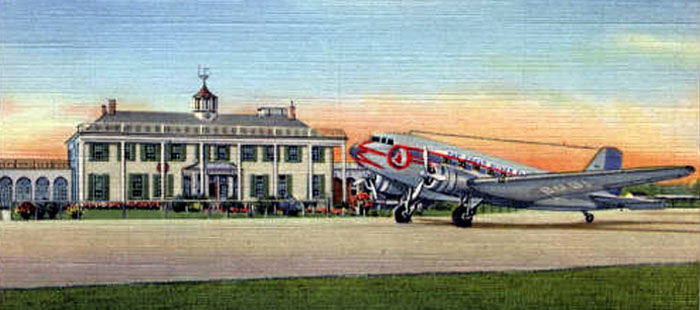 1930's postcard printed above – written on back: "Birmingham Municipal Airport, located five miles Northeast of the heart of the city, was dedicated June 1st, 1931. It has three hard surfaced run-ways, all being 4,500 ft. or more in length. The Airport covers 432 acres, and is 610 degrees above sea level; is irregular in shape, with sod all over, and has underground drainage.', Ehler's News Co., Birmingham, Ala"
On July 16, 2008, the Birmingham Airport Authority Board of Directors approved the airports renaming for Birmingham Civil Rights Activist Rev. Fred L. Shuttlesworth to 
Birmingham-Shuttlesworth International Airport
RELATED STORIES
Birmingham Municipal Airport located first in Ensley
First Night Flight in the World took place in Montgomery
ALABAMA FOOTPRINTS – Settlement: Lost & Forgotten Stories (Volume 2)