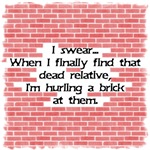 Are you relying on family stories in your research? Sometimes family stories may be incorrect and may actually hinder further progress on your family tree. It's often difficult to go against a story that has been repeated many times within the family, but sometimes that is the only way to move forward.
If you've reached the proverbial 'brickwall' in your research, try stepping back and evaluate the evidence for your information.
Perhaps you've been following the wrong trail. Search for all resources to prove or disprove the family story…but be prepared to face some disgruntled family members when you shatter a long repeated story that has become deeply ingrained and in your family history.
Would you like to start researching your family genealogy, but don't know where to start? Start your family genealogy research in minutes with FREE online links! This Ebook has simple instructions on where to start.
Did you know you can read Ebooks on your computer? Click below to see how.