(Transcribed and unedited WPA Life story)
SCROLL DOWN TO CONTINUE . . .
CHARLES H. GREER
9012 CHURCH STREET
VETERAN NEWSPAPER MAN
Sylacauga, Talladega County, Alabama
Dec. 19, 1938
by
Noma Dobson
WPA writer
Charles H. Greer now "runs a small town newspaper" as he says, but he has worked on some of the large Southern dailies. He has been a newspaper man since 1871. He and Mrs. Greer live in a seven-room frame building at 9012 Church Street, Sylacauga, Alabama, where he and his son Roe P. Greer, own and operate the Sylacauga News. Mr. Greer writes the editorials for the paper.
Born in Troupe County, Georgia, in 1860, he received his college training in North Georgia Agricultural and Mechanical College at Dahlonega. At the age of eleven he had become self-supporting, and while he was in college he did many things to make money.
Talladega County, Alabama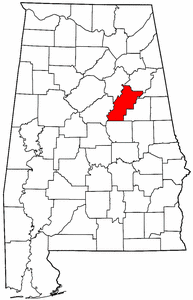 Wrote love letters for others
"I made a good bit writing the boys' love letters for them," he said, his eyes twinkling at the recollection. "I remember one boy who was so in love that he wanted to keep on writing to her when school was out. He lived in one town, she in another, and I in still another. I finally untangled this mixup by writing the letters, sending them to the boy, who mailed them to the girl, and she never knew the difference. I rented me a room, did my own cooking and lived on $4.50 a month."
"One of the school courses that has meant much to me since was debating. We had debating societies and the most exciting event of the school year was the debating contest at commencement."
"I worked on the old Montgomery Morning News when first came to Alabama. I well remember, though, (I was only sixteen or so) the inauguration of Houston as Governor of Alabama. As he was the first Democrat elected governor since the War between the States, that was a great occasion. People came from every direction. There were speakings and celebrations all over town."
Publisher at seventeen
"I was publisher of a paper in Randolph County when I was seventeen. At that time I organized the first count Sunday School Association in Alabama. The annual meetings of this association were celebrated with Sunday School programs, big barbecues and speakings. I often had to do some of the speaking."
"Later I went back tot Montgomery. I remember the old electric street car of those days. When we were getting on a car, the conductor would warn us not to get on if we were wearing a fine watch. It didn't harm mine I assure you! I came upon the scene of the death of two horses that had been killed by fallen street-car wires soon after they had been killed. No one, not even the driver of the horses, had been injured; but that event so alarmed the town that Montgomery abolished electric street cars. Although Montgomery was the first in the South to electrify her cars, this type of car had been adopted by all the larger towns and cities over the country before Montgomery put them in again."
A busy street in Montgomery in the mid-1880s. The city was the first in the nation to have an electric streetcar system; two of those cars are pictured here. (Alabama Department of Archives and History)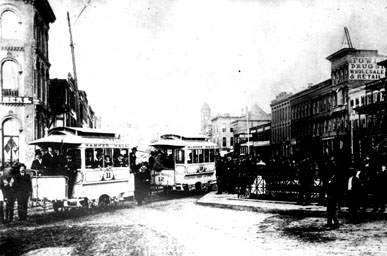 "I have heard many of the people who heard William L. Yancey, describe his eloquence when he was persuading the delegates to the Alabama Convention to secede, prior to the War Between the States. Very few of these delegates had come prepared to vote for secession, but Bill Yancey's eloquence won all but two of them to the cause. One of these two was graphic and sincere in his explanation of reasons for voting in the negative. He predicted the horrors of a reconstruction period that were all too true."
While Mr. Greer was publishing a paper in Lafayette, he wrote and editorial that has been credited with being the beginning of the movement of ran industrial school for girls. When questioned about this, he said, "I got the idea of this type of state school for girls from an article in a northern paper. I wrote my editorial from this and sent a copy to every legislator. From this they drew up a bill that was finally passed, to provide for the school that is known today as Alabama College.
"I was a member of the convention that framed the present Constitution of the State of Alabama. That was a fine piece of work that we did. I am more proud of being a member of this convention than of any other that has been given me."
Two men pointing guns at me
In reviewing his long years as a reporter, editor and publisher, Mr. Greer said "I have had some exciting times, as any newspaper man is likely to have. I guess the most excited, not to say the most frightened I ever was, was the time I looked up from my writing to find two men pointing guns at me. They were definite in their demands. I was to write as they dictated. I did this and sent the article up for publication word for word as they had dictated it, and it was on the front page of the paper the next day. I asked these men if they would get me an interview with their leader who was a notorious bandit of that time. They replied that they did not know him and that they did not know where he was, but that they would try to get word to him, if I would publish exactly what he said so the public would know his side of things. A short time later when this leader was killed, one of the men who held me up was with him."
Mr. Greer has always been on the alert to secure the good things of life for his community, if it was in his power to do so. Through his efforts there was obtained for his county a rural telephone service from the Bell Telephone Company when that service was rarely available. The International Harvester Company was induced by him to locate in Talladega County a demonstration farm, one of a very few in the South, for the education of farmers is the use of improved machinery. He also secured for his county, the first government soil survey in the South.
Oscar W. Underwood, great man
"First and last, I have come in contact with many of the great men of my time," he remarked. "Oscar W. Underwood was the greatest of them all. Mr. Underwood was most considerate of the press. He would tell the newspaper men everything that we were trying to learn from him. He would explain what was likely to happen and why, so that we could more intelligently follow events. He would tell us what not to publish of course. He was fair and square with us always. That was one reason the press was always so generous to him, during his long years in the United States Senate, and when he so nearly received the Democratic nomination for President of the United States."
Hon. Oscar W. Underwood (Alabama Department of Archives and History)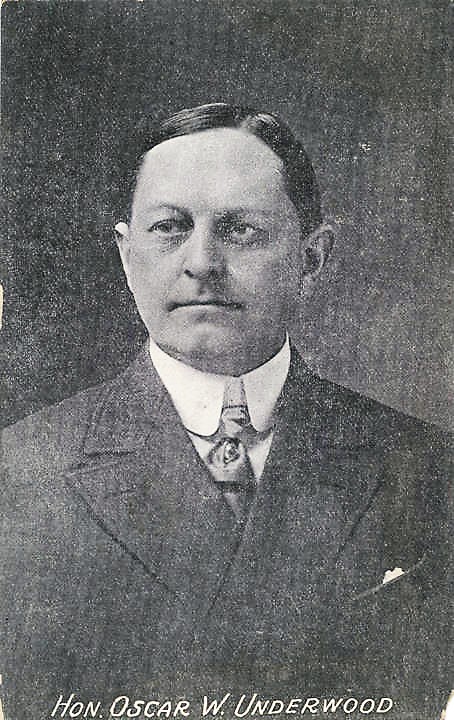 In contrasting the newspaper business of his earlier years with today, Mr. Greer said, "Editorials were the chief features of early newspapers. Subjects were studied, prepared, and evaluated before being sent to the printer. The editors of weekly newspapers influenced the nation. Their columns were read and copied by the dailies. News materials were gleaned individually. Today, news services handle the majority of current event reportings"
"In my early days, I worked eighteen hours per day. I worked in every department from editing to setting it up, running it off, mailing. A sixteen-year-old Negro was my power plant. He turned the press by hand. Today, machinery has replaced hand work. Newspaper work has become stream-lined, systematized. Newspapers played a decidedly greater part in swaying public opinion than today. Nowadays opinion is influenced by news reels, radio, and direct contact more than by newspapers."
Newspaper a part of me
"Since I was eleven years old, I have worked in every department of small town weeklies and of large city papers. I have owned my paper much of the time. I was one of the owners of the Birmingham Daily State and directed the business transaction in consolidating the Daily State with the Birmingham Age-Herald. I was managing editor of the Age-Herald for two years, was one of the promoters of the Birmingham Ledger and for a time its general manager and associate editor. Since then I have spent my time and efforts on just two papers, the Marion Standard and the Sylacauga News."
"I came to Sylacauga to run the News for Victor may who was seeing service in the World War in 1918. Two weeks after I came, he was killed. I bought the paper. At that time it had a circulation of five hundred. Now its circulation is twenty-four hundred. The News has grown as the town of Sylacauga has grown. I feel as if the paper is almost a part of me. I have spent my maturer years with it and have given it the best that my training and experience as a newspaper man can give."
Vinegar of the Four Thieves: Recipes & Curious Tips from the Past – This book is a compilation of some of the funny and helpful tips from our past history. Some recipes and tips date back to 1770s. One or two sound a little dangerous and I would never try them myself, but I've included then in this book for their humorous and historical value. A few are useful, especially for our 'green' society today