Buccaneers attacked the first white settlers of Cherokee County, Alabama
HUGH CARDON'S HISTORY OF CHEROKEE COUNTY, ALABAMA
 Part V
Mr. Hugh Cardon wrote the following history of Cherokee County on the occasion of the 100th anniversary of the county in 1936. This history was published in the COOSA RIVER NEWS on Friday, August 7, 1936. Mr. Cardon was a much respected historian of the county and a collector of antiques and Indian artifacts. He died February 11, 1953. The Historical Society collected a number of his articles written for the public press published them from time to time. The following article was preserved by Mr. J. Robert Embry of the Blanche, Lookout Mountain Valley, Little River Area and loaned it to the Historical Society.
Settlers near Cedar Bluff
Prior to 1835, when the Treaty was made by which the Cherokees were to be removed to the West, few white people had settled in what is now Cherokee County. In the autumn of 1835 Rev. Whitfield Anthony, a Methodist preacher, brought with him to this county his family and several other families from Georgia and South Carolina, numbering in all about forty. These people settled some four miles north of Cedar Bluff, in the Lay, or McCoy, Bend or three miles west of the mouth of Mud Creek.
As stated previously in this hurriedly written sketch, Rev. J. D. Anthony, a son of Whitfield Anthony, wrote for the GADSDEN TIMES in 1875 his recollections of childhood days in Cherokee, he having been ten years old when his family moved here in 1885. He states that their nearest neighbors Ambrose Vandiver who was the father of several girls; Hezekiah Day, the first Justice of the Peace in the county; John Lay, father of Capt. Pat Lay of Gadsden; Mrs. McCoy, who was the mother in law of John Lay; and her sons William, John and her daughter Nancy.
No hog meat, grease or seasonings
Times were indeed hard for these pioneers for the first few years. Only a small acreage of land had been cleared and was tillable, homes and barns had to be constructed without benefit of saws or shingle mills, there were no churches or schools, wild bands of Creek Indians roamed the Woods, having slipped into the Cherokee Nation.
For the first year there was no hog meat or grease with which to season vegetables, beef and deer tallow being used as a substitute. When corn was to be ground, a trip was made to the nearest grist mill which was 'back in Georgia.' However, many of the settlers made improvised mills by burning a hollow in a fat pine log to the desired size, and then poured the corn in and pounded it with pestle until it was in an edible condition.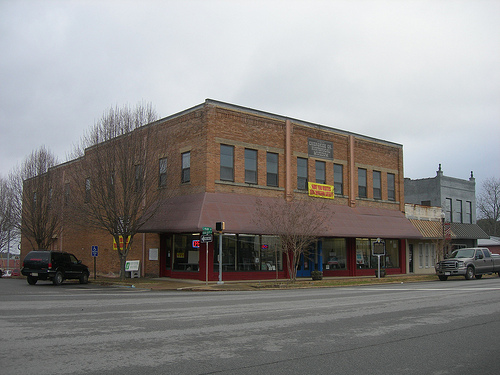 Buccaneers invaded the settlement
A more serious hardship which the pioneers had to endure was the lack of any organized system of government. A gang of ruffians, known as the 'Slicks', had taken the administration of justice into their own hands. The chief of this gang of buccaneers lived on the south bank of the Coosa, one mile below the mouth of Mud Creek and his cohorts lived in what is now Marshall, DeKalb, Etowah, and Cherokee Counties in Alabama, and in several of the adjoining Georgia counties lie, was known as 'Capt. Whips'.
It seems that if an Indian or a White owned a pony, or a hog, that some member of the 'Slicks' coveted, the said kine was taken and the owner rawhided 'to boot' by the Slicks. In 1836, however, the Slick law came to a speedy death. An old man by the name of Hendricks was taken into Georgia and unmercifully whipped. In the meantime, the first court of Cherokee County had been organized, subsequent to the passage of a legislative act of January 9, 1836, making this territory a county.
Punishment meted out for the Slicks
The first court was held at the residence of Singleton Hughes on Cowan's Creek, some 8 miles from Centre. The better class of citizens had resolved that the first action of this court would be to mete out punishment to the Slick Brigade who had so barbarously beaten old Mr. Hendricks. Members of the Slicks had let it be known that they did not intend for any testimony against them to be presented. But on the day of the court, some seventy citizens formed 'a living wall' around the little log court house, locked arms, and Justice proceeded in the even tenor of her way, as she has to this day. No more was ever heard of the Slicks after this firm exhibition of the temper of our pioneer ancestors.
Ebenezer was the first church
In 1836, Rev. Whitfield Anthony called on his neighbors to assist him in building was probably the first church in Cherokee County, now known as Ebenezer Church at Alexis.  This first church building was made of split chestnut logs, was 18 feet square, with dirt floor and split chestnut pulpit. It was then about one mile from Cothrun's Ferry, and, although built by Methodists, preachers of all denominations were invited to use this Cathedral of the Forests.
Among the early Baptist preachers who attended this church were Revs. Wm. Taylor, James Wilson, Casy, Minton, Southerland, Frost, Grogan, Minett, Allan, Leath. It, too, should be said that these men was successful in deeply rooting the Baptist Faith in Cherokee County.
Rev. John Foust was the first Methodist minister to be sent to our county by the Alabama Conference. He, with Rev. Whitfield Anthony and Rev. Newton Randall, of Gaylesville, established Methodist churches on South Spring Creek, Mud Creek, and in Gaylesville. Prior to the time a Methodist church was built at Gaylesville, a Camp Meeting Ground was established near there at Sulphur Springs. There were many Cumberland Presbyterians among the first settlers and their earliest ministers were Revs. S. Russell and David Bryant.
Check out genealogy books and novels by Donna R. Causey
ALABAMA FOOTPRINTS: Statehood  – presents the times and conditions they faced in lost & forgotten stories which include:
Who Controlled And Organized The New State of Alabama?
Tuscaloosa Had Three Other Names
Chandelier Falls & Capitol Burns
Alabama Throws Parties For General LaFayette
Francis Scott Key Was Sent to Alabama To Solve Problems