The Alabama Cherokee Sequoyah invented the Cherokee alphabet and after 1829, the Cherokee people printed a weekly paper.
HUGH CARDON'S HISTORY OF CHEROKEE COUNTY, ALABAMA
 Part III
Mr. Hugh Cardon wrote the following history of Cherokee County on the occasion of the 100th anniversary of the county in 1936. This history was published in the COOSA RIVER NEWS on Friday, August 7, 1936. Mr. Cardon was a much respected historian of the county and a collector of antiques and Indian artifacts. He died February 11, 1953. The Historical Society collected a number of his articles written for the public press published them from time to time. The following article was preserved by Mr. J. Robert Embry of the Blanche, Lookout Mountain Valley, Little River Area and loaned it to the Historical Society.
Cherokees possessed high mental abilities
The Cherokees possessed mentalities above the ordinary aborigines, and soon caught the flame of inspiration and desire for literary achievement. The Cherokees were, in the beginning, taught to read and write the English Language but their white preceptors found that his was a very difficult and painful procedure, however, there was apparently no remedy for the situation, until there rose from among the ranks of Cherokees one referred to as "The Cadmus of his Race." George Guess, or Sequoyah, was the son of a mixed blood mother and a white father.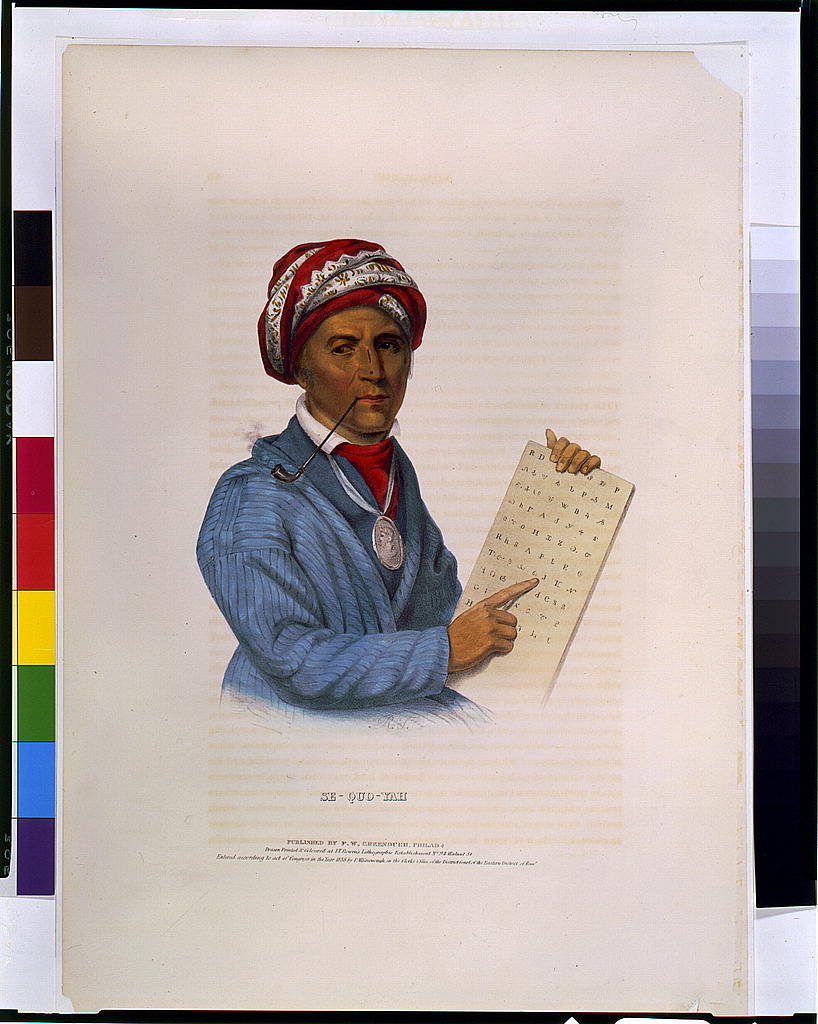 Sequoyah found pleasure in things other than sports
As a youth he did not relish the sports commonly engaged in by Indian boys, but found more pleasure in strolling through the woods, studying nature, building houses with sticks, and carving in stone. His father having abandoned his mother while Sequoyah was young, it fell his lot to be 'the man of the house', which position he occupied with dignity and credit.
He became an expert in making silver ornaments
We are not positive as to the exact place of Sequoyah's birth, but it is definitely known that he lived for a while near Wills Town in DeKalb County, and he is also listed as being a resident of the Alpine district in the north end of Cherokee County, Alabama, and Chattooga County, Georgia. As Sequoyah grew older, he not only tilled the soil, raised and broke colts, and kept a herd of dairy cows, but also became an expert in the making of silver ornaments, such as bracelets, armbands, and brooches.
He signed items he made
One day while working in his shop, he was visited by Charles Hicks, who had had the benefit of schooling, to write his name on a piece of paper. Sequoyah, who could neither read nor write, then copied his name as it had been written by Hicks, on a piece of silver and thereafter stamped his name on articles which he made.
They thought writing was supernatural gift of whites
A short time later he visited the mission school at Wills Town and was astonished that a white man could write on a piece of paper and this piece of paper could be carried miles away to another white man who could read the same and understand what the white man had thought who had written the note.
Most of the Indians thought that this power of conveying thought and information on paper by means of writing was a supernatural gift, possessed only by the whites, and not intended by the Great Spirit to belong to the red man.
Sequoyah disagreed
Sequoyah, however, was not charged with this superstition, and determined that the faculty of conveying information in writing should be shared by the Indians.
Returning to his home in the forests, he reflected on the subject of inventing a language which could be understood by his people and within a short time devolved the Cherokee alphabet. This alphabet is said by linguists to be one of the easiest to learn and use of any yet invented.
Cherokee Syllabary Song
Printed a weekly paper
The Cherokee people soon became accustomed to the Sequoyah alphabet, and in 1829 the Rev. Samuel Worchester, missionary, had cast in Connecticut several fonts of Cherokee type, establishing at New Echota, Georgia, THE CHEROKEE PHENIX. This newspaper was published weekly and printed half in the Cherokee language and half in English, being edited by Elias Boudinot, a Cherokee Indian. It continued operations until about 1835 when it was suspended on account of the attitude of the people of Georgia toward the Cherokee nation.
Check out this film of Amazing Grace sung in the Cherokee language
Here are two more interesting videos on YouTube related to the Cherokee language.
For more information about the Cherokee language click to go to the Cherokee Nation website
Did you know that all E-books can be downloaded immediately from Amazon.com – Read eBooks using the FREE Kindle Reading App on Most Devices?  And when you download any Ebooks by author Donna R. Causey you are supporting this website and keeping it FREE!
Faith and Courage
and the latest novel Discordance: The Cottinghams (Volume 1)  Filled with drama, suspense, humor, and romance, DISCORDANCE continues the family saga from the Tapestry of Love series with the children of Mary Dixon who married Thomas Cottingham.
Inspired by true events and the Cottingham family that resided in 17th century Somerset, Maryland and Delaware, colonial America comes alive with pirate attacks, religious discord, and governmental disagreements in the pre-Revolutionary War days of America.
Orphaned at an early age, the Cottngham siblings face pirate attacks, illness, injuries, and the disappearance of a loved as they try to establish their lives in the wilds of early America. Will they prevail or be torn apart over the issue of slavery?
Download all four novels for only $15. 96 and read them on your trips to the beach and help Alabama Pioneers remain FREE with your purchase. All four novels are also available in paperback.