In Tuscumbia, Alabama there is an unusual cemetery devoted entirely to coon dogs. The cemetery never started out to be a coon dog cemetery. It was only a burial spot for a favorite coon hunting dog named Troop. Key Underwood hunted with Troop for more than 15 years and when he died, Key wanted to bury the dog at the hunting camp where they had spent many happy days.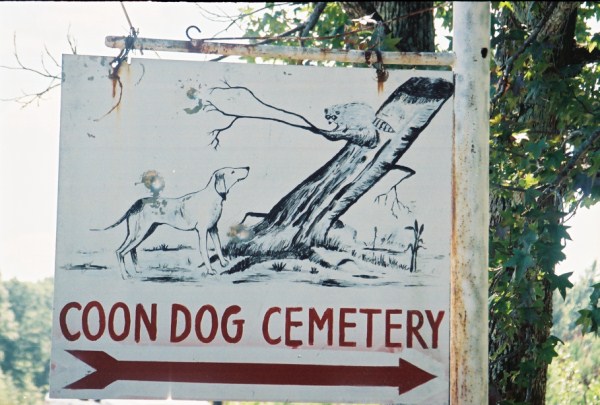 It was on Labor Day 1937 when Underwood buried his faithful coonhound at the hunting camp. Other hunters from the camp and around the area started doing the same thing with their favorite coon dogs when they died. Now there are more than 185 coon dogs from throughout the United States buried in this coon dog cemetery in Tuscumbia. It is now called the Key Underwood Coon Dog Memorial Graveyard.
Only certified coon dogs are buried there and there are strict rules about their burial so don't ask to bury any other kind of dog.
The bond between a coon dog is strong as can be seen in this funeral for this special dogs
The cemetery is not limited to Alabama coon dogs. Coon dogs from around the world are buried there and some are famous. "Hunter's Famous Amos – a hound that was named Ralston Purina's Dog of the Year in 1984, is buried here as well as several World Champion coon dogs."
Coon Dog from Indiana buried in the Cemetery
The Cemetery even has its own song written and sung by Travis Wammack
Each year there is a celebration at the cemetery on Labor Day in honor of Troop, the first coon hound buried there.
This is a video of the 75th anniversary
You can find the Coon Dog Cemetery 7 miles west of Tuscumbia, Alabama on U.S. Hwy 72. Turn left on Alabama Hwy 247, and travel approximately 12 miles. Then turn right, and follow the signs. The Friends of the Coon Dog Cemetery, Inc are the sole caretakers of the cemetery. We are the organization that all should contact for information etc. Colbert County Tourism is not the point of contact and does not have anything to do with the cemetery.
Email: [email protected]
Contact Janice M Williams, President of FCDC
256-412-5970
RIBBON OF LOVE: 2nd edition – A Novel of Colonial America

by Alabama author Donna R. Causey – based on ancestors of the Cottingham family of Bibb County, Alabama – Inspired by true events.