Childhood fun and my toys in old Perote, Bullock County, Alabama
REMINISCENCES OF PEROTE IN BULLOCK
By A Native
Catharine Elizabeth (Hixon) Rumphi
(This transcribed excerpt was written before 1958)
When I was a child we had very few bought toys. We made a lot of things we played with. Thread boxes were used for wagons and trains with empty spools cut in two parts for wheels. We used grass for dolls. Smut grass made nice lady dolls. The roots were thick and long so we could have bangs and plats or make knots of the back. There was another kind of grass that we used for children.
Smut Grass (www.personal.psu.edu)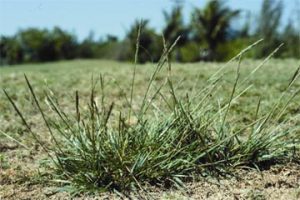 The woods provided our toys
We played in the woods a lot. We made houses laid off with rocks. Leaves made nice beds and a short green moss we used for rugs. In front of one of our houses, there was a large pine tree that had a forked limb near the ground. We nailed barrel staves across the fork for a seat and this was our buggy. The small slender pines we pulled down and used for horses.
Woodland in Perote, Bullock County, Alabama (landsofamerica.com)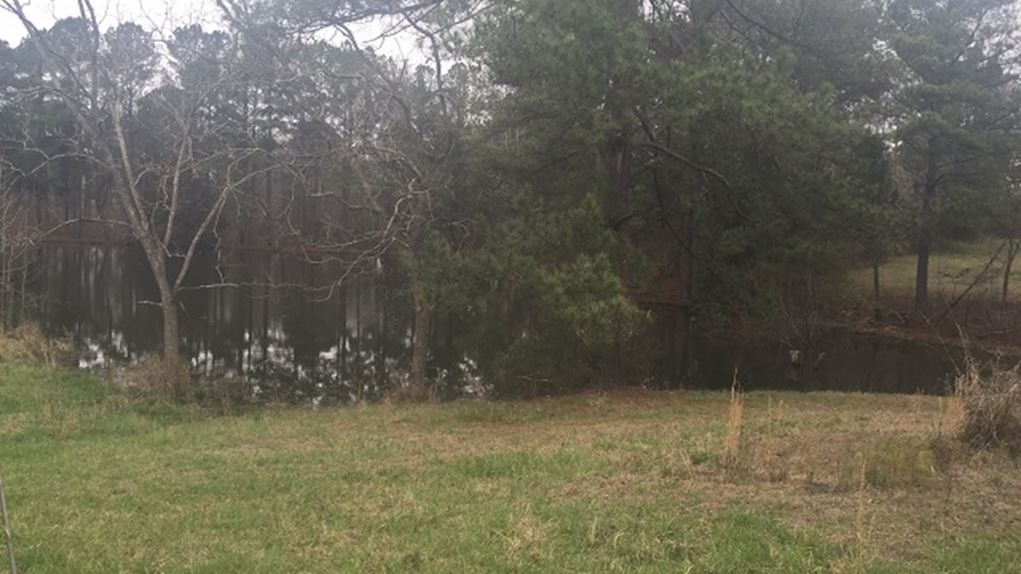 We made dresses and hats of oak and any kind of large leaves we could find pinned together with "broom straw" (sage). We made strings of beads of "hog berries" now called Jerusalem or Christmas Cherries sold by florists as hot house plants. They grew profusely around where we lived.
We made sleds of barrel staves to slide down hills in pine thickets. We played in branches and made loblollies and tried to see which one could bog down to our knees. As soon as the weather got warm we went barefooted. Sometimes we fished in the branches with bent pins. Don't remember catching anything. There were nothing there except minnows and "horneyheads."
Games we played at school
At school we played town ball, a game on the order of baseball only it was played with a rubber ball or one made of thread of an old hand knit sock.
The girls played mumble peg and checks. Checks was played like jacks now except you used five marbles and I do not know to describe mumble peg. It was played with a pocket knife.
Mumble peg Boy's camp 1917 (Library of Congress)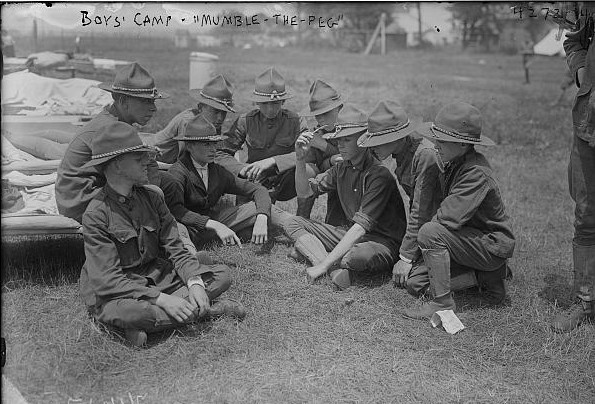 The boys played marbles using five marbles in a ring and another for a taw. We played hopscot or scoth too. They play that now but not exactly like we did.
Hop Scotch (Library of Congress)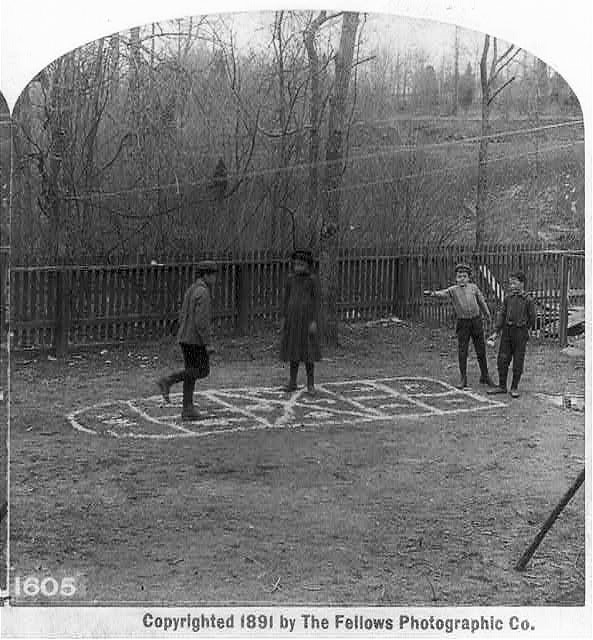 Christmas presents
At Christmas, the girls got a doll and a book and the boys knives and pistols. We always had firecrackers and Roman candles. Our stockings were filled as they are now but we appreciated the things so much more than they do now because we had so few toys and very little fruit and nuts except at Christmas. We had a good orchard and we gathered hickory nuts, scaly-barks and walnuts but oranges, bananas, nuts and raisins were not shipped to Perote often.
Mr. C. W. Rumph and my father were in business together for a good many years, dissolved in 1891 or 1892. They bought kraut and dill pickle in half barrels and we enjoyed going to the store and getting them out of the barrel. They had chewing gum made of paraffin rolled out thin, cut into squares and had cut out pictures pasted on it. We got that mostly for the pictures.
Exchanged buttons
In those days we had charm strings made of different kinds of buttons. We carried them to school and exchanged buttons. I still have some of mine and a friend's.
I can just remember when the men rode fantastics at Christmas. They wore fancy costumes and false faces and would scare the little girls by trying to kiss them. They gave us cornucopias filled with little ball candy.
They played tournament but it is hard for me to describe. They had poles fixed certain distances apart with a piece nailed on to extend over the road with rings on it. The object of the game was to ride by fast and see how many rings they could take off with a long pole while riding by.
Shoot the anvil at Christmas
Another thing they did at Christmas for years was to "shoot the anvil". It was done by filling the hole in the middle with gunpowder, fixing a fuse, putting another anvil on top and lighting the fuse. It made a noise that could be heard all over town. (One Christmas (before I can remember) Mr. Will Ivey was up town drunk when they were fixing to shoot the anvil and insisted, on sitting on it that they finally consented. He was never too drunk to want to do this again. This information was given me by an eye witness.)
iCatherine Elizabeth (Hixon) Rumph was born in Bullock County and has lived during her entire life time there. She is the daughter of a Confederate Veteran who was some time a prisoner at Ship Island off the coast of Mississippi and grew up in the environment of the small country village about which she writes and among interesting Confederate associates, Mrs. Rumph has collected Americana, folk lore and historical data and contributed in no small way to the life of this rural community
SOURCE
The Alabama Historical Quarterly, Vol. 20, No. 03, Fall Issue 1958
Discordance: The Cottinghams
 Inspired by true events and the Cottingham family that resided in 17th century Somerset, Maryland, and Delaware, colonial America comes alive with pirate attacks, religious discord, and governmental disagreements in the pre-Revolutionary War days of America.