THE COUNTY SEAT
By J. M. K. GUINN1
Written for The Randolph Toiler, Wedowee, 1896
Number Four
This subject has elicited no little discussion as to the identical place where the first court was held, and it had been questioned as to who was wrong.
It takes facts to make history-traditions and suppositions are not always facts; but our readers must indulge us if we should have to use some traditions as facts, to get a seat for the county, or else leave her standing first on one foot and then on the other until 1835. It is not reasonable to suppose though, young, active and frolicsome, she did not sit down somewhere, whether under a tree, on the grass or a rock; for either would have been commodious, while her other and special wards domiciled in hollow trees and under wagon beds for safe keeping and quick delivery.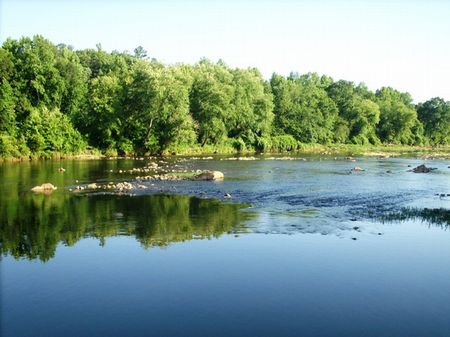 Tallapoosa River near Wadley(Landflip.com)
First County Seat near Hedgeman Triplett's ferry
The first County Seat was at or near Hedgeman Triplett's ferry on the Big Tallapoosa river, the present Blake's ferry, ten miles west of Wedowee.
Commissioners Court, April Term, 1834: "It is ordered (by the court) that Hedgeman Triplett gets the establishment of a ferry boat on the Tallapoosa river at or near the County seat in Randolph County",
Attested: George McKaskle, Willis Wood,
Archibald Sawyer, J, C. C.
Wm, Vardeman, Clerk.
While the above is official evidence of a County seat somewhere "at or near", it does not locate definitely and we introduce tradition, which says, "The first court was held on the bank of the river at Triplett's ferry under a large oak tree; that Judge Sawyer set on a log and leaned against the tree while presiding, and that tree is of course the first county seat.
Other traditions handed down
Another tradition is handed down to us and says: "The first court was held under a large mulberry tree near Triplett's house, which was more than one hundred yards southwest of the ferry: that Triplett furnished the court with seats and grub, and that was the county seat'"
A third tradition says: "The first court was held on the flat rock a mile west of Triplett's ferry and this was the county seat."
Now let us see if the minutes of the April term of the Commissioner's Court, 1834, when carefully read in connection with the traditions won't reconcile as to time and place and establish the first court and county seat. There were three courts, viz: County, Commissioner's and Circuit; the first County Court was held November 1833; the first Commissioner's was held February 1834, and the first Circuit Court was held April 15th, 1834. An act of the legislature 1832-3 says: "The County Courts shall be holden on the 3rd Mondays in June and November each and every year; Courts of roads and revenue February, May, September and December; Circuit Court shall commence on the fourth Mondays after third Mondays in March and September."
Now, if there was a Circuit Court held in 1833, it would have been held on the 14th day of October, only four days after the first Circuit Clerk and Sheriff had entered on duty, and no jury drawn nor papers served, and it is not reasonable to suppose a Circuit Court was held under these circumstances in 1833. There had been no County nor Commissioners Court held prior to that time, no jurors drawn nor no one to do so until October 10th, four days prior to the time designated by law to hold a Circuit Court. These facts justify us in saying there was no Circuit Court held in 1833.
1JAMES MILES KILLIAN GUINN, author of this history of Randolph County, published in the Randolph Toiler, Wedowee,. Alabama, in 1896, the third son of James W. and Catharine Ann (Dobson) Guinn, was born November 5, 1835, at Franklin, Macon County, N.C., and died at Langdale, Alabama, June 8, 1903 and is buried at Wedowee. He was educated in the common schools and in 1858 removed to Texas but returned to Alabama and volunteered for service in the Confederate Army and was mustered into service at Montgomery, July 28, 1861. He arrived at Richmond, Va., a few days later and was made Lieutenant of Company K, 13th Alabama Volunteers and afterwards promoted to Captain. The Colonel of the Regiment was Birket D. Fry, a Californian, who was at the time living in Tallassee, Ala., holding a position with the Tallassee Mills. Mr. Guinn's regiment was in A. P. Hill's Division under Stonewall Jackson. He lost his left arm at Cold Harbor in the seven days fight. He was at Chancellorsville, in the Wilderness Battle and at the seige of Yorktown. He married first Emily F. Burton, at Wedowee, Ala., February 27, 1862, and three children were born of that union, Emily, Katy and Robert. His wife died November 6, 1865, at Alto, Texas. The next year he returned to Alabama and on February 21, 1869, married at Wedowee, Mary F. Foster, daughter of Byrd Culbertson. This wife died August 1, 1907. Mr. Guinn was a farmer, owned and edited the Enterprise Publisher, Wedowee, from 1873 until 1875. He was County Superintendent of Education between 1873 and 1879; was in the mercantile business in Roanoke, 1879 until 1883 and was U. S. Storekeeper and Guager under Cleveland's first administration.
SOURCE
Alabama Historical Quarterly, Vol. 04, No. 03, Fall Issue 1942.
Faith and Courage: 2nd edition -A Novel of Colonial America 

Inspired by real people and actual events, the family saga of colonial America continues with Ambrose Dixon's family and their life during

 Pre-Revolutionary War days of America, intertwined with a love story.