First Randolph County Seat was an oak tree
COUNTY SEAT
By J. M. K. GUINN1
Written for The Randolph Toiler, Wedowee, 1896
Number Five
The law made provision for two Commissioners to locate the County Seat; in the absence of any act of theirs, we take the minutes of the Commissioners Court. There was no point designated in these minutes other than indefinitely "at or near" Triplett's ferry.
Under Oak Tree that stood on the west bank of Big Tallapoosa River
The County Court was the first court held, and that was November 1833, and under the oak tree that stood on the west bank of Big Tallapoosa River at Triplett's ferry; and why? The character and habits of the Judge and Sheriff of that court could not have desired or needed more or better accommodations that the shade and shelter of a large tree, for wherever held, it was in the open air and outside of any building. Under all circumstances, it is. reasonable to believe Hedgeman Triplett's County Surveyor and owner of the ferry, was the only house in miles of there and furnished the Court with what accommodations he had.
There were only two cases docketed for trial at this court: Ibba Taylor vs James B. Jones, and Ibba Taylor vs Silas Taylor; both suits were dismissed at defendant's cost. John W. Rutton security for cost; with Archibald Sawyer, an old bachelor as Judge, Wm. Hightower, Sheriff; A. O. Nix and Freeman. Attorney. A Philadelphia lawyer couldn't make believe that court went a mile to sit on a rock instead of the grass at the ferry. No, not ten steps further than the fulfillment of the requirements of the law did that honorable court go. The law said "at or near", and here sit and sat the first court of Randolph County.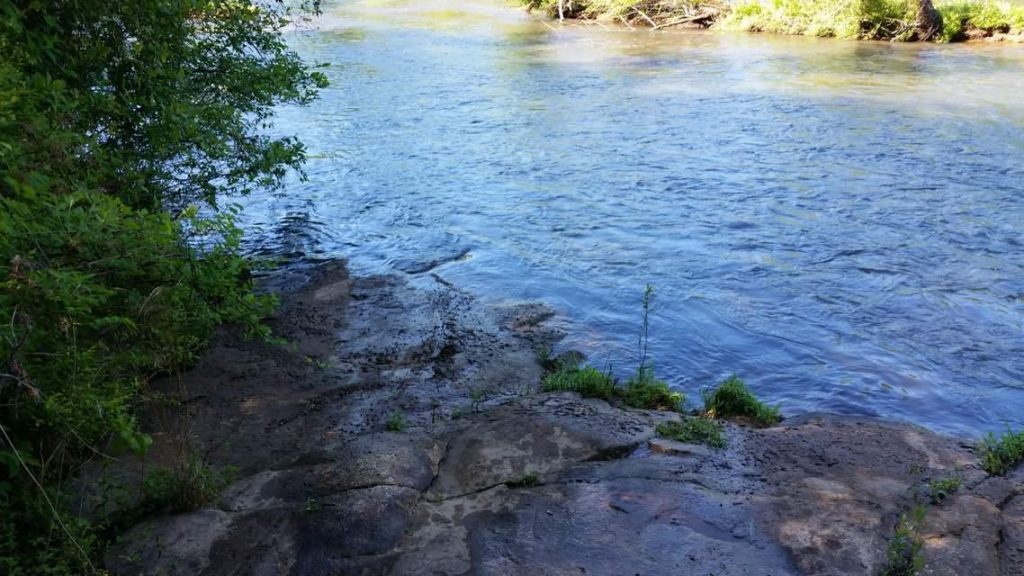 Randolph County, Alabama (landsofamerica.com)
Commissioners Court held under mulberry tree
The tradition that claimed the first court held under the mulberry tree was doubtless the first Commissioners Court held, and that was February 1834. But it would be very plausible and reasonable to believe the first Circuit Court Judge would select the flat rock as a more suitable place to hold his court, and we are persuaded to believe that this was done, and that court was held April 15, 1834. The minutes of the Commissioners Court says, "at or near". This left it discretionary with the court which designated no one certain place—anywhere near the ferry. With these facts, the supposition corroborates the tradition, viz: The first court was County Court, and was held November 1833, under a large oak on the west bank of Big Tallapoosa river at Hedgeman Triplett's ferry. The first Commissioners, but the second court, was held February 1834, under a large mulberry tree at or near Hedgeman Tripplett's dwelling house, south about 100 yards from the ferry. The first Circuit, but third court, was held on the flat rock one mile west of the ferry, April 1834. The character of the courts, the probable attendance, the time of year held and the conditions of the weather had much to do with the place located.
Flat Rocks were first court seats
The records show as facts one, if not two, terms of the County Court, November, 1833, and June, 1834, two terms of the Commissioners Court February and April, 1834, and one term of the Circuit Court, April, 1834, at or near Triplett's ferry; but does that fact within itself establish a county seat anywhere?
Certainly not, other than temporarily; else there would be a County Court or oak tree county seat, a Commissioners Court or Mulberry tree County Dist., a Circuit Court or flat rock county seat.
We have failed up to the present to find any name for the county seat: it is rather suggested, however, to call it "Tripplett's".
No Commissioners appointed for Randolph County
We find there was an act for the organization of certain counties, approved January 12th, 1833, which made it the duty of the citizens of such counties as shall not have had commissioners appointed by the legislature, to locate the seat of justice in their respective counties, to elect said, commissioners. Section 8 of said act is as follows: "And be it further enacted, That the Commissioners for the counties aforesaid, shall locate the county seat of justice of said counties respectively, at or near the center of said counties, if practicable, if not, at the most eligible point, not exceeding six miles from the center of said counties." Triplett's ferry was more than six miles from the center.
There were no Commissioners appointed by the Legislature for Randolph County, neither was there an election held as provided, on the first Monday of March 1833. There may have been an election for these Commissioners in August, at the time the first county officers were elected in 1833, as we find the Clerk of County and Circuit Courts and Sheriff were elected then.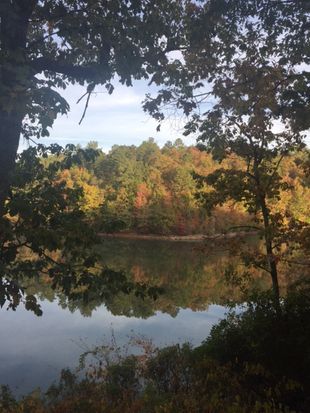 Triplett Creek, Wedowee, Alabama
We are inclined to think there was only one Circuit Court held at the flat rocks, and the county seat was moved to Wedowee sometime during the summer of 1834. Our reasons for believing so are these: The law required the county seat within 6 miles of the center. Tripplett's ferry was more than that, while Wedowee was within one and a half miles of the center. No one had the right to locate or remove it but the Commissioners. There was but one house at or near the ferry while there was an Indian town and several whites: Joseph Benton, Asa Hearn, and others at Wedowee.
1JAMES MILES KILLIAN GUINN, author of this history of Randolph County, published in the Randolph Toiler, Wedowee,. Alabama, in 1896, the third son of James W. and Catharine Ann (Dobson) Guinn, was born November 5, 1835, at Franklin, Macon County, N.C., and died at Langdale, Alabama, June 8, 1903, and is buried at Wedowee. He was educated in the common schools and in 1858 removed to Texas but returned to Alabama and volunteered for service in the Confederate Army and was mustered into service at Montgomery, July 28, 1861. He arrived at Richmond, Va., a few days later and was made Lieutenant of Company K, 13th Alabama Volunteers and afterward promoted to Captain. The Colonel of the Regiment was Birket D. Fry, a Californian, who was at the time living in Tallassee, Ala., holding a position with the Tallassee Mills. Mr. Guinn's regiment was in A. P. Hill's Division under Stonewall Jackson. He lost his left arm at Cold Harbor in the seven days fight. He was at Chancellorsville, in the Wilderness Battle and at the seige of Yorktown. He married first Emily F. Burton, at Wedowee, Ala., February 27, 1862, and three children were born of that union, Emily, Katy and Robert. His wife died November 6, 1865, at Alto, Texas. The next year he returned to Alabama and on February 21, 1869, married at Wedowee, Mary F. Foster, daughter of Byrd Culbertson. This wife died August 1, 1907. Mr. Guinn was a farmer, owned and edited the Enterprise Publisher, Wedowee, from 1873 until 1875. He was County Superintendent of Education between 1873 and 1879; was in the mercantile business in Roanoke, 1879 until 1883 and was U. S. Storekeeper and Guager under Cleveland's first administration.
SOURCE
Alabama Historical Quarterly, Vol. 04, No. 03, Fall Issue 1942.
Where Do I Start?: HINTS and TIPS for BEGINNING GENEALOGISTS with ONLINE RESOURCE

 Do you need some guidance in your genealogy search? Save time and avoid pitfalls in your research. This book provides simple, no-nonsense instructions to help you get started. Many FREE research links included.
Tips include:
WHERE TO FIND – on-line resources, experienced genealogists will not be aware of many of these.
COURT RESEARCH – how to do courthouse research, where to find birth, death, social security records free on-line.
EIGHTY – ONE QUESTIONS – you should ask your elderly loved ones before it's too late.
TIPS ON BREAKING DOWN THE WALL – Everyone faces some difficulties in research, often called a 'brick wall' but WHERE DO I START? provides suggestions for overcoming them.