Anne Royall (June 11, 1769 – October 1, 1854) was a traveler and writer and was one of the first newspaperwomen. Anne traveled Alabama after her husband's death for four years. She wrote letters to her friends about the evolution of the young state. The letters were published as a book entitled Letters from Alabama in 1830. The following letter written in 1818 has been transcribed exactly as published (including misspellings) and provides her view of a cotton plantation in Melton's Bluff, Lawrence County, Alabama in 1818.
Same date(January 14, 1818)
Dear Matt,
Now comes the cotton field again. As you complain of long letters, I will please you if it can be done. This is the first cotton field I have ever been in. It appears an endless business when we cast our eye over so vast a plain of white with a production, the gathering of which is to be effected by the application of the fingers to every individual pod; and these pods as thick as they can stand one by the side of the other. It is discouraging indeed. But these negroes have great patience, and seem to be cut out for the business. Here are from 40 to 50, who scarcely seem to move out of one place; nor can you tell which way they are going. They face about to every point. Some are erect, and others stooping, and all their hands move very fast. It is very light work; and the climate is so mild, they work out the whole winter.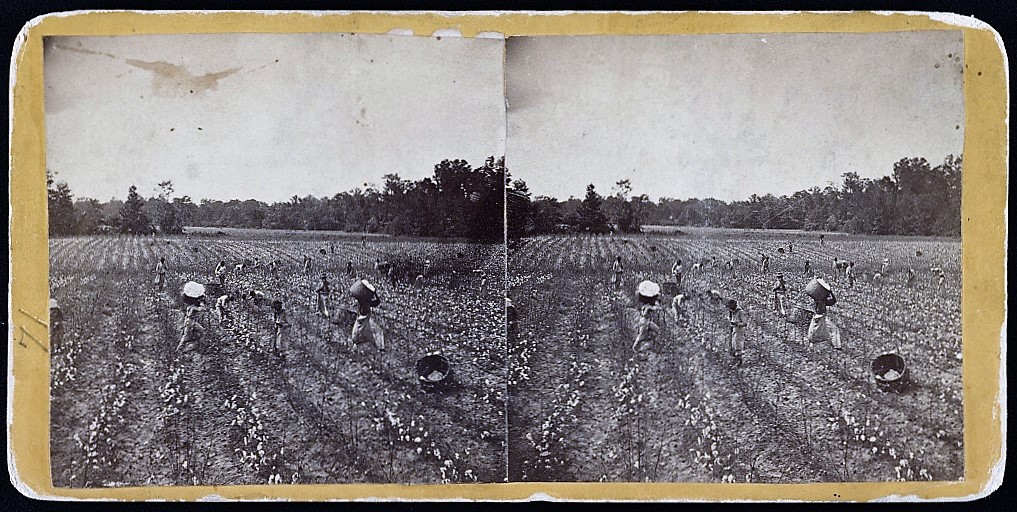 Stereograph shows African Americans, possibly slaves, working in a cotton field near Montgomery, Alabama by Josephus Holtzclaw Lakin (Library of Congress)
Requires practice to be a good picker
It requires practice to be a good picker; an expert hand will pick about 100 weight per day. It is planted in drills from three to four feet asunder. The stem sends out branches from the bottom to the top, so dense, that you think it is sown like wheat. The branches extend from one row to the other, and so intermingle. It is worked in the same manner you do Indian corn until it blooms, and the first frost that comes. and even before some of the pods open, whilst others are only in bloom. As soon as it opens, the picking begins; but this requires double the hands it took in the cultivation. These go regularly over the field, and by that time, a number of pods which were not open on the first picking, are now ready, and they return to where they first began, and go over the same ground, and so on the whole winter. Large quantities are burnt for want of hands to get it out of the way of the plow, for the plowing must commence at the usual time; and they set fire to it to rid it out of the way. I asked why they did not give it gratis to the poor? without reflecting that every man, woman, and child, able to work, were engaged till the last moment. Children of twelve years of age, and often under, make 75 cents per day.
Everyone who raises cotton, must have a gin
The land is amazingly fertile on the Bluff. We measured one of the stalks and found it 6 feet 6 inches high. From the field we sauntered along to the cotton-gin. Every one who raises cotton, must have a gin. As we walked along, thousands of paroquets flew over us in flocks. They are very handsome, green and yellow. The squirrels were likewise chattering in the trees, shelling their nuts, whilst the friendly jay was sporting in the boughs, and the red bird, in his brilliant scarlet plumage, hopping familiarly before us, and his kindred songsters, were serenading us in the adjoining forest. It is like our springs, music and beauty greet you whichever way you move; and yet I am told foreigners say we have no scenery in America. I do not envy them their barren heaths and tottering castles. We have one here, Melton's castle; but like their own it only serves to remind us of the rapine and bloodshed of its former owner.
We found a number of boys and horses at the the cotton gin, which gave variety to our amusement, particularly a considerable tree pulled round and round by a horse; this turned a screw which pressed the bales of cotton—the world and all the boys seem to be made of cotton here—that is all the description I can give of the thing. The pressing part of it is something like pressing cyder; but as to the ginning part of it, with its thousand wheels and saws.
"It would puzzle Apollo."
"Its whimses to follow."
On our return home, we passed two lines of negro cabins. There were very few but children in them. We found the cabins warm and comfortable, and well stored with provisions: General Jackson, to whom they belong, being one of the best of masters.
As I lingered behind the party, thinking of my own negro children, the little things flocked round me, and as they were looking up in my face, eager to be carressed, I discovered the traces of tears on some of their cheeks. The sight pierced me to the heart. Oh, slavery, slavery! nothing can soften thee! thou art slavery still! Is there no hope high heaven?
Yours,&c.
FreeHearts: 2nd edition A Novel of Colonial America (Tapestry of Love Series Book 3)

Inspired by true events, Col. John Washington (ancestor of President George Washington), Randall Revell, Tom Cottingham, Edmund Beauchamp ward off Indian attacks and conquer the wilds of Maryland's Eastern shore in 17

th

 century colonial America in this historical novel.