Happy Birthday!
WILLIAM BROCKMAN BANKHEAD
BIOGRAPHY and GENEALOGY
(1874 – 1940)
Lamar, Madison County, Walker County, Alabama
William Brockman Bankhead was born on his family's plantation in Moscow, Lamar County, Alabama, on April 12, 1874. He was the second son of Senator John Hollis Bankhead and Tallulah Brockman Bankhead. His brother was Senator John Hollis Bankhead II.
He was a member of the university's first football team in 1892 and graduated, A. B., June, 1893; captain, Co. C, Cadet corps, and winner of the trustees' oratorical prize. He at once entered the law department of Georgetown university, at Washington, D. C, from which he graduated in 1895. being president of the class, an honor borne likewise by his brother, John H. Bankhead, Jr.
1892 University of Alabama football team. William was number nine in the photograph below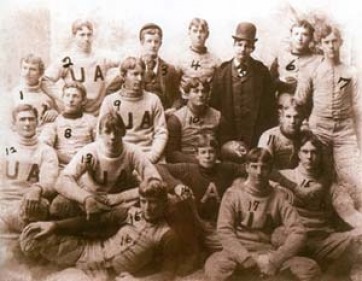 He graduated in 1892 and then, at his father's request, attended Georgetown University's law school and graduated in 1895. Bankhead briefly pursued an acting career in Boston, but a forbidding letter from his mother on the eve of his first rehearsal aborted his aspiration. Bankhead traveled to New York to practice law but quickly returned to Alabama, where he joined his brother's firm.
Served as Huntsville's city attorney
He served as Huntsville, Alabama's city attorney and as solicitor (prosecutor) of the 14th judicial circuit of Alabama.
Bankhead married Adelaide Eugene Sledge January 31, 1900 in Memphis, Tennessee and they had two daughters, Eugenia and Tallulah, the noted actress. Adelaide died just weeks after Tallulah's birth in 1902, and Bankhead married Florence McGuire. on January 16, 1916.
William Brockman Bankhead served as U. S. Representative from Alabama and Speaker of the House. He was a prominent supporter of President Franklin Roosevelt's New Deal of pro-labor union legislation. Besides his father and brother serving in government, William's nephew Walter Will Bankhead was a U. S. Representative.
Speaker Bankhead had a special privilege in June 1939 when King George VI and Queen Elizabeth visited the United States. This was the first time a British monarch had set foot in the United States. In the vintage film of the event below, Speaker Bankhead and his wife can be seen 2nd in line to greet the King and Queen.
He died on September 15, 1940 in Washington, D. C. He is buried in Oak Hill Cemetery, Jasper, Alabama.
The William B. Bankhead National Forest is named in his honor. His home in Jasper has been renovated to house the Walker Area Community Foundation's "Bankhead House and Heritage Center", a history museum and arts venue.
SOURCES
Wikipidea
Biographical Directory of the United States Congress
Findagrave.com #11739
Start researching your family genealogy research in minutes.

This inexpensive Ebook has simple instructions on

how to get started with FREE sources. Download

WHERE DO I START? Hints and Tips for Beginning Genealogists with On-line resources

to your computer immediately with the FREE APP below and begin your research today!
Reviews
"This book was very informative and at a very modest price. Thank you for your great newsletter and this book."
"The book was clear & concise, with excellent information for beginners. As an experienced genealogist, I enjoyed the chapter with lists of interview questions. I'd recommend this book to those who are just beginning to work on their genealogies. For more experienced genealogists, it provides a nice refresher."
Download unlimited Ebooks for FREE to your computer or other electronic devices! Click below to see how.