Cudjoe Kazoola Lewis (c. 1840 – 1935), or Cudjo Lewis, was the last known survivor of the Atlantic slave trade between Africa and the United States. He was on the Clotilda, the last known ship to bring slaves to the United States. The ship landed in Mobile in 1860. He lived near Mobile in Africa Town.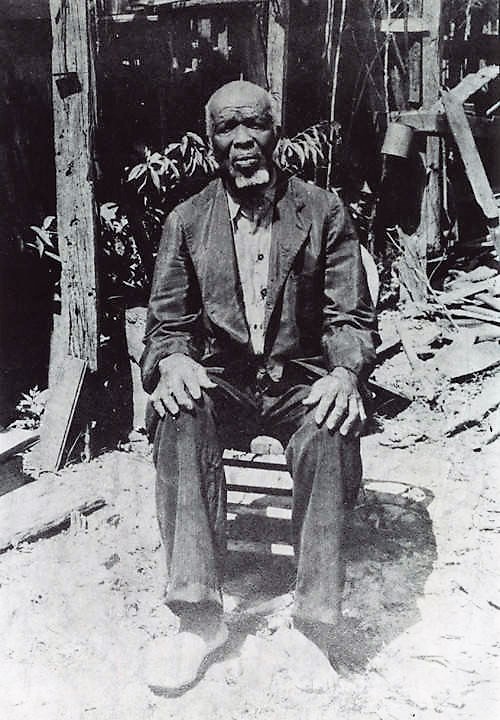 Cudjo Lewis ca. 1933 photographed by Mary Ellen Caver (Alabama Department of Archives and History)
A magazine had an article devoted to Kudjo Lewis, 94-year old negro living at Plateau near Mobile, who is the last survivor of the last cargo of slaves brought to America in 1858. The slave ship Clothilde according to the story, landed at the Dabney plantation below Mount Vernon and this surviving negro has never been far from the vicinity. He often told stories about his boyhood in the Kongo. (Times Daily November 24, 1931)
Born to a Yoruba Family
Kudjo was born around 1841 to a Yoruba family in the Banté region of Dahomey.  His given name was Oluale Kossola. At age 14, Kossola began his training as a soldier and was inducted into
At the young age of 14, Kossola began his training as a soldier and was inducted into oro, the Yoruba secret male society, but his initiation was cut short at the age of nineteen when in 1860, soldiers from Dahomey raided his town. They killed many people and took prisoners. Lewis escaped at first, but was captured and forced to march to the port city of Ouidah where he was imprisoned in a slave compound. William Foster, captain of the Clotilda bought him and took him along with over 100 others to Mobile, Alabama.
Kossola spent around 45 days aboard the Clotilda. When the ship arrived in 1860, Kossola was transferred to James Meaher, brother of Timothy Meaher. James Meaher could not pronounce Kossola's name and called him Cudjo instead.
Kossola worked on a steamship for five years until on April 12, 1865, Union soldiers informed him that he was free. After leaving Meaher's plantation, Kossola adopted the last name of Lewis. He wanted to return to Africa but was unsuccessful. He and some other African-Americans pooled their money and purchased land from the Meahers in Mobile where they formed a settlement called Africa Town. He resided there the rest of his life and worked as a shingle maker until 1902 when he was injured in a train accident. He was a member of the Baptist church and became the church sexton for Africa Town.
Cudjo married Celia, a fellow Clotilda captive in 1880. They had five sons and one daughter.
Cudjo Lewis survived his fellow Clotilda companions, leaving him the last survivor of the last slave ship to enter the United States. He died on July 26, 1935, at the estimated age of 94.
SOURCES
Times Daily 1931
Alabama Department of Archives and History
The Yazoo land fraud
Daily life as an Alabama pioneer
The capture and arrest of Vice-president Aaron Burr

 

The early life of William Barrett Travis, hero of the Alamo
Description of Native Americans of early Alabama including the visit by Tecumseh
Treaties and building the first roads in Alabama.