STORY UPDATED
Cullman celebrates its German heritage each October with Cullman Oktoberfest.
Cullman County was created by the Legislature January 24, 1877. It was formed out of portions of Blount, Morgan and Winston counties.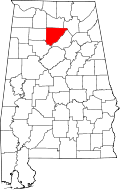 Cullman was named as a compliment to John G. Cullman, the founder of the town of Cullman, and largely through whose efforts the section, later included in the county, was built up by a thrifty and vigorous body of German immigrants.
Col. John G. Cullman Home 211 Second Avenue, N.E. Cullman County Museum, Cullman County Chamber of Commerce, Dedicated August 31, 1975 – (Alabama Department of  Archives and History)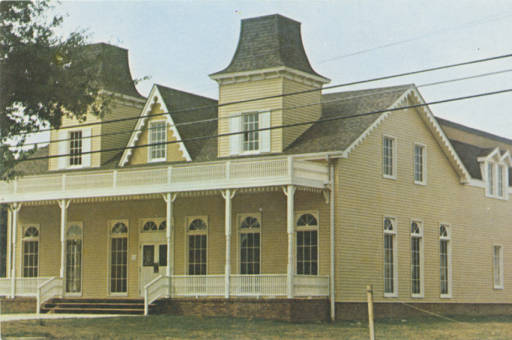 The act of establishment named Thomas C. Wilhite, T. W. McMims and Pleasant Williams as commissioners to lay out election precincts, to designate the places of voting therein, and to hold an election March 6, 1877, for the selection of a permanent county seat, and the election of county officers.
The electors were authorized to vote for either Cullman or Milner as the county seat. The former was chosen.
The following news clip is from Blount County News-Dispatch, Blountsville, Alabama, March 19, 1879

Cullman County Court House built 1879 (Alabama Department of  Archives and History)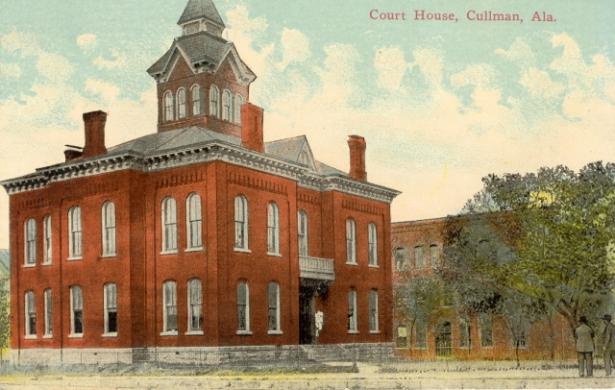 Cullman County Courthouse built 1913 –  Photo taken 1940 was in use from 1913 until the mid-1960s, when it was replaced – (Alabama Department of  Archives and History)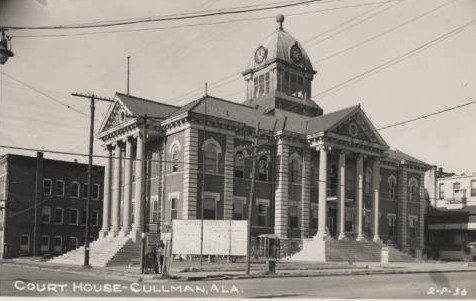 The first officers of Cullman County, all chosen at the election just referred to, were T. W. McMinn, probate judge, J. F. Thomson, sheriff, and R. H. L. Whorton, clerk of the circuit court.
Along the Mulberry Fork of Black Warrior River are seen some evidence of Indian life. It is possible that some outlying villages were located in the county, but no places are at present positively identified. No mound sites are reported.
Cullman County, Alabama is the location of one of the largest covered bridges, Clarkson Covered Bridge,  in Alabama and the Battle of Hog Mountain site.
Post Offices and Towns 1917, from U. S. Official Postal Guide (Numbers indicate the number of rural routes from that office.
Ardell
Arkadelphia—2
Baileyton—1
Bremen—1
Crane Hill—1
Cullman (ch)—10
Garden City
Hanceville—4
Holly Pond—1
Joppa—2
Logan—1
Saint Bernard
Trade
Vinemont—3
Delegates to Constitutional Conventions.—
1901—George H. Parker, W. T. L. Cofer
Senators
1882-3—John C. Orr.
1884-5—C. F. Hamil.
1886-7—C. F. Hamil.
1888-9—W. E. Skeggs.
1890-1—W..B. Skeggs.
1892-3—J. M. C. Wharton.
1894-5—J. M. C. Wharton.
1896-7—W. G. Brown.
1898-9—Will G. Brown.
1899 (Spec.)—Will G. Brown.
1900-01—R. L. Hipp.
1903—Robert Lee Hipp.
1907—John F. Wilson.
1907 (Spec.)—John F Wilson.
1909 (Spec.) —John F. Wilson.
1911—J. B. Sloan.
1915—C. J. Higgins.
1919—A. A. Griffith
Representatives
1882-3—H. L. Watlington.
1884-5—J. A. Baker.
1896-7—W. E.- L. Cofer.
1888-9—C. J. Higgins.
1890-1—W. H. Guthrie.
1892-3—J. T. Burke.
1894-5—Thos. J. Burks.
1896-7—W C. L. Cofer.
1898-9—W. T. L. Cofer.
1899 (Spec.)—W. T. L. Cofer.
1900-01—S. J. Griffin. 1
903—George H. Parker.
1907—George H. Parker.
1907 (Spec.)—George H. Parker.
1909 (Spec.)—George H. Parker.
1911—A. A. Griffith.
1915—R. E. Ryan.
1919—T. H. Robertson
SOURCE
History of Alabama and Dictionary of Alabama Biography

, written by Thomas McAdory Owen, was published in 1921 by the S.J. Clarke Publishing Company. 

Alabama State Archives