DALE COUNTY AND ITS PEOPLE DURING THE CIVIL WAR
(Reminiscences of Mary Love (Edwards) Fleming)
PART IV
HOMESPUN CLOTHES, FASHIONS, DRESS
We could not buy ready-made clothes nor the cloth to make clothes at home. As it was not possible to hire much of this work done, the white women were kept busy sewing, knitting, spinning, weaving and dyeing, or in superintending the making of cloth and clothes for both whites and blacks. Most of the sewing was done without the help of sewing machines.
Before 1865 there were only two sewing machines in our community and they belonged to the Ardis and Crittenden families But soon after the war closed the agents began to bring first the small hand machines and then the pedal machines until every family near us owned one. Although the women had no sewing machines during the war they made their clothes in the latest styles that they heard of. We had no fashion books so were guided by what we heard and what we occasionally saw the women from the cities and larger towns wearing. In this way, we managed to keep up with what we considered was the fashion.
Cloth from cotton, wool, and horse and cow hair
Cloth was woven from cotton, wool, and horse and cow hair. Families that had many negroes used hair mixed with cotton to make heavy cloth for the work-clothes, probably because they found it cheaper and more lasting. The hair was gotten from Mr. Ardis' tanyard. Many kinds of clothes were made of cotton and wool which were durable and were strongly sewed. I think that was one secret of our getting along as well as we did for our garments lasted so long that fewer were needed than we must have now. When a garment was made it must last two or three seasons for best wear before it was used for everyday wear. Of course, before these garments were taken for everyday wear others were made of homespun cloth for best wear, and so we kept good clothes all the time.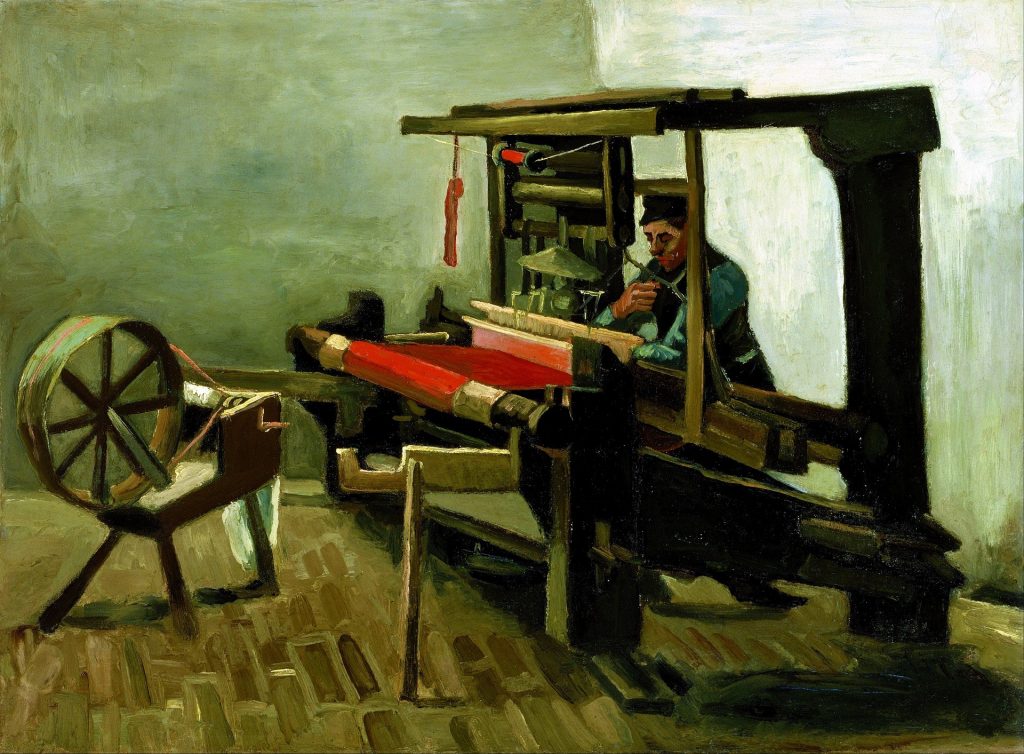 Mother once made for Sarah and for myself each a grey wool dress band and a brown one for herself and trimmed them with buttons and bands of black. They were so pretty.
The buttons were made of pasteboard and covered with black cloth. The cloth for these trimmings was part of some old garment, but we thought we had the prettiest dresses in the neighborhood. I have samples of each of one of my Mother's and one of Aunt Jane Mizell's cotton homespun dresses. They were of the same color and material but were woven differently. The background was green, and one dress had small square black dots woven in stripes on the side (right), and the other had the dots thrown in squares. These dots were made m the weaving by carrying the thread through the harness and sleigh in a certain way and by bearing down on the treadles.
Other ways of making pretty dresses
We all tried to excell in having pretty dresses. Pretty muslins for summer wear were made by spinning the thread fine and weaving it "single weighed" as it was called, and by beating the wool lightly. Sometimes bright colored cloth was picked to pieces and bits of it used to put dots and figures in the cloth. The effect was very pretty. The styles most used in making dresses was the "parade or French waist," as it is now called (a yoke waist), and a full plain skirt. Ruffles were not so much worn during the war as before, for cloth was too scarce. We wore a kind of Zuarve jacket. We had no ribbons or laces except those bought before the war.
The married women wore "skyscraper" bonnets, which now seems a ridiculous fashion. A "Skyscraper" had a long crown in the back with the sides rather close to the face, and the front raised very high in the center and filled in with flowers, laces, and ribbons.
Hoop skirts were worn during the war by girls and ladies. But few of these could be bought after 1861. So when they were too badly broken to be worn, they were taken apart and made over, using the older ones to repair the better ones.
One of the first articles of dress that Father bought for me after the surrender was a hoopskirt, which he purchased for me in Greenville, Alabama. I think I was prouder of that hoopskirt than of any other thing he ever bought for me.
When Father came home after the surrender, he brought me a beautiful piece of pink muslin for a dress and a piece of red flannel for Sister Emmie. She had to save her cloth until fall before she could wear it, but I could scarcely wait to have my dress made and to wear it. And how dressed up I felt. I do not think there was a girl in our community who had a pretty "bought" dress as soon as I did. Father traded for this material with one of his army comrades who had gotten it in a store in Tennessee or Georgia,
The home woven bedspreads and dress patterns made during the war were as artistic and of as intricate designs as almost any that we now buy, although our looms were rough and old-fashioned and only a few yards could be woven on them each day. I never saw a loom before the war, but they were used for a long time after the war by the poorer people. I have a white counterpane which belonged to my mother that was woven before her marriage. So it is now more than sixty years old. It is large and very heavy and has deep fringe on it that she made. It still is as handsome as those we buy today, and is much more durable. I have also a coverlet that my husband's mother gave us when we were married which was woven during the war. And there are others of these counterpanes in our family.
My son, William, has one that was given him by his grandmother Edwards, and my sister, Emmie, has one-both of them woven in our neighborhood during the war. Our towels usually were made of soft woven cloth and hemmed on each end, and the tablecloths were made of the same kind of plain woven cloth. The dyes used in coloring our cloth were obtained mostly from the barks of trees, and the dye was "set" with copperas rock, which was found in the beds of creeks.
My Aunts, Adeline and Jane Mizell, were regular dressmakers during those years of toil and struggle. They were really tailors, too, because they also made men's clothes, which was said to have been better looking and better fitting than those made by anyone else in our country. People came from far and near to get them to make uniform coats for the soldiers. They made men's hats and ladies' hats and bonnets. They liked this work better than spinning and weaving, and it was much more profitable for them.
Hats for women and men
Our hats and bonnets for dressy wear were made of bleached palmetto, rye, and cats straw, of corn shucks, etc. The shucks were bleached by boiling and by exposure to the sun. Then they were shredded and sewed into little loops on a foundation. This made very pretty hats The coarser part of the shucks and bulrushes were used for making the rougher hats.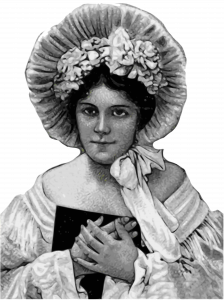 Hats for men and boys were made of cat straw and other straws, of palmetto bleached and braided. My Aunts, Adeline and Jane had a block on which they pressed the hats into shapes they wished.' When finished, banded or trimmed, they looked almost as well as if they had been "bought out of the store."
A man who lived near Clintonville made wool hats for men and boys, but they were so high priced that few could afford to buy them. Corn shucks and bulrushes were used to make ladies hats. I distinctly remember a palmetto hat made for me by my aunts that I was very proud of. The palmetto was washed and bleached in the sun until it was white, then it was closely braided and shaped into something like the turban style we have today. It was trimmed with folds of blue berege edged with narrow white lace The berege was part of someone's discarded dress and the lace also was secondhand, but I thought it was the most beautiful hat that I had ever seen.
My aunts made pretty Quaker bonnets for sale. The tops of these were made of bulrushes, a kind of long slender bladed grass, which was bleached and then braided or woven. The crown, the skirt, and the inside lining were made of pretty muslin berege, or of some other suitable goods available—usually parts of discarded dresses or remnants of goods used in better days. These were usually our visiting bonnets, for we could not afford to wear our hats on all occasions.
We were not confined to one or two styles in hats but had several. I do not know whether the hatmakers invented these styles or whether they were old styles. Some hats were made of pasteboard and were covered with cloth or velvet—nearly always the remains of some garment worn before the war. The first cornshuck hats that I ever saw were worn by some girls who had lived in Clintonville, about twelve miles away. A party of these girls came to a service—a revival service—in our Church, and nearly all of them wore hats that were made of fine, soft part of corn shucks that had been bleached and braided. Very pretty and attractive those girls looked in their homespun dresses and shuck hats. Some of the girls in our neighborhood followed this Clintonville fashion.
Shoes were also handmade
There were tanyards throughout the country where cowhides and horsehides and calfskins were tanned, and the shoemakers, usually old or crippled men, made the leather into shoes for the people. We thought that we were very fortunate if we could get shoes for best wear made of calf or goat skin. But most of the shoes were made of thicker leather— of cow and horsehides. This latter was very inferior leather as it happened to stretch and was very ugly. It was generally used for making the negroes' workshoes.
The hides tanned at our tanneries were furnished by people of the surrounding country who killed the animals for their own use. There was no stock law, but as the country was rather thickly settled there were no large ranges for stock raising. Some cattle and hogs were raised on the farms and, when the crops were growing, they ran at large in the woods and creek swamps. Some sheep and goats were raised, too, and sheep skins were a good substitute for blankets.
Mr. Ardis owned the tanyard at Westville and most of the work there was done by slaves. Mr, Ardis' method of getting pay for tanning was to take a part of the leather. He had several colored and one white shoemaker, and sometimes sold shoes or allowed his workmen to make shoes for other people. It was here that we had most of our shoes made. But it required most of the leather that Mr. Ardis could get and the time of his workmen to make shoes for his large family and his many slaves. So often we had to go four or five miles away to have our shoes made by another shoemaker.
Once Mother sent some goatskin leather to a workman about five miles away to have a pair of fine shoes made for me. After five weeks when she was sure that the men had had time to finish the shoes she sent my brother Willie to get them. Willie was then about ten or eleven years old, and it grew dark and he had not returned, we were very uneasy. We waited and watched anxiously for him, when long after dark he finally came riding up. He was all right and said that he was not afraid that he had had to wait for the shoes to be finished. But the shoes were so fine and pretty that you may be sure I was proud of them.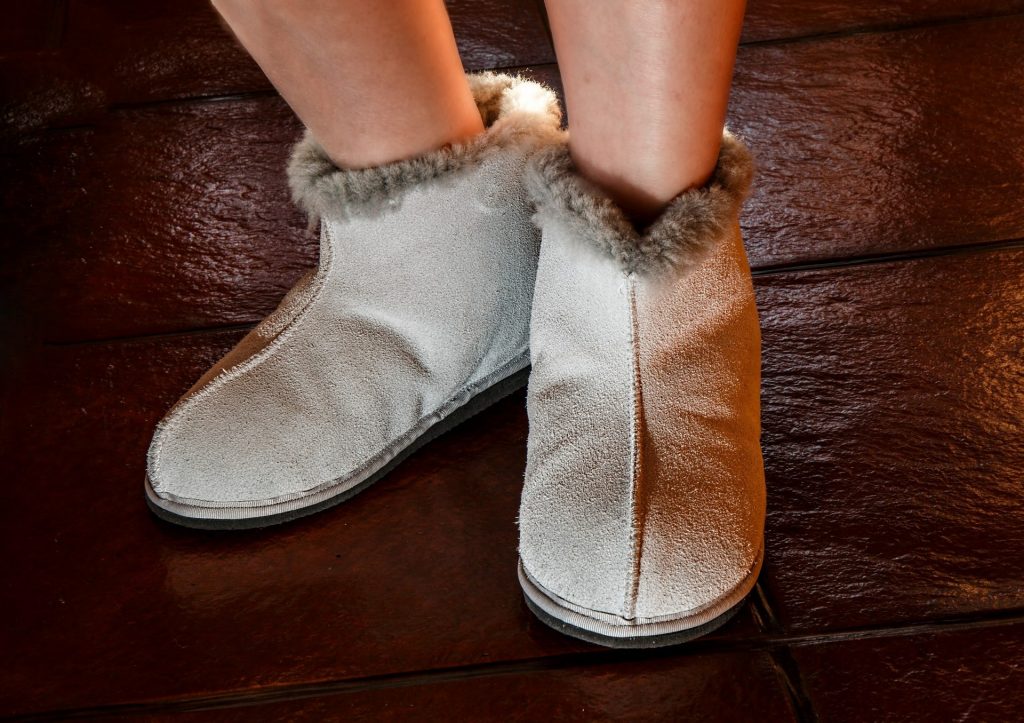 Mother sometimes made shoes of cloth for dress wear. These had soles made of leather. Often the soles of fine old shoes were used after the tops had been ripped off, and the new cloth tops were then sewed to the soles with the wrong side out and then turned.
SOURCE
Excerpt Transcribed from The Alabama Historical Quarterly, Vol. 19, No. 01, Spring Issue 1957