UPDATE: on the historic Webber building in Montgomery, Alabama. I'm glad they are reclaiming much of the building.Demolition of Historic Webber Building Is Underway
Thankfully, no one was hurt in the partial collapse of the historic Webber building in Montgomery, Alabama.  The building, dating back to 1860 has much historic value.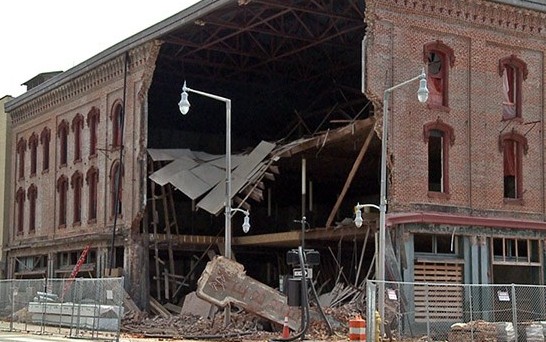 John Wilkes Booth performed
It was once the home of the Montgomery Theatre where famous actors and actresses, including future assassin of President Abraham Lincoln, John Wilkes Booth, performed.
Herman Arnold, Director of the Montgomery Brass Band, transcribed the tune that would later become known as "Dixie" on a backstage wall in the building.
John Wilkes Booth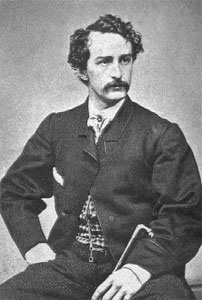 Major construction took place in the 1850s
With the economic boom of the last half of the 1850s, major construction took place in Montgomery and the city embraced theatre entertainment. In 1857, the Ward Theatrical Company set up Commercial Hall with two large anterooms and seating for a thousand patrons.
In October 1857, the Duffield Company arrived with 'stars' in addition to twenty or thirty members of the stock company. The Duffield  Company presented a program of plays to appeal to a variety of tastes.
Nine hundred seats in the Montgomery Theatre
In 1859, construction of the Montgomery Theatre was started. Its auditorium had about nine hundred seats, all with an unobstructed view. The Weekly Post praised the new theatre.
For style, beauty, and convenience of arrangement this theatre has no superior and but few equals in any Southern city. The size is amply sufficient for a Montgomery audience; the architecture of the latest and most approved style, and the paintings and ornamental work most brilliant and exquisitely beautiful.
Celebrated artists paint fresco work
In 1859, the famous Frank P. O'Brien came with his instructor, Peter Schmidt, (the celebrated artist who ahd secured the second prize for merit at Washington for work in the Capitol buildings in Washington) to Montgomery. Schmidt had contracted to paint the scenic and fresco work of the Montgomery Theatre. After completing their work, Frank P. O'Brien remained in Alabama and later resided in Birmingham.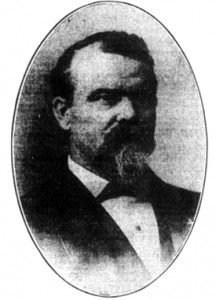 The Montgomery Theatre was commissioned by railroad magnate Charles Pollard and designed by Daniel Cram with an entrance on the Perry Street side to several ground floor shops, a post office, and a bar.
Attracts entertainers of significance
"Newspaper advertisements for the opening of the new theater appeared as early as September 1860. Actors and actresses with significant previous performances were listed: Edwin Booth, John Wilkes Booth, Daniel and Emma Waller, and Maggie Mitchell."
Opened in 1860
Opened in October 1860 as the South moved closer to secession, the theatre was significant in the social, cultural and political life of the city. John Wilkes Booth was slated to perform at the grand opening, but "had wounded himself in Columbus, Georgia, at his prior engagement," according to Col. Bob Bonn who has written extensively about the Montgomery Theatre. However, he did perform some days later, and again several times in November.
Words and music of "Dixie" composed there
Daniel Emmett composed the words and music of 'Dixie,' but it was Herman Arnold of Montgomery, Alabama who, in 1860, High Qualitywrote the original band score from the music score that Emmett wrote upon the wall of the old Montgomery Theatre with a piece of Charcoal, as he did not have a copy of the music to give Mr. Arnold. The original band score is preserved in the Alabama State Department of Archives and History.
Original Band ScorHigh-Quality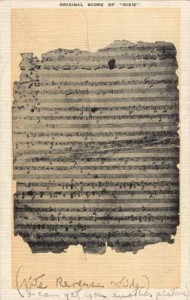 performances
The Bryant Minstrels introduced "Dixie," which was transcribed for the Montgomery Brass Band. Southern leaders Robert Toombs, Alexander Stephens and William L. Yancey addressed packed houses. Later the city's location on route between New Orleans and Atlanta brought performers Edwin Forrest, Joseph Jefferson, and leading theatrical troupes and opera companies to the stage which closed in 1907.
Since Montgomery was on the direct route between New York and New Orleans, performances offered at the Montgomery Theater, and later at the Grand Theater by traveling companies were, by all reports, high quality and well-attended entertainment.
Advertisements and Descriptions
MONTGOMERY THEATRE. Size of stage, 24×39. Seating capacity, 1,200. N cw scenery. Rent—includinglicense, gas, ushers, stagehands and janitor—— $75 per night. Combinations played on liberal sharing terms. Address J. Tannenbaum, Lessee and Manager. Seats sold at Tannenbaum's Music Store. (Jno. B. Jeffery's Guide and Directory to the Opera Houses, Theatres, Public ..Halls, Bill Posters, Etc. of the Cities and Towns of America Jeffery, 1883)
Julius Cahn's Official Theatrical Guide, Volume 11 Publication Office, Julius Cahn, 1906
MONTGOMERY—Pop., 50,000. Montgomery Theatre. S. E. Hirscher & Bro., mgrs. A. B. Hirscher, bus. mgr. S. c, 1,280. Prices, 25c. to $1. Ilium., gas and elec. Volt., 104, alternating and 110 direct. ' System, Houston. J. W. Blakey, elect. Ed Mahoney, stage carpenter. Width of prose, opening, 37 ft. Height, 28 ft. Depth of footlights to back wall, 39 ft. Distance curtain line to footlights, 5 ft. Distance between side walls, 70 ft. Distance between fly girders, 47 ft. Height of grooves from stage, 18 ft. Stage to rigging loft, 58 ft. 4 grooves. Depth under stage, 6 ft. 3 traps, located center, 2 side. I bridge, located across stage in 3. Theatre on second floor. G. C. Doud, scenic artist. F. E. Williams, leader of orchestra. 4 to 6 in orchestra. G. B. Johnson prop, man. Printing required, 5 to 6 stands, 25 3-sheets, 25 l-sheets, 25 j4-sheets. • Dates read, Montgomery Theatre. Tisdale Bill-Posting Co., bill-poster. R. F. Michel, physician. Jno. A. Kirkpatrick, lawyer. … Publishers of programme— Wm. Rogers & Co.
Building became a department story
For some years after the demise of these theaters and well into the 1940s, traveling theater groups played at the Lanier High School Auditorium.
The building then became Webber's department store with the upper stories used for storage until that closed in the late 1990s. The building sat deteriorating under a collapsing roof until the Montgomery Riverfront Development Foundation purchased the building for $325,000 in 2001. It was being remodeled when a portion collapsed.
Additional Sources
Respectable and Disreputable: Leisure Time in Antebellum Montgomery, Alabama By Jeffrey C. Benton NewSouth Books, Jul 1, 2013
THE DOTHAN EAGLE, HOUSTON COUNTY, ALABAMA 1908 NEWSPAPER ABSTRACTS Find your southeast Alabama ancestor in this great KINDLE Book. Immediate download! Dothan was a railroad hub for Southeast Florida and the editor of this newspaper mentions each visitor and their relation to local citizens.