In history books, John Hunt has been credited with being the first white settler of Huntsville, but there was another white settler in the area before him by the name of James Ditto. Here is some information about James Ditto emailed to AP by a descendant.
The True Story of Ditto's Landing
by
Sherry Hughes Garner
Cecil, Alabama
This was my great grandmother's great grandfather.
This story was told to me by my cousin, Ralph Garrison (now deceased) who lived in Decatur, AL and spent 30 years researching this side of our family. Ralph, by the way, was instrumental in providing the history of Ditto's Landing to the city of Huntsville when the landing was being developed into a recreational area and there was a movement to change the name.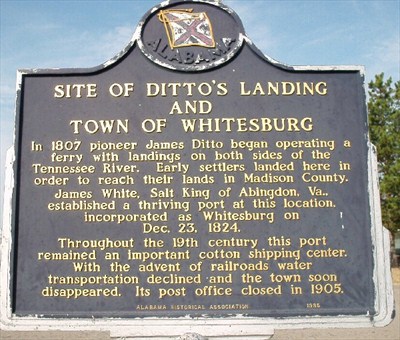 Occupied a cabin alongside a spring house
James was one of the first white settlers in the area.  In this history info about the city's namesake you'll find the sentence " Pioneer John Hunt, for whom the city is named, occupied a cabin alongside a spring here in 1805."  You'll notice it doesn't say built – because it's probable that cabin was originally built by James Ditto. James brought his family with him and built a cabin "by a lake" but recognized that he could make a living ferrying people across the Tennessee river and resettled into what is now known as Ditto's Landing. John Hunt ("the squatter") moved into James' abandoned cabin and Huntsville is named after him. If the world were a fair place, Huntsville would now be Dittosville!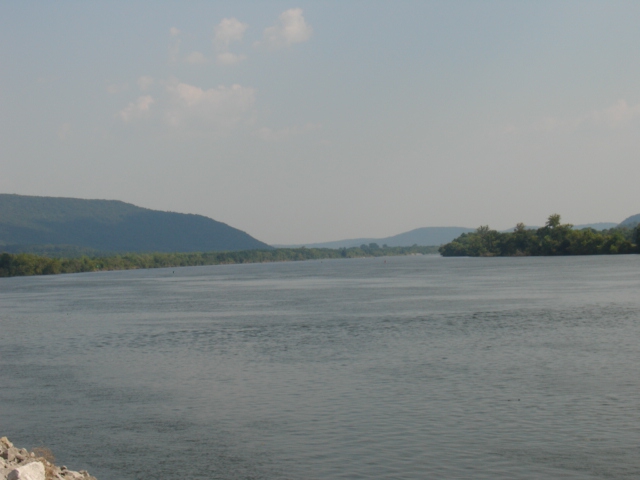 Tennessee River, Ditto Landing, Huntsville, Alabama
Approached by Andrew Jackson
James was approached by Andrew Jackson (either him or his people) about using the ferry to transport the US army on their way to what turned out to be the Battle of New Orleans.  According to Ralph, there is a letter in the Smithsonian inquiring how much he would charge.  And he did ferry them over.
Additional sources:
ALABAMA FOOTPRINTS: Settlement: Lost & Forgotten Stories is a collection of lost and forgotten stories of the first surveyors, traders, and early settlements of what would become the future state of Alabama

.
Read about:
A Russian princess settling in early Alabama
How the early setters traveled to Alabama and the risks they took
A ruse that saved immigrants lives while traveling through Native American Territory
Alliances formed with the Native Americans
How an independent republic, separate from the United States was almost formed in Alabama