On November 8, 1922, the United States War Department redesignated their aviation repair depot in Montgomery, Alabama in honor of Atmore, Alabama native, Second Lieutenant William C. Maxwell.
Lt. William Calvin Maxwell was an American pilot in the United States Army Air Service who was who was the first air fatality in the Phillipines. On the recommendation of his former commanding officer, Major Roy C. Brown, the Montgomery Air Intermediate Depot, Montgomery, Alabama, was renamed Maxwell Field. The following was written about Lt. Maxwell by WPA1 writer in 1940.
Lieutenant William Maxwell
written by WPA writer2
Annie L. Bowman
Escambia, Alabama
January 24, 1940
(Telegram from Manila P. I.) Lieutenant William C. Maxwell is Victim of first Fatal Airplane Accident in Island.
The first air fatality in the Philippines occurred at Camp Stetsenburg at II, A.M. On August 12, 1920, Thursday morning, when Lieutenant William C. Maxwell was instantly killed in making a forced landing. Lieutenant Maxwell's mechanic was seriously injured and the airplane was wrecked. Motor trouble was the cause of the crash. Wire was received at Fort Santiago from Camp Stetsenburg.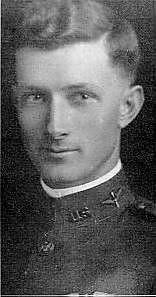 Lt. William C. Maxwell
Son of a farmer from Atmore
Lieutenant Maxwell was the son of J. R. Maxwell, a farmer near Atmore. His mother who before her marriage was Miss Lillie Nettles of Monroeville. His father was born in Monroe County but came to Escambia County while his family was young, where farming conditions were better. There were six children by this marriage, four boys, William, Roscoe, Finklea and John; two girls Mattie Lee and Jennie. After the death of his first wife, he later married Miss Lelia Bigger of Monroeville and two children were born to them, Margaret and Hunter.
Lieutenant Maxwell was born near Atmore on November 9th, 1892. He was a member of the Baptist church. He was prepared for college at the Escambia County High School and a graduate of the class of 1912. He spent two years at the University of Alabama in 1916-17, entering then a training camp and being commissioned a lieutenant in the aviation section of the signal corp in April 1918. He enlisted in the army and was sent to the ground school of the aviation department at Atlanta, Georgia. From there he was sent to Austin, Texas, where he was commissioned, second Lieutenant.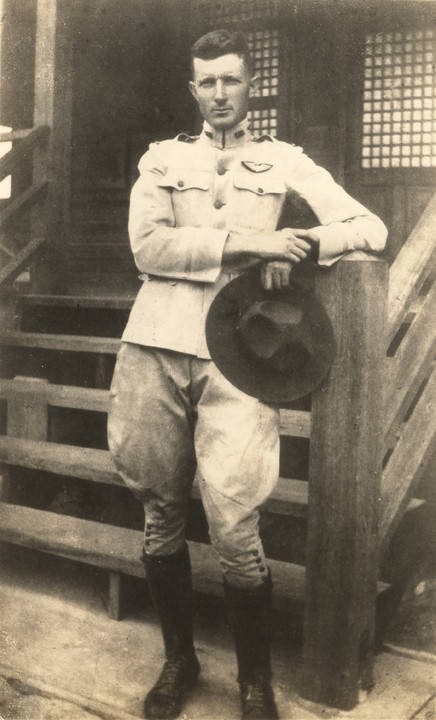 Lieutenant William C. Maxwell (Alabama Department of Archives and History)
Gave up his life to spare children
Lieutenant Maxwell gave up his life to spare school children and crashed into a pole to avoid crashing into a group of school children in making a forced landing. He was killed in an airplane accident while making a forced landing in the yard of the Pampanga Sugar Mills. He was on his way from Camp Stotsenburg to Manila when motor trouble forced him to land. He picked out the grounds of the Pampanga Sugar Estate to make his landing and in trying to avoid landing on a group of school children, his plane struck a flag pole precipitating it to the ground, a fall of about thirty feet, killing him instantly, and seriously injuring his mechanic, Garcia, a South Sea Islander. He could easily have saved himself but his first thought was of the children.
Dr. Mason, physician for the Pampanga Sugar Mills, arrived upon the scene of the accident within three minutes after it happened and found Lieutenant Maxwell dead as a result of the fall. The mechanic, a private from the third Aero Squadron at Camp Stotsenburg, suffered a bad cut over his left eye and a broken leg. He was carried to the hospital at Camp Stotsenburg.
Lieutenant Maxwell had been a member of the Aero Service for three years and was numbered among the most competent fliers in the service. He was a graduate of the Ga. Technical School, and obtained his training in flying and bumbing (?) at San Antonio and Houston, Texas, where he was an instructor in aviation prior to his arrival in the Islands.
He had many friends here and there, and those who knew him said he could not be spoken of too highly as a gentleman and an officer.
School named for him
In memory of his heroic deed in giving up his life for others, the school at Robinsonville where he was reared three miles from Atmore was named Maxwell School. So high stood among the officers of the State of Alabama, that when the aviation field at Montgomery was built, it was called Maxwell Field.
Clippings from Manila, P. I. Newspaper, describes funeral.
Funeral services for the dead aviator were held at Camp Stotsenburg on Friday afternoon, the body in a flag draped coffin, being sent to Manila in a train that was literally filled with flowers.
It will be held at the Army morgue until the sailing of the transport Madawaska for San Francisco next month. At that time, when it is being escorted from the morgue to the transport pier, army airplanes will fly overhead with the pilots dropping flowers down into the streets over which the funeral cortege will pass and after the transport cuts loose from the pier; the airplanes will drop flowers on the water as the last mark of respect paid by officers of the Phillippines department to a man who was loved and respected by all the men and officers with whom he came in contact.
1WPA (Works Projects Administration)
2(Transcribed and unedited (with misspelled, capitals and grammatical errors) excerpt from a story written by WPA (Works Projects Administration) writer Annie L. Bowman, Escambia County, Alabama, January 24, 1940
Do you need some guidance in your genealogy search? Save time and avoid pitfalls in your research. This book provides simple, no-nonsense instructions to help you get started. Many FREE research links included. Where Do I Start is filled with Hints and Tips to begin your family genealogy research and acquire Genealogy information.
WHERE TO FIND – online resources, experienced genealogists will not be aware of many of these.
COURT RESEARCH – how to do court house research, where to find birth, death, social security records free online.
EIGHTY – ONE QUESTIONS – you should ask your elderly loved-ones before it's too late.
TIPS ON BREAKING DOWN THE WALL – Everyone faces some difficulties in research, often called a 'brick wall' but WHERE DO I START? provides suggestions for overcoming them.

Download Where do I Start? to your Kindle in less than 30 seconds or to your PC, iPAD, iPhone, MAC or Android device with FREE Apps from Kindle.