Happy Birthday!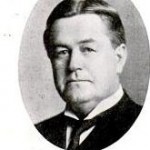 JOHN W. TOMLINSON
BIOGRAPHY and GENELAOGY
(1859-1940)
Jefferson County, Alabama
John W. Tomlinson of Birmingham, Alabama, was born Feb. 1, 1859, at Russellville, Jefferson county, Tennessee. His father, Thomas Tomlinson, born in Cheraw county, S. C; lived there until he was grown when he moved to Jefferson county, Tenn., where he was married. He was a merchant and a large land-owner. He was the son of William Tomlinson. John W.'s mother, Melvina Proffitt, was the daughter of John B. and Mary Bryan Proffitt of Tennessee. The father of John W. was a captain in the Confederate army. He later resided in Tate Springs, Tenn., where he looked after his large land interests. He owned Tate Springs.
John W. received his early education at the high schools of Morristown, Tenn.; his college education at Emory and Henry college in Virginia, University of Tennessee at Knoxville, and Vanderbilt university at Nashville, Tenn., where he graduated with first honors in 1882. He removed to Birmingham in 1883 and began the practice of law, having been admitted to the bar at Rutledge, Granger county, Tenn.
Mr. Tomlinson formed a partnership with C A. Mountjoy (later of New York City) which continued until 1898, for fifteen years, after that time he was the head of a large law firm. He occupied offices in his own building, which he erected in 1890. He was mayor of South Highlands in 1891. He was chairman of the Democratic State convention in 1898; was a delegate from Alabama to the Democratic National conventions of 1896 and 1900, and a member of resolutions committee of the Democratic National convention of 1900, and was candidate for governor of his State in 1900.
He was a member of the Methodist Episcopal church; a thirty-second degree Mason; a Knight of Pythias; Benevolent and Protective Order of Elks, and a member of the Phi Delta Theta fraternity.
On April 25, 1889, he married Annie Renfro, the daughter of Forney Renfro, and his wife, Rebecca (Blount) Renfro, of Opelika, Ala. Mrs. Tomlinson and her mother were members of the Daughters of the Revolution.
Mr. and Mrs. Tomlinson had the following children by 1904:
Joy Tomlinson, born Oct. 10, 1892
Rebecca B. Tomlinson born Jan. 31, 1895
John Bryan Tomlinson born Nov. 17, 1896
Ila Tomlinson (deceased before 1904), born 1890 and died in infancy.
John W. Tomlinson died August 23, 1940.
SOURCE:
Notable Men of Alabama by Joel Campbell Dubose vol 2 – 1904
Ancestry.com
Did you know that all E-books can be downloaded immediately from Amazon.com? Click below to see how.