Early planters, large land owners a joke1
Greensboro, Hale County, Alabama was the home of many prominent planters and large land owners. Of the number may be mentioned: John Nelson, Allen C. Jones, Wm. R. Smaw, D. F. McCrary, J. W. McCrary, J. H. Y. Webb, John W. Walton, Gideon Nelson, Wiley Croom, Ivey F. Lewis, Robert W. Withers, Wm. B. Inge, Sr., Dr. Wm. Jones, Thomas M. Johnston, S. D. Owens, E. T. Pasteur, Reuben Seay, Henry Watson, R. H. McFadden, Sr., S. S. Latimer, W. W. Powers, Edward Bayol, John Erwin, Thos. Seay, Dr. Drake and others.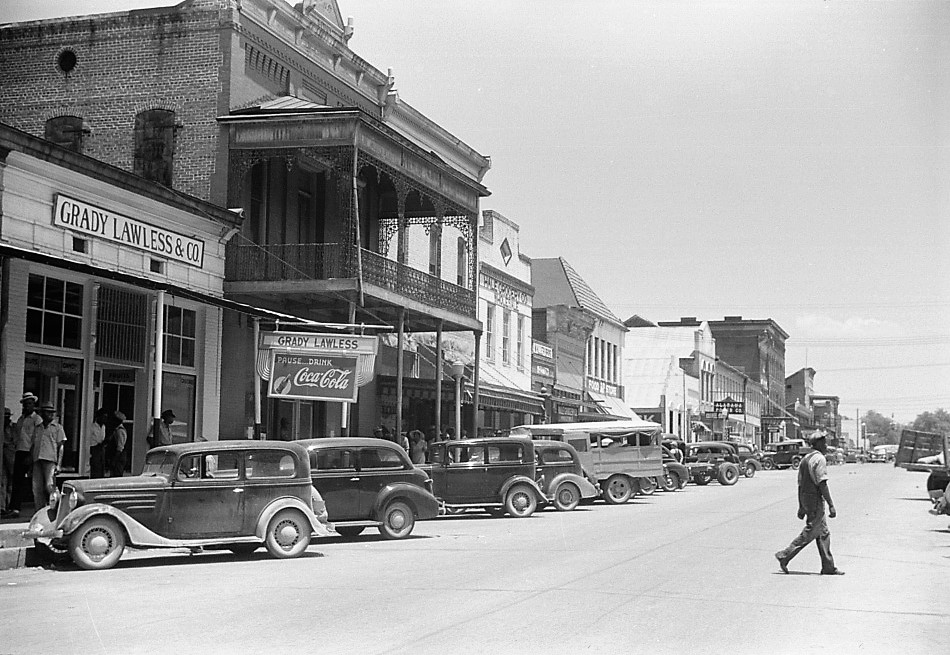 Main street of Greensboro, Alabama May 1941 by Jack Delano (Library of Congress)
A practical joke from early Greensboro, Alabama
Among the earliest watchmakers and jewelers of Greensboro was Thomas Rainey, an Irishman, fresh from the old country. He was always ready with his wit and also ready at all times for a drink. Contemporary with him, although in a different line of business, was William Scarff, the undertaker.
Rainey and Scarff were the best of friends, and spent many hours talking together.
One day Rainey, when about half drunk, told some friends that he wanted to play a joke on his friend Scarff, and asked them to come in and arrange him in his bed as a dead man. The friends complied and spread a sheet over Rainey, who told them to go tell Scarff that Rainey was dead, and to come up and take his measure for a coffin. (In those days the undertaker always took the measure of a corpse before bringing the casket.)
The friends went to Scarff and sadly told him of Rainey's demise, and he expressed much sorrow over the news. He went at once to the room of the supposed dead man, and after again, with tears in his eyes, bemoaning the death of his old comrade, he began to remove the sheet.
A surprise for Scarff
When he had taken it from the body, and was in the act of removing his shoes, Rainey very gently said: "Be careful, friend Scarff, and don't hurt my corns." Scarff made the air blue for a while with his denunciations of the "low down trick" that had been played on him.
As stated above, Rainey was among the early jewelers of the town. He purchased, forty or more years ago, from Volney Boardman, whom he succeeded in the jeweler's business, the big clock which is now in Dr. Jay's drug store.
For more than half a century this clock regulated the time for the citizens of Greensboro and surrounding country. Charles Jones gave it to Dr. Jay when he went out of the jeweler's business in 1895. The old clock is still ticking away, and keeps the time as accurately as it did when first installed.
FreeHearts: 2nd edition A Novel of Colonial America
Col. John Washington (ancestor of President George Washington), Randall Revell, Tom Cottingham, Edmund Beauchamp ward off Indian attacks and conquer the wilds of Maryland's Eastern shore in 17th century colonial America in this historical novel, inspired by true events.