This editorial provides a glimpse of Mobile before 1858
AN 1858 VIEW ON HISTORICAL PRESERVATION IN MOBILE
By Jack D.L. Holmes,
Ph.D. Director, Louisiana Collection Series
(Published in The Alabama Historical Quarterly, Vol. 44, Nos. 01 & 02, Spring and Summer 1982)
The long-view of history often reveals that problems which beset us today have been faced by our forebears before. An illustration of this truism revolves around historical preservation. Although we of the twentieth century believe that it is our generation which first recognized the value of preserving our material and architectural past, the truth is that earlier generations also deplored the high price which "progress" has often demanded.
Editorial from 1858 Mobile Weekly Advertiser
An editorial appearing in the Mobile Weekly Advertiser for Saturday, April 3, 1858, reads as an epitaph for "An Old Landmark Gone."
Few remaining landmarks of Spanish origin
"One by one," the editor recalls, "the few remaining traces of our Spanish origin, the landmarks that serve to connect the past generation with the present, and to remind us of the manners, customs and styles of architecture of the original settlers, are being obliterated, and but a short time will elapse before there will not be left a single trace, and the history of the past will be obscured and merely traditional.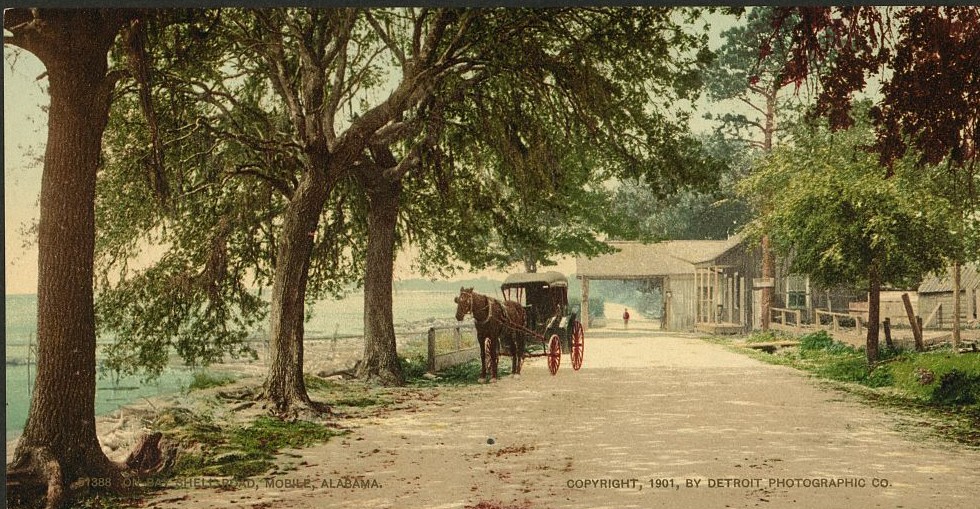 (Old Bay Shell road, Library of Congress 1901)
Only seven or eight buildings remained in 1858
There now stands, so we are credibly informed, not more than seven or eight buildings that were erected during the Spanish occupancy of Mobile, and one of the few has now been torn down to make way for the tide of improvement which moves so bravely on.
These thoughts were suggested upon witnessing the demolition of an old house that stood on the south side of Conti street, a few doors above St. Emanuel street. "It was erected in the beginning of the year 1811, by Dr. Rafael,1 and was at that time one of the handsomest, if not the handsomest residence in the city. It was built partly of brick and partly of wood, the front plastered over in imitation of stone, one and a half stories high, and was for a number of years occupied as the residence of Dr. Rafael, surgeon of the garrison at Fort Charlotte.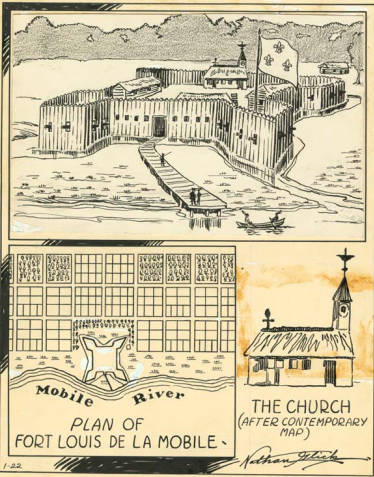 Foundation of brick and cement
The foundation was laid in brick and cement, and so closely do the materials now adhere to each other that is with much difficulty that they can be broken apart in pieces small enough to be carted away. After the Territory passed into the hands of the United States government,2 the house was purchased for a small sum, and has since been occupied as a fruit store, shoe store, and occasionally as a residence at a trifling rent. When erected it was in the outskirts of town.
Idea of Mobile in 1811 from old frame buildings
"The old frame buildings on the two corners above, and that opposite the old Armory, were erected previously. From them some idea of the appearance of Mobile in 1811 may be formed. "In the place of the one torn down, its present owner contemplated the erection of a two-story edifice, the lower part of which will be fitted up for stores, the upper part for residences, somewhat after the style of those on the opposite side of the Street." As swiftly as the Spanish dominion passed the reins of government to that of the United States, so, too, the older architecture fell into decay, not to be resurrected until innumerable buildings were lost forever. Surely, this experience has a lesson for us all. The time to push for historical preservation is while we still have something historical to preserve.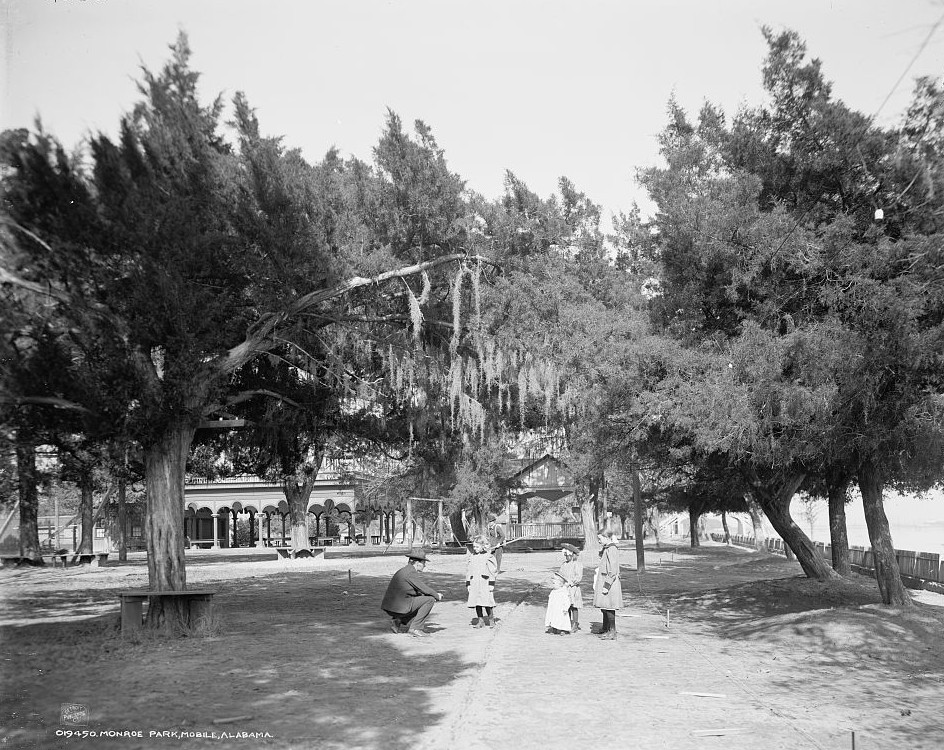 Monroe Park, Mobile, Alabama ca. 1900 – Detroit Publishing Company (Library of Congress)
1'Presumably, Dr. Rafael Hidalgo (or Idalgo, Ydalgo, etc.;, who held the post of ' Practicante Mayor del Real Hospital de la Movila y encargado de la Botica del mismo" (Chief Medic Practitioner of the Royal Hospital of Mobile and Director of the Hospital Pharmacy). His service record and pay sheets are in Archivo General dc Indias (Sevilla, Spain), Papeles procedentes de la Isla de Cuba, legajo 53H-a On June 16, 1797, Dr. Hidalgo purchased a lot cornering on St. Charles and Government Streets from Joseph Chastang. The lot measured 12 toises frontage by 20 toises depth and sold for $20.
2'American forces under General James Wilkinson followed U.S. orders that Mobile was part of the Louisiana Purchase and, therefore, was already American territory in 1813. On Wilkinson's mock-heroic capture of Fort Carlota from Spanish forces under Captain Cayetano Perez, see Jack D.L. Holmes, "The Mobile Gazette and the American Occupation of Mobile in 1813: A Lesson in Historical Detective Work," Journal of the Alabama Academy of Science, XLVII No 2 April 1976) 79-86
RELATED STORIES
Tapestry of Love: Three Books In One by Donna R Causey
REVIEWS
The exhilarating action & subplots keep the reader in constant anticipation. It is almost impossible to put the book down until completion,
Dr. Don P. Brandon, Retired Professor, Anderson University, Anderson, Indiana
This is the first book I have read that puts a personal touch to some seemingly real people in factual events.