[The Lou Wooster Public Health Award at the University of Alabama in Birmingham School of Public Health is presented annually by the University of Alabama School of Public Health to recognize individuals, groups, or organizations who are unconventional public health heroes. – This is who it is named after]
LOUISE CATHERINE WOOSTER
BIOGRAPHY and GENEALOGY
(1842-1913)
Jefferson County, Alabama
Louise Catherine Wooster was born in 1842 in Tuscaloosa, Alabama, the fifth youngest out of eight daughters of William Wooster and Mary Chism Wooster. Her father, William was an engineer from New York, and her mother, Mary Chism, was a native of South Carolina. Lou's parents were married in Tuscaloosa.
Artist Max Heldman's depiction of Wooster helping the sick and dying during the cholera epidemic in Alabama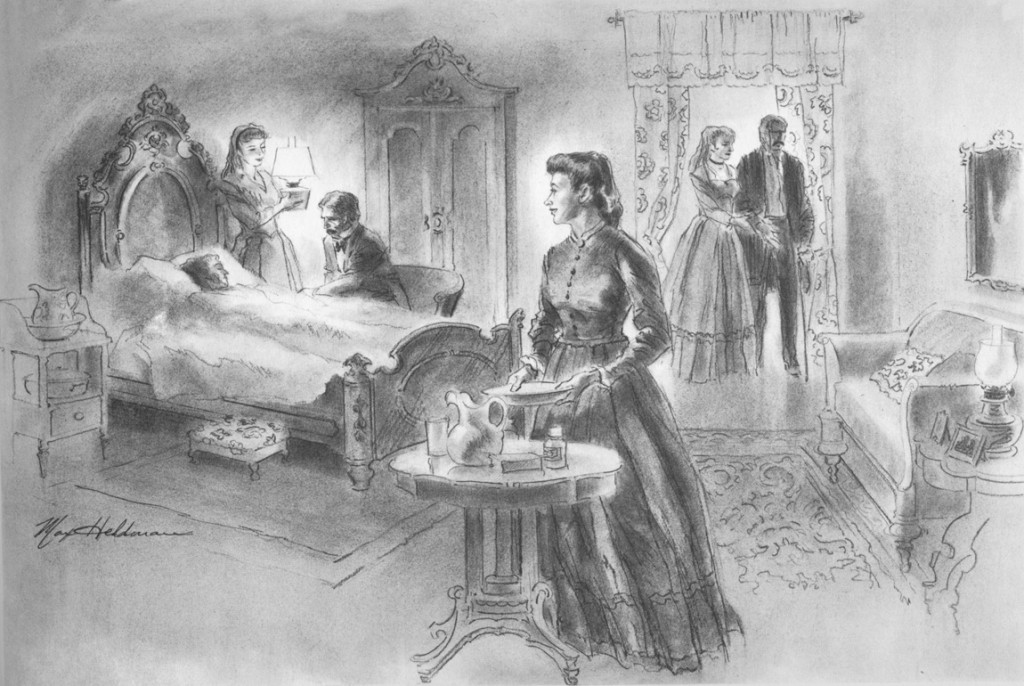 Orphaned at an early age
When her father died in 1851, her mother remarried a man named John Williams. A few years later, Lou's stepfather took all their money and left the family to fend for themselves. Her mother died a few years later and as so many young children were, Lou was left an orphan with nothing to rely on but the mercy of relatives.
The youngest sisters were placed in Mobile's Protestant Orphan Asylum on March 16, 1857 on the day after their mother's funeral against their mother's wishes.
Around 1857, her older sister, Margaret, left home and became a prostitute which created shame for the family. Margaret married several times and eventually owned a brothel in Birmingham on 3rd Avenue North under the name of "Maggie Bracken".
The youngest sisters were placed in Mobile's Protestant Orphan Asylum on March 16, 1857, on the day after their mother's funeral against their mother's wishes.
Lou and her sister Jennie went to live with her older sister, Frances and her husband a Mr. Van Buren in New Orleans. She pleaded with him to remove her younger sister from the orphanage, but he refused so she took a ship back to Mobile and forged a letter in her sister Frances' handwriting. In it, she claimed her inability to retrieve the girls due to illness. She asked that the sisters be removed from the orphanage and received to the care of Lou and returned to New Orleans. Lou signed the papers for her sister, Frances and her younger sisters were released to her on April 15, 1857.
Refuge with Major Robert A. Harris
However, the sisters did not return to New Orleans. Instead, they took refuge with Robert A. Harris who was a family friend and a future Confederate Major in the 1st Special Battalion in the Louisiana Infantry. In her autobiography and using the pseudonym, Major Robert Haylow, Lou states that he was the the man that he was the source of her "fall" from society. The sisters brother-in-law found the girls living with Major Harris and took them back to New Orleans.
Lou worked as a shop girl in New Orleans and East Pascagoula, Mississippi for awhile, then finally returned to Mobile to live with Harris. When Harris deserted her, and she was ill with yellow fever, she was taken to another male friend's home who eventually left her in the care of prostitutes at a local brothel. Lou later wrote that she "fell, step by step, until at last I was beyond redemption."
To avoid destroying her parents legacy, Lou left her parents home town in Mobile and moved into a brothel in Montgomery. She had several failed relationships with men in Montgomery. She was living with a men who was shot in a fight and he died from the infection. Lou was so distraught she attempted suicide but failed.
In her autobiography, Lou claims to have had a passionate romance with John Wilkes Booth in Montgomery during the first years of the Civil War. Booth was living in Montgomery during this time, and starred in several roles.
Wooster solidly maintained that she gave up love affairs after being spurned by the great love of her life, the famous assassin John Wilkes Booth.
"Aside from the account given in her autobiography, Wooster gave several known false accounts to newspapers years later about where and how Booth and she met, creating a sensation with her conspiracy theory that another man, and not Booth, was killed by federal agents. She also claimed to have received an unsigned, undated letter from Booth several months after his supposed death. She was known to keep a scrapbook full of mementos from, and about, Booth, which she showed to newspaper reporters in her later life, including a monogrammed handkerchief and several letters. It is not known whether these are her own personal mementos, or if they were fabricated for the reporters. It was during this time that Wooster claimed to have been inspired to be an actress, and when her and Booth's relationship broke off, she performed as an actress in Arkansas and New Orleans. After suffering a brief bout of tuberculosis, she had to quit her stage career, and in 1869 she moved back to Mobile."
Arrival in the new city of Birmingham on the verge of an epidemic
In 1873 when Birmingham was in its infancy, Lou moved to the new city of Birmingham. She became a colorful character and a well paid as a lady of the evening. In the summer of that same year, a cholera epidemic overtook the young city and half the population of approximately 4,000 people fled the city, but Lou remained. At the risk of her own health, she began nursing the sick, feeding the hungry and preparing the dead for funerals.
"She wrote that at first she was apprehensive of how her offers to aid the sick would be received, but that she could "finally stand it no longer", and offered to do whatever was needed. Despite her reputation, she was readily admitted into the homes of the sick to nurse the sick and dress the dead for burial. She also claimed to have given all the money that she had to those in need during those dark days."
"In composing his official report of the disease's course in Birmingham Mortimer Jordan, Jr did not mention Wooster by name. He did, however, include a paragraph praising the "women of the town" for their magnanimous behavior and expressing the city's sympathy and gratitude for their selfless efforts. Though the epidemic subsided after several weeks, its effect, combined with a national financial panic, left Birmingham in a state of economic collapse. Wooster returned to Montgomery to pursue her trade for nearly a decade, returning to a resurging boom-town Birmingham in the 1880s."ii
Return to Birmingham
"Not much is known about Wooster during the period 1873 to 1880. It is known that she is listed in the 1880 Montgomery directory as either operating a boarding house or a brothel that included her youngest widowed sister Cornelia, Cornelia's son, two "lady boarders", and nine African American servants. At the lack of knowledge about her life until she established her brothel in Birmingham in 1884, Wooster notes in her autobiography is that she "would like to drop the curtain for five years", presumably the five years between 1876 and 1881, as "those five years of suffering are too dark for other eyes". She then goes on to vaguely mention her brutal treatment at the hands of a man residing in Montgomery.
Purchased buildings in Birmingham
As far as documented records are concerned, Wooster shows up again in 1881 in Birmingham city records as having bought the first of two plots at Oak Hill Cemetery, this being the first property she had ever purchased in Birmingham, but then disappears again until 1884."iii
Lou had a brothel in 1884 on 4th Avenue North in Birmingham. Living in the house at the time were Belle Howard, Maggie Meeks, Maggie Lewis, Kittie Gilmer, Clara Martin, Beulah Joseph and Pearl Mueller with Lucretia Bell as a servant. The next year she purchased the building next to hers. She and her youngest sister, Cornelia and her sickly son, lived in one building while she operated a brothel in another.
Louise Wooster's Buildings on Fourth Avenue occupied by Alabama Barber College and Alabama Supply company (Birmingham Public Library)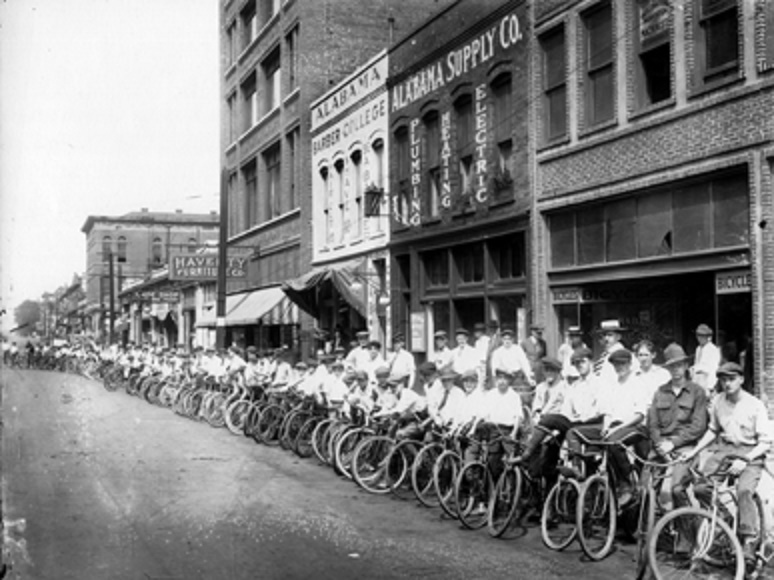 A philanthropist and story-teller
Lou was a well-known philanthropist and story-teller. The Birmingham Age Newspaper for 1887 included her in a list of people pledging $100 to a charity hospital campaign. In her later years, she moved to a small house in the southside section of Birmingham and published her autobiography, The Autobiography of a Magdalen. which contains her personal account of her past.
She died May 16, 1913 from Bright's Disease and is interred at Oak Hill Cemetery. A legend says that several of Birmingham's elite sent empty carriages to her funeral, an act of both respect and anonymity.
She is buried alongside her sister, also a Birmingham madam, and her nephew in a handsome but modest family plot on a hillside in Oak Hill Cemetery. Before her death she also bought plots adjacent to her own for proper and decent burials of not only her "women of the town" but also for other members of her staff who might otherwise have been dumped into graves in the pauper's field.
Honors since her death
The Lou Wooster Public Health Award at the University of Alabama in Birmingham School of Public Health is presented annually by the University of Alabama School of Public Health to recognize individuals, groups, or organizations who are unconventional public health heroes. The award is named in her honor because she risked her own death by staying in the city to care for the sick and dying during the 1873 cholera epidemic. Lou Wooster organized the women in her brothel "determined to stay and help nurse the poor sick and suffering ones who needed me." Her courage went a long way toward assuring there was a Birmingham for the leadership to come back to.
In 1971, she was the featured character in "Beloved Valley", a historical drama written and performed for Birmingham's centennial celebration and in 2007, the Wooster Lofts, the first loft development in Birmingham was named in her honor.
She has also been memorialized in an opera written about her life, "Louise: The Story of a Magdalen" commissioned by Alabama Opera Works in 2000. The book by Sally M. Gail and score by Dorothy Hindman won the Nancy Van de Vate Composition Prize for Opera in 2004.
The Birmingham History Center has her scrapbook.
SOURCE
Bryant, Joseph D. Early Birmingham madam who saved sick will have scrapbook in history center, Al.com