The following transcription about Fairhope was written and compiled by Francois Ludgere Diard March 24, 1939, and from a Vacation Visit to the two principal ghost towns in Baldwin County, Alabama Federal Writers Project (Alabama State Archives) – Photographs are from Library of Congress.
Ghost Towns in Alabama
Old Alabama City, which perpetuates as the present town of Fairhope, the only single taxed town in the world, was long a ghost city prior to 1894.
A group of students of the Henry George philosophy founded Fairhope that year. The difference between Blakeley and Alabama City can be said this:
"Alabama City was born again and in its reincarnation became Fairhope, a resort and trading point with a future greater than the builders of Alabama City ever dreamed of."
There was Tensas Bluff once Stockton, Montgomery Hill and Pierce's Landing, on the site of the present Tensaw, Swift's Landing, or Sibley's Mill or D'Olive, predecessors of Bay Minette, where are these?
Also, where are the outlying villages of Claire and Byron, around Perdido, once inhabited but now unheard of?
What is known of the industry of Roscoe, west of Orange Beach: of Gasque, between Bon Secour and Fort Morgan, Styx on Styx River, River Park below Marlow; Sumatra, between Robertsdale and Seminole, or Elkhart, below Stapleton?
Photographs below are of the McMillan House – W. N. Manning, Photographer, March 13, 1934. Front and Rear-, County Road 21, Stockton, Baldwin County, AL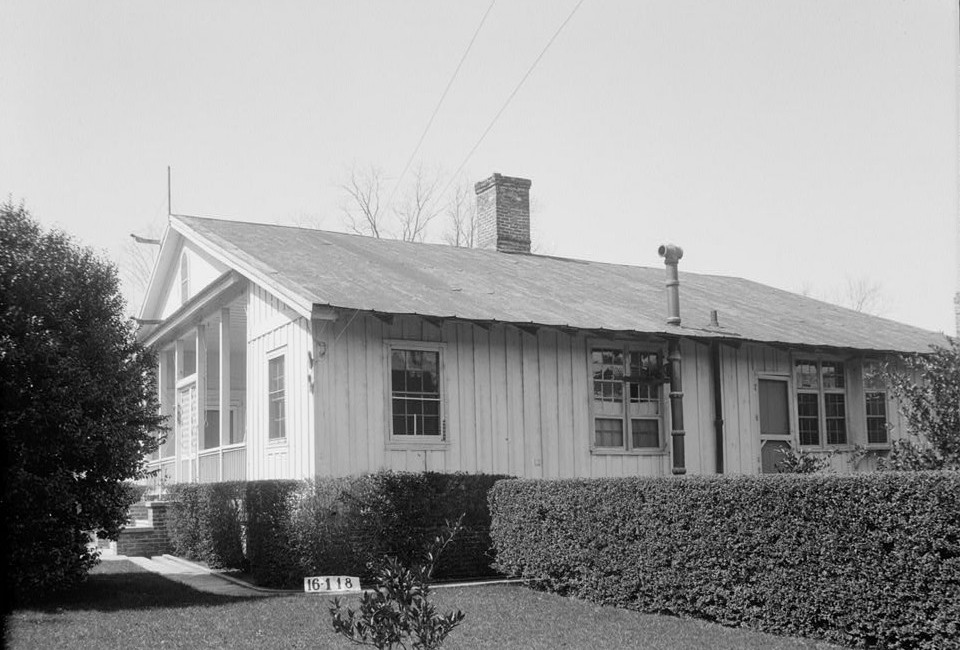 Photograph below is of the Tunstall House W. N. Manning, Photographer, March 6, 1934. FRONT ELEVATION. State Highway 59, Tensaw, Baldwin County, AL
Atkinson-Till House, State Highway 59, Tensaw, Baldwin County, AL by photographer W. N. Manning March 7, 1934
Atkinson-Till House,  Rear – State Highway 59, Tensaw, Baldwin County, AL by photographer W. N. Manning March 7, 1934
Atkinson-Till House, Fireplace – State Highway 59, Tensaw, Baldwin County, AL by photographer W. N. Manning March 7, 1934
Photograph below is of pulpwood going down the River Styx to Mobile by inland waterway. Near Robertsdale, Alabama by photographer Dorothea Lange 1937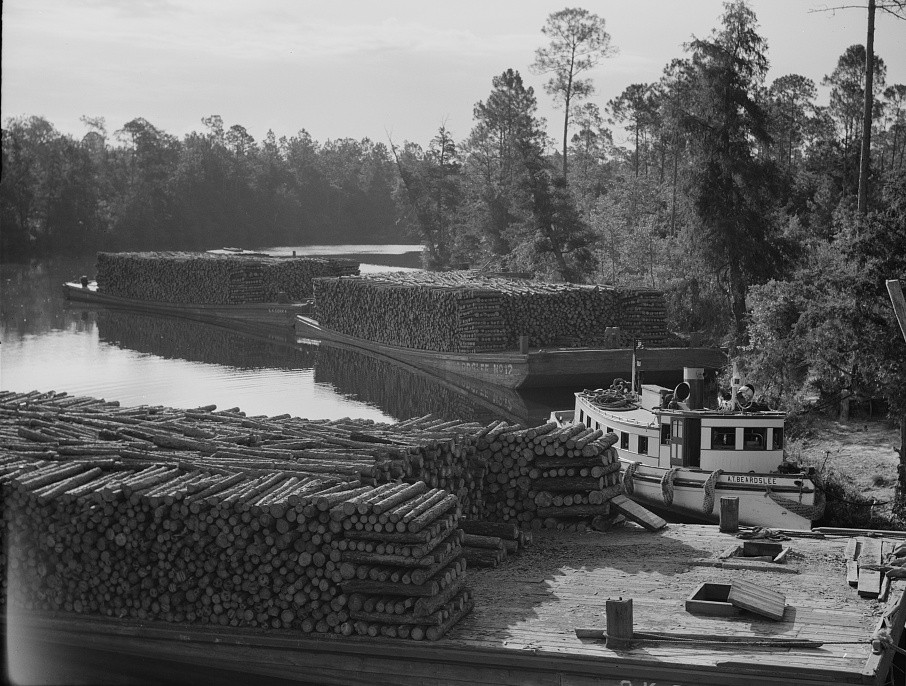 Other Ghost towns
Bromley is almost a ghost town, now that its post-office has been discontinued and transferred to the village of Hurricane.
Park City was once on the site of the present Bridgehead. Pendro, above Loxley, has vanished into the past and Cavanac, the predecessor of Barnwell, is remembered only by the old timers living today.
Van Kirk, a small settlement below Rosinton is just a memory, as are probably other villages in the county of which history has no record. There are many once flourishing resort towns along the shoreline of Baldwin are just a memory today.
Another ghost town is Hollywood just north of Montrose, which once boasted several hundreds of resorters both winter and summer, and where the Confederate soldiers landed from Mobile on their way to points in Florida and Georgia.
There was Shell Banks and Palm Beach and Navy Cove, the latter the early home of the quarantine station and which was practically wiped out by the hurricane of 1906, are seldom spoken of, as well as the early towns along the bay in French, British and Spanish colonial times.
SOURCE
Conversations with older Baldwin Countians about the ghost towns and some of the inhabitants. Personal visits and observations in the past to the old ghost towns of Baldwin County, Some notes from The Baldwin Times, February 2, 1939.
VINEGAR OF THE FOUR THIEVES: Recipes & curious tips from the pastis a collection of household tips, medical cures, clothing care and old recipes from the 1800's and 1900's. Many of the tips, such as the household cleaners, cooking tips and ways to control pests, still work and are helpful in today's 'green' environment while others such as 'how to cure a dog of eating eggs' will make you laugh. Either way, this book will help you appreciate the difficult life your grandparents endured.
With Bonus: First two chapters of novel Ribbon of Love